Rhein Main Air Base - 435th OMS ENROUTE MX SECTION
Years Assigned to RMAB 1960 - 2005
In Memory
Ronnie (Ron) L. Arrington - Year Assigned 1975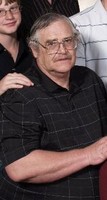 Ronnie (Ron) Lee Arrington
Born: 15 July 1954
Passed: 2 April 2013
Ron was stationed at Rhein Main Enroute: from 75-78 (D Flight) and again from 91-94 (Self Help Team)

On Ron's Facebook page:
This is Jennifer, I am posting for my dad.....I'm sorry to let everyone know that he passed away last Tuesday the 2nd. I know he enjoyed chatting with a bunch of old friends from high school and his Air Force days. He will be missed by many, I'm sure.
Ron had been slowly declining since Dec when he got a head cold and refused to go see a dr...it was a rough couple of mths but of course he never let anyone in on his suffering. He was very sarcastic, I couldn't help think when they gave my mom his flag yesterday and said on behalf on the president, what he would have said to that....lol
Ronnie Lee Arrington was born in Salzburg, Austria on July 15, 1954 to Claude and Annie Arrington. He was the oldest of 2 children. With his dad being in the Army, he grew up all over the world.
In summer of 1971 he meet his future wife Charlene Kislia at a dance at the AYA in Germany, he often told the story of how he went to the dance with one girl and left with Charlene. After graduating High School in Wurzburg Germany he joined the Air Force in 1973 and did his Basic Training at Lackland Air Force Base in Texas. In the Air Force he was a mechanic and crew chief for the airplanes. His favorite ones were the C'5 and 141's. His first assignment would be Maguire in New Jersey. Ron and Charlene got married in August of 1975, while he was at Maguire. Shortly after that they were stationed to Rhein-Main in Germany where they had their first child Jennifer in 1978. Later in 1978, they would be stationed to Norton in California where their second child Stephen was born in 1981. In 1984, he would get orders to go to Yokota in Japan, his favorite assignment, where they would have another child Daniel in 1986. In 1989, they left Japan and went back to Germany to Sembach, where they would have their fourth child Patrick. 2 years after there, he would go back to Rhein-Main until 1994. His last assignment was at Travis in California where 7 months before his retirement they would have their fifth child, a retirement baby Christopher in 1996. Upon his retirement from the Air Force, he would work at L&M Radiator where he made tubes for big machines and oil rigs.
Ron did a lot of volunteer work for the Cub Scouts while stationed in Germany, California and in El Paso upon his retirement. He was Cubmaster for many packs in Germany and California, he loved running his day camps. He did 3 in Germany, 2 in California and 4 in El Paso. He also served on planning committees for many events over many years.
He is survived by his wife of 37 years, Charlene, 5 kids and 2 of their spouses, Jennifer and Jerediah, Stephen, Daniel and Danielle, Patrick and Christopher. His mother Annie, and sister Teresa, and four grandchildren Sierra, Cody, Kenneth, and Damian.
He will be missed by everyone who loved and knew him.
Ret MSGT Ronnie L. Arrington 58, passed away on April 2, 2013. Ron was born July 15, 1954 in Salzburg, Austria. He retired from the Air Force after serving 24 years where he was Crew Chief on C-5's and 141's. After retirement he worked for L&M Radiator for 14 years. He is survived by his wife of 37 years Charlene Arrington, his children and spouses Jennifer and Jerediah Buentello, Stephen, Daniel and Danielle, Patrick and Christopher Arrington. He also leaves behind his mother Annie Arrington, and sister Teresa Arrington, and four grandchildren Sierra and Cody Buentello, Kenneth and Damian Arrington. Along with his love for the Air Force, he was very passionate about the Cub Scouts where he did many day camps and other events over the many years of scouting in Germany, California and El Paso. Visitation will be from 2-6 pm on Sunday April 7, 2013 at Kastner, Maxon, Frutell. Interment will be at Fort Bliss National Cemetery with full military honors on Monday April 8, 2013 11:00.
http://www.findagrave.com/cgi-bin/fg.cgi?page=gr&GSln=arrington&GSfn=ronnie&GSmn=l&GSbyrel=all&GSdy=2013&GSdyrel=in&GSob=n&GRid=110416980&df=all&