Rhein Main Air Base - 435th OMS ENROUTE MX SECTION
Years Assigned to RMAB 1960 - 2005
In Memory
John J. Stewart - Year Assigned 1982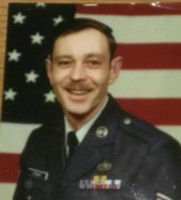 John was assigned to the Transient Alert Section.
I've been told, John was a real gentleman, an outstanding Airman and loved by everyone that knew him. John J. Stewart was always dependable and reliable. (Stan Miller, Webmaster)
For all of John's friends:
He spoke fondly of his military days, especially all of his Rhein Main memories. If any of you would like to share your experiences with me and our family we would enjoy your comments.
JOHN J. STEWART
STEWART, John J., 52, of Lake Placid, passed away July 21, 2004, in Richmond, Virginia. He was born May 9, 1952, to John and Florence (Tomczyk) Stewart, in Glens Falls, New York, and had been a resident of Lake Placid since 1999, coming from Rome, New York. He was Tech Sergeant in the U.S. Air Force and was a member of the American Legion. He is survived by his wife, Victoria Stewart, Lake Placid; daughter, Farrah L. Doty, Syracuse, New York; son, John A. Stewart, Utica, New York; and sister, Barbara M. Vaughn, Fort Anne, New York. Funeral services will be held Monday, July 26, 2004, at 3:00 p.m. at St. Francis of Assisi Episcopal Church, Lake Placid, Rector Elizabeth L. Myers officiating. Graveside services will be held Saturday, July 31, 2004, at 1:00 p.m. at St. Joseph's Cemetery, Ft. Edward, New York. Arrangements handled by STEPHENSON-NELSON FUNERAL HOME, SEBRING, (863) 385-0125
Published in TBO.com on July 24, 2004
- See more at: http://www.legacy.com/obituaries/tbo/obituary.aspx?n=John-Stewart&pid=2449816#sthash.bGOQEpPp.dpuf