Tonya Sue Comet March 16, 1947 — December 28, 2011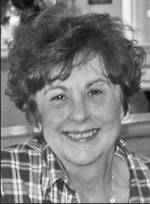 Tonya Sue Comet, 64, passed away December 28, 2011. She was born on March 16, 1947 in West Virginia, the daughter of Bud and Lillian Comet. Tonya lived in Everett, WA. Tonya liked spending time with friends and family. She enjoyed traveling, cooking, music and theatre. She worked for Boeing in Everett, WA.
Tonya Comet is survived by four daughters, Tasha Cabrera, Tami Hagar, Tara Daggett-Crivello, and Crystal Field; as well as eleven grandchildren. She is also survived by her brother, James Comet; and sister, Jamie Comet. Tonya was preceded in death by her mother Lillian Comet.
Published in The Herald (Everett)
http://www.legacy.com/obituaries/heraldnet/obituary.aspx?page=lifestory&pid=155328764