Instructions for First Time Visitors
Please read through these instructions. You'll find important information here that will help you get the most out of using our site.
Note: Even if this is not your first visit, you should return to this page anytime you need information about the site.
If you can't find what you're looking for, or have other questions, please go to the Contact Us page and send us a message.
On this page you will find the following:
1. THE PURPOSE OF THIS WEBSITE
Official Website - EDMONDS HIGH SCHOOL - Class of 1964
This site was created as a place to share memories of our graduating class, of past reunions and of other class activities. Here, you can keep informed about upcoming events and other class news. We've also established a In Memory page to remember our classmates that have passed on.
In order to stay in touch, you'll want to join the site and enter/update your contact and profile information. Don't worry, your address, phone number and email address are not shared with anyone. Contact information is used only by the site administrators to provide you with official class mailings and notices of events. Other profile information, such as names of spouses and kids, or your birthday, or any other personal stuff is entirely optional and, at your option, is viewable only by other classmates that have joined.
See the Privacy Notice on this page, or visit the Privacy Policy page for more complete information.
Whether you are a classmate or not, we invite you to browse our public pages. To share with your classmates and to keep informed about upcoming events, you'll want to join the site and enter or update your contact information. To join the site, go to the Classmates Profiles page, click on your name and follow the instructions to JOIN. There is no cost to you, it's entirely free!
If you have a question that is not answered here or elsewhere on the site, please go to the Contact Us page and send us an inquiry.
Statement from ClassCreator.com, the host of our site:
We are a locally-owned business. We understand the importance of your privacy. All contact information (address, phone number, e-mail address) that you enter on this site is kept confidential. Your personal information will never be sold to other sites. It will not be shared or distributed. ~ClassCreator.com
Your Contact Information is private: Your email address, postal address and phone numbers remain confidential. Contact Information is viewable ONLY by site administrators to maintain class mailing lists. You can limit your other Profile Information to be viewable ONLY by other classmates by clicking on the appropriate answer in the Profile Visibility section during profile setup. If you do not restrict visibility of your profile, your friends or family and everybody else, including search engines, will be able to access the information you choose to add to your Profile. Your Contact Information is never viewable, regardless of privacy settings.
For complete information, visit the Privacy Policy page.
Finding your class web site Profile pages by searching with Google or other search engines:
Note: If you are signed on to the site and have restricted your profile to be viewable only by fellow classmates, and you then use a search engine to see if your privacy options are working, it may appear that they are NOT. This happens because you are logged on to the site. If you log off and check again, you will see that none of your profile information is viewable by anyone without login credentials.
You may modify or update your personal information by logging into your Profile, however if you delete your contact information, you will not receive notices of upcoming events or other important announcements from the Class.
If you wish to modify the pre-entered info on your profile (e.g., your name and yearbook photo), you must contact the Site Administrator to request those changes. See the Contact Us page to send us a message.
Email sent to you via this web site: Announcements and important news from EHS '64 are initiated by your class site administrator(s). You should not receive emails from Class Creator or from any other third parties without your express consent.
You will also receive email notifications via this site in accordance with your 'Notify Me' settings on your Profile.

To ensure that our email is not caught by spam filters, you may wish to add noreply@classcreator.net to your email safe sender list.
3. SETTING UP YOUR PROFILE
In order to access the pages that are password protected on our site, you must set up a profile by providing a log-in email address and a password.
To set up your profile, go to the Classmates Profiles page, click on your name and follow the instructions to JOIN.
Contact information, such as your email address, home address, and phone numbers will not be visible to fellow classmates. Only site administrators have access to personal contact information. Contact info will be used only by the class administrators to send you notices of class events and other key announcements. Your personal contact information will not be shared with other classmates or anyone else!
Please keep your contact information up to date. It is important if you want to stay in touch with what your classmates are doing, and to be notified about upcoming events. Your email address, postal address and phone numbers remain confidential. They are viewable ONLY by the site administrator to maintain class mailing lists.
Profile Information: Other personal information can be entered in a separate page from your Contact Information. Profile information that you enter will be shared with everyone, or you can elect to share ONLY with your classmates. If you enter your birthday, you can elect to let everybody know when it's coming right on the home page.
Edit your Profile or Contact Information using the menu under the profile icon in the header above.

If we know what city you live in, then you'll be shown on the World Map along with other listed classmates.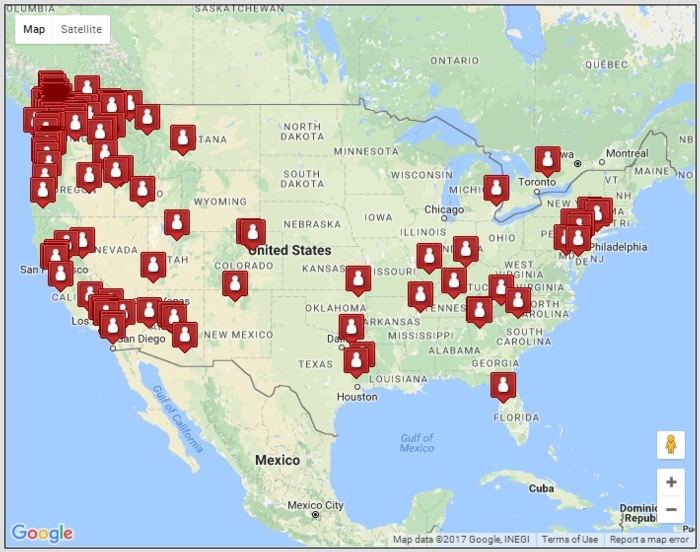 It's kind of fun to see how far we've spread across the nation and around the globe.
Check it out on the right-hand column of the home page under Where We Live.
If you have any trouble logging in or setting up your profile, go to the Contact Us page and send us a message.
All of our classmates are listed on this site by their high school name, and most profiles display a yearbook photo. However, after all these years we have lost contact with many of them. If we do not have an email address or current mailing address for a classmate, we consider them "missing."
If you know how to contact a missing classmate, please email or phone them and invite them to join our site. Send them this link: https://www.classcreator.com/Edmonds-Washington-Edmonds-High-School-1964,
OR, just have them search the web using these keywords:
Edmonds High School - Class of 1964 - Class Creator
We'd also like to hear of any information you have on missing classmates. Please send us a message using the Contact Us page.
5. COMMUNICATING WITH CLASSMATES
You can contact another classmate using the Send Private Message feature* on the classmate's profile page. This way you will be able to contact classmates without sharing your private email address, unless you choose to do so.
You can also send and reply to PMs by going to the Message Center. Select the Message Icon
or select the menu item under the profile icon in the header above.. If you are offline, and have elected to be notified, you'll receive an email when you have a new Private Message waiting.
* Note: The Private Message feature only works between classmates that have joined the site and have elected to receive Private Messages.
6. ADDING PICTURES TO YOUR PROFILE
Adding current profile pictures is not a requirement to participate on the site, but it certainly is a nice way to get reacqainted with your classmates.
To add pictures, first Click "Edit Profile" under the profile icon

To fill in the photo slots at the top of your Profile:
Roll your cursor over one of the photo silhouettes shown, Master, Now, or Yearbook.
Note: You cannot upload a yearbook photo if one has already been provided.
Click "Select" on the pencil icon in the upper right corner of the photo, then click the "Upload a New Photo" button.
Select the desired photo from your hard drive. Once uploaded, you'll be able to crop the photo to fit and make other adjustments.
To change or delete a photo later, select the pencil icon again.
To add "Gallery Images" to your Profile:
Click the pencil icon on the Photo(s) box in the upper right corner of your Profile page.
Images you previously uploaded will be shown here. Click the "Upload a New Photo" button to add a photo from your computer.
Click to put a green check mark on the images you wish to display on your Profile. Click again to remove the green check mark. Unchecked images will not display, but will remain in your collection.
To add a caption under an image, roll over the image and select "Edit Details". Enter your caption and press save.
You can change the display order of your photos by simply dragging and dropping them into any order you like.
If you're curious about a link, just click on it! There isn't anything on our site that will wreck your computer.
Explore! Enjoy!