Robert 'Bob' Searle 1946 - 2016
Robert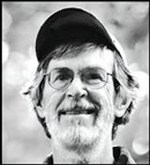 S. Searle passed away on March 2, 2016, of acute myeloid leukemia. Born in San Mateo, CA, he was a resident of the Seattle area for over 50 years. Bob graduated from Edmonds High School in 1964. After his military service, he graduated from the U. of Washington with a degree in electrical engineering.
He had a long successful career in hardware design at the Data IO Corporation. An avid mountaineer, he summited Mt. Baker, Mt. Pilchuk and Mt. Rainier. As a solo backpacker, he hiked the Pacific Crest Trail from southern California to Mt. Lassen, and from southern Washington to the North Cascades. Also a self-taught sailor, he sailed his 21 ft. San Juan, "The Blue Dove", from Seattle to Glacier Bay, Alaska.
On April 16, 1994, he was leading a Mountaineers hike and Linda Waterfall signed up for the hike. From that day, they became increasingly devoted to each other, and married 2 years later on the anniversary of their first hike, at the trailhead where they first met.
In the last few years of Bob's life, he struggled with memory loss. Bob and Linda found support and many meaningful friendships in the Early Stage Memory Loss programs at the Greenwood Senior Center. Bob is survived by his wife Linda and his brother, Jan Searle, of Lake Havasu City, AZ.
Published in The Seattle Times on Apr. 3, 2016