In Memory
Mary Potter (Schnell)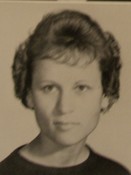 Eunice Wheeler Huston sent this information on Mary Potter:
"Mary married John Schnell (from Seattle, WA) around 1966. They met while John was in the Navy and stationed in Virginia. We knew him before we moved from Washington to Kinston, so he visited often with my family, and that is how he met Mary. They moved to Seattle sometime in 1966, but Mary hated it. They were moving back to Kinston in 1967 (not sure of the month, but I'm thinking March or April) and were hit by a drunk driver in the Atlanta GA area. Mary was killed outright. They did not have any children. I thought you might want to share this information.
Thank you so much. Eunice"