Sloane Grammar School boy, if you seek your memorial,
look around you.




DON'T FORGET!! -
PLEASE CHECK THE ANNOUNCEMENTS BOARD AT THE FOOT OF THIS PAGE FOR ANYTHING IMPORTANT and, after you Log In, the CALENDAR OF EVENTS PAGE FOR DETAILS OF FORTHCOMING EVENTS.
If you're having trouble logging in because you've forgotten your Password, click on Forgot Password? inside the Classmate Login box that appears after you click Sign In and you'll be Emailed a link to reset it.

You'll find other helpful tips under REMINDERS below.


The Sloane


Hello and Welcome to

Mark Foulsham's

Sloane Grammar School website
If I built it I knew you would come

A School that invited loyalty
(Quote by Don Wheal)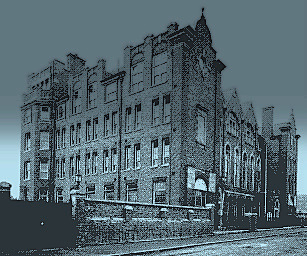 Gone But Not Forgotten
'Men are we, and must grieve when even the shade
Of that which once was great is pass'd away.'

William Wordsworth
On the Extinction of the Venetian Republic


You may think you're done with the past but the past isn't done with you!

"The merits of a school are judged as much by the men it produces as by their achievements as boys" -
(Old Cheynean D.J. Cowie, March 1929)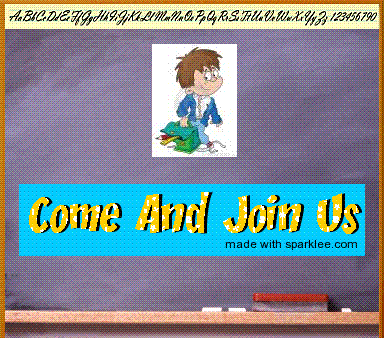 Register and link up with old school friends again and become part of Sloane Reunited.
If you were a pupil or member of staff at Sloane you qualify to register for the website. Click on Missing Classmates at the top of this page to see if we've been expecting you. If you see your name click on it and follow instructions. If your name's not there click on BECOME A MEMBER to learn more and then click the ADD NAME button to start the ball rolling or click Contact Us at the top of the page, read what you see then complete the box at the bottom of that page to ask me to add your name to the list.
It's Free, it's Easy, it's Secure
and
You're Never Alone As A Sloane

If you're a member, click on an image (



) at the top for more.

Here's what you'll find -

= Messages waiting for you. The red bubble shows how many.

= Website activity. Check for things you may have missed.

= Member functions like Profile, Contact, and Password changes.

AND -

If you're already a member please remember to keep your Email address up to date using Edit Contact Info, to be found by clicking on

the image at the top of the page.

Please don't forget to use the Notify Me page under the

image to make selections that will help you keep in touch as well as help you enjoy all the website has to offer.

You may already have the latest version of Adobe Flash Player but your browser no longer uses it automatically and it will not be supported at all after 31st December, 2020. From that date Google has confirmed it will completely block Flash from being able to run under the Chrome browser as will Mozilla for their Firefox browser and Microsoft for Internet Explorer and Edge. The Members Online feature uses Flashplayer (as do some animations and slideshows) so if it can't be seen clearly in the bottom right of your Home Page, click your mouse on what you can see and you'll be prompted to run Flashplayer. Agreeing will see the Members Online window re-appear. The same applies to animations and slideshows that don't show automatically. Use your Search Engine to search the web for how you allow Flash automatically in the browser you use but some browsers will ignore your choice anyway if you've chosen 'Allow', others, like Opera or Brave, will not. To check how this site handles Flash, click on the Padlock or Not Secure wording that precedes this website's Domain Name in your browser's Address Bar and set Flash to Allow or Ask (default). Click on Site Settings and under Permissions it also shows the same choice. HTML5 (Hypertext Markup Language) is the likely replacement for Flash and hopefully, this website will be converted to it before the deadline for the loss of Flash.

Please remember to Log Out when you leave the site by using the Log Out button to be found under the

image at the top of the page.


AND FINALLY, IF AT ALL POSSIBLE, -
Please let a close relative know of your participation in the Sloane website and show them how to use the Contact Us page to notify me in the sad event of your death. Not only will this allow me to notify other members, it will also put a stop to any website generated emails finding their way to your Inbox. Thank you.
Come on in!
Don't be late!
This is one detention
You'll be pleased to take.

A WARM WELCOME

to fellow Cheyneans and passers-by, from the Official Sloane Grammar School 1919-1970 Old Cheyneans and Friends web site.
Mark Foulsham, at Sloane 1963-70, created this site in August 2008 to record for posterity all that I can, and for all those who attended Sloane or simply have a Sloane connection, to share and enjoy. Feel free just to browse or, if you feel you qualify to join us, make full use of the site by becoming a Registered Classmate. Click on the Click Here to Register button above to start the registration process. It's Free!
I'll also be happy to send a personal invitation to anyone else with a Sloane School Chelsea connection who you think might like to join us. Just enter their Email address in the MISSING CLASSMATES box to your right and click Send Invite.
We may not understand why but memories of our days at Sloane remain with us while others do not. Whether they're good or they're bad, I'd like to give all old boys the opportunity to keep those memories alive.

Aspirations and Objectives

Sloane never had a motto and although our school badge is based on the lion rampant and boar's head of the Cadogan family crest their motto, Qui Invidet Minor Est or He That Envies Is Inferior, is not really appropriate so I'll adopt the one to be found on the Coat of Arms of the Royal Borough of Kensington and Chelsea as it suits us nicely -

Quam Bonum In Unum Habitare
(What A Good Thing It Is To Dwell Together In Unity)

It is hoped, in some small way, to be able to have similar objectives to those stated for the first issue of The Cheynean in December 1926 -

"To record faithfully the major activities of the School, to promote and foster a corporate spirit in the School, to excite a greater keenness both in the games and in other phases of its social life, and to serve as a link between present members of the School and the Old Cheyneans". -

and also to bring together, once again, old friends and classmates, and those of us who have outlived the school and share a common interest in its history and its future.
Sadly, I've no memory of having ever sung or even heard a school song but apparently one was written by music Master Mr Seymour Dicker in 1928, and was first sung in July of that year by pupil J E Bush. What became of it after that first performance is a mystery but it contained the lines -
"Salve, the School and its scholars so keen,
Long may they keep its memory green."
If you've any memories of Sloane you'd like to share, use the Contact Us page to send them in and, whilst you're there, register for the site as well.

Once you've registered, you can activate the Instant Messaging feature that allows you to hold a 'real-time' online conversation with anyone else who has logged on to the website. You can also send a message to someone else on the site via the Message Centre or by using their Profile. Click on their name on the Classmate Profiles page then click on the red 'Send ? a private message' at the top of their Profile.

After you've registered, why not take a look at all the Classmate Profiles ? Even if you don't know the person involved, the information they've put on their Profile can be interesting, illuminating and fun, and often brings back memories of something you thought you'd forgotten about.
If, at any time after becoming a member, you're unsure about anything click on this Using This Site link for an explanation or contact me direct via the Contact Us page.

* * * * * * * *

Why Not Take a Look at Where your Classmates are Living?

Find out the Postcode of a Classmate from their Profile (if they've agreed to let everyone know it) then Click on the link below, enter the details where it says 'Address', then Click on 'Go'. Not every country is covered yet and those that are have limited coverage, but it's worth a try.
Here's the link. Have fun - http://www.vpike.com/



* * * * * * * *
The Sloane News
BREAKING NEWS!
Good guy with a gun fails to prevent umpteenth US mass shooting

America is beginning to wonder precisely when a good guy with a gun is actually going to prevent a mass shooting.
The good guy with a gun has been cited as an effective deterrent against firearm homicide but has thus far failed to save any of the over 330,000 Americans killed by firearms since 2000.
With yet another entirely preventable massacre leaving 19 children dead at an elementary school in Texas, some Americans have started to wonder where this good guy actually is – and some lone, dissenting voices have begun to question if he even exists.
However, a National Rifle Association spokesman has insisted the strategy was sound.
"If fewer people were armed we'd actually have more mass shootings, not fewer," he told us.
"That's how logic works in these here parts, boy, and don't you forget it.
We armed teachers, airline passengers, the police, bus drivers, passers-by and deranged rednecks in a bid to boost safety.
"We just forgot to include elementary school children. We'll be encouraging Congress to pass mandatory 'elementary school carry' laws to ensure this never happens again."
You'll take our guns over your cold, dead children, confirms National Rifle Association

As yet more students lay dying on school grounds, gun owners agreed it is a tragedy, but not enough of a tragedy to actually make any changes that would achieve a meaningful reduction in the number of children being shot, they were actually confirming that their right to defend their homes from pretend enemies is far more important to them than other peoples' real children.
The United States is full of entire hypothetical enemies waiting to strike at any moment, and defending against the products of your own imagination is seen by many to outweigh the unfortunate side effect of regular massacres.
Statistically, any given American has a 0.00059% chance of being involved in a home invasion, but fighting off a horde of evil but not-very-competent criminals regularly features amongst popular fantasies.
Instead, they insist that all that is required to prevent mass shootings is 'one good guy with a gun', despite this not happening once in the last few thousand such events.
"I think we should do more to identify and help people with mental illness rather than blame guns," a firearm enthusiast told us.
"I mean, I'm not willing to pay any more tax or do any work in that area myself, but a solution which involves me not having to do anything at all seems ideal."
Any suggestion that I have to do anything is communism," he added whilst meaningfully stroking his revolver.
The National Rifle Association has repeated their suggestion that armed marshals in schools would provide a solution, as nobody who might volunteer to carry firearms around children has ever been known to have issues of their own. They went on to insist that the only way to prevent further tragedies of this nature is to finally implement a ban on schools.
The recent shooting at the Robb Elementary School in Texas left at least 19 children and 2 teachers dead and forced the NRA to call for immediate changes to existing legislation.
The latest NRA 'spokesperson' told our reporters,
"This is a terrible moment for the United States, and our hearts go out to all of those affected, but now is the time to acknowledge that this senseless act would never have happened if it wasn't for these so-called 'schools'.
People will say that an education is an inalienable right of all Americans and that it was core to the vision of this country's forefathers, but we live in very different times now, and clearly something needs to be done.
It won't be popular, and people will obviously resist the change while arguing they are central to being an American and living in a free society, but in order to protect this nation's children, it is now the time to finally ban schools."
He went on,
"Do you know how many school massacres there are in Chad? None. Do you know why? Because they don't have an organised secondary school system.
The evidence is right there in front of us if only people would open their eyes and see it."
When asked if tighter gun control laws could also have perhaps prevented the latest Texas school shooting, he replied that such suggestions were simply 'grasping at straws'."
He continued,
"Some people will make knee-jerk assumptions on why this tragic event occurred for political purposes, but I would ask you all not to lose sight of the fact that these children were gathered in a convenient place of learning.
Columbine, Virginia Tech, Sandy Hook, Parkland Florida and now Robb Elementary. Education is at the root of all these tragedies.
High-powered assault rifles don't kill children, schools do."
I meant the 'right to bear arms that existed in 1791', clarifies angry James Madison

Following the mass shooting, the author of the Second Amendment, James Madison, has angrily spoken out from beyond the grave to insist he meant the 'right to bear arms that existed in 1791'.
The Second Amendment to the US Constitution is one of the most contentious parts of the US Bill of Rights, and Madison has finally seen enough bloodshed to necessitate an intervention in the ongoing policy debate.
Speaking through a qualified medium just outside Las Vegas, he said,
"Let me be clear about this – the pro-gun lobby really pisses me off.
"And trust me, I'll tell the pro-gun lawmakers exactly that, right to their faces when they eventually get here – which if they keep misinterpreting my intentions could well be a lot sooner than they think.
The fact that I wrote the amendment in 1791 should be an absolutely massive hint as to my intentions regarding assault rifles, don't you think?
I was perfectly happy for people to have a muzzle-loaded single-shot musket for home protection as 1791 America was a dangerous place. But I was safe in the knowledge no one was ever going to go on a killing spree, as they'd have to be within ten feet of you to be sure of hitting you, and would need a couple of minutes or so reloading their musket before having another go."
Madison also explained his dismay at the use of his words to promote weaponry he could not even have conceived of back in 1791. He continued,
"A rifle capable of firing dozens of bullets in just a few seconds, which can be reloaded even more quickly, kills reliably from hundreds of yards away and is available in every shopping mall to any unstable moron that wants one? Jesus H Christ, are you people mental?!
I suppose in fifty years time you people will be claiming it was my intention all along that every American should have the right to carry a laser capable of slicing you into pieces from a mile away?"
Pro-gun lobbyists have reacted angrily to Madison's outburst, insisting he clearly doesn't have the first clue about what he meant when he wrote the Second Amendment all those years ago.
Yet another NRA spokesperson said,
"How dare he tell me how to decide what he meant by telling me what he meant?
What gives him the right to speak out about the intention of the words he wrote down himself, which I have subsequently decided to interpret in support of my pro-gun arguments?
No, I think I know much better than James Madison what James Madison intended."

*
'You can break the law as long as your house is really big and I take full responsibility' insists Boris Johnson, the man actually taking zero accountability



Boris Johnson has defended the multiple instances of law breaking at Downing Street by insisting that his house is really big, which means it's okay to break the law.
With the findings of Sue Gray's report finally released this afternoon, showing widespread partying and law breaking at Number 10 throughout lockdown, Boris Johnson has immediately moved to defend himself by pointing out that Downing Street is actually quite big on the inside, so there was nothing he could really do to prevent it happening.
Speaking last Wednesday he told us,
"It's even got a downstairs toilet.
Look, my house is really big, so you've got to expect a little bit of law breaking going on throughout the whole of lockdown because you know, it's really big. And because it's really big, I didn't have a clue what was going on, despite being pictured in the room drinking during at least one of the events.
I think it's too much to ask to expect everyone to follow the law in such a big house and therefore everyone involved, especially the leaders and people in charge should be exonerated completely.
Because it's so big you see. It even has a garden where you can enjoy a few bottles of wine in the sunshine."
Asked if he feels that people in all other large buildings such as hospitals and schools should be allowed to break the law we were told,
"No they need to be fined, obviously."
So there we have it then. A man has stood up before the public and fellow MPs to take full responsibility for illegal and immoral behaviour by himself and his team, while insisting he should face zero accountability. He justified his unaccountability by telling me,
"Responsibility is easy to take, for here I am, taking it. Accountability however, that is different. That implies consequences. And while I am happy to stand here before you looking humble and sad, while accepting full responsibility for everything that happened, I am unwilling, unfortunately, to accept any accountability for those same things that happened.
"Separating responsibility and accountability are at the core of what it means to be a conservative – mainly because if we didn't separate them there wouldn't be any of us left.
Standing up and looking sad and saying sorry should be the end of the matter for any misdeed undertaken by me and my government. Accountability is for the people who work for us. That is where the resignations should begin, and end. Unless you are sat opposite me of course, and don't work in government, then you should also resign as well."
When asked if would be happy to be held accountable for anything his government does, he added,
"Yes, all the good stuff, obviously. I'm happy to be as accountable as billy-ho for those things.
"And I'll tell you exactly what that good stuff is just as soon as the folks at Conservative Campaign Headquarters can think of some things that sound moderately plausible."

*
Government to help working parents' take on more hours' by increasing number of hours in a day to thirty
The government has vowed to help working parents to take on more hours at work it has been revealed by increasing the number of hours in a day to thirty from next week.
With advice coming from government minister Rachel Maclean today that people should just 'take on more hours' at work or move to a 'better paid job' the government has followed up the advice this morning by adding a further six hours to each day in order for parents to work.
A spokesperson for the government confirmed,
"Yes, that is correct – there are now thirty hours in each working day.
People just need to take on extra hours at work and everything will be okay, but obviously this is difficult if you are looking after your children. That's why from next week we are adding a further six hours to each day in order for people to work extra hours and earn more money to survive.
We are thinking of adding three in the morning, and a further three in the afternoon, probably when the kids are at school, or maybe one in the evening so you can read your children a story before bed.
It's pretty basic maths really, and we should have thought of it sooner."
Asked what people should do if they are not able to use the extra hours given to do more time at work we were told
"Get a better paid job. Obviously."

!!!!!!!!!!!!!!!!!!!!!!!!!!!!!!!!!!!!!!!!!!!!!!!!!!!!!!!!!!!!!!!!!!!!!!!!!!!!!!!!!!!!!!!!!!!!!!!!! -
Hold On!!! There's been some good news about Boris and his government -
Millions of most vulnerable households will receive £1,200 of help with cost of living.

Millions of households across the UK will benefit from a new £15 billion package of targeted government support to help with the rising cost of living, the Chancellor announced today (26 May).
Almost all of the eight million most vulnerable households across the UK will receive support of at least £1,200 this year, including a new one-off £650 cost of living payment
Universal support increases to £400, as the October discount on energy bills is doubled and the requirement to repay it over five years is scrapped
This new £15 billion support package is targeted towards millions of low-income households and brings the total cost of living support to £37 billion this year
New temporary Energy Profits Levy on oil and gas firms will raise around £5 billion over the next year to help with cost of living, with a new investment allowance to encourage firms to invest in oil and gas extraction in the UK
The significant intervention includes a new, one-off £650 payment to more than 8 million low-income households on Universal Credit, Tax Credits, Pension Credit and legacy benefits, with separate one-off payments of £300 to pensioner households and £150 to individuals receiving disability benefits – groups who are most vulnerable to rising prices.
Rishi Sunak also announced that the energy bills discount due to come in from October is being doubled from £200 to £400, while the requirement to pay it back will be scrapped. This means households will receive a £400 discount on their energy bills from October.
The new Cost of Living Support package will mean that almost all of the eight million most vulnerable households will receive at least £1,200 of extra support this year, including the £150 council tax rebate that many families received last month – equal to the average energy price cap rise over this year.
To ensure there is support for everyone who needs it, Mr Sunak also announced a £500 million increase for the Household Support Fund, delivered by Local Authorities, extending it from October until March 2023. This brings the total Household Support Fund to £1.5 billion.
To help pay for the extra support - which takes the total direct government cost of living support to £37 billion – the Chancellor said a new temporary 25% Energy Profits Levy would be introduced for oil and gas companies, reflecting their extraordinary profits. At the same time, in order to increase the incentive to invest the new levy will include a generous new 80% investment allowance. This balanced approach allows the government to deliver support to families, while encouraging investment and growth.
The Chancellor of the Exchequer Rishi Sunak said:
We know that people are facing challenges with the cost of living and that is why today I'm stepping in with further support to help with rising energy bills.
We have a collective responsibility to help those who are paying the highest price for the high inflation we face. That is why I'm targeting this significant support to millions of the most vulnerable people in our society. I said we would stand by people and that is what this support does today.
It is also right that those companies making extraordinary profits on the back of record global oil and gas prices contribute towards this. That is why I'm introducing a temporary Energy Profits Levy to help pay for this unprecedented support in a way that promotes investment.
There is now more certainty that households will need further support, with inflation having risen faster than forecast and Ofgem expecting a further rise in the energy price cap in October.
Today's announcement is on top of the government's existing £22 billion cost of living support which includes February's energy bills intervention and action taken at this year's Spring Statement including a £330 tax cut for millions of workers through the NICs threshold increase in July and 5p cut to fuel duty.
Energy Profits Levy
Surging commodity prices, driven in part by Russia's war on Ukraine, has meant that the oil and gas sector is making extraordinary profits. Ministers have been clear that they want to see the sector reinvest these profits in oil and gas extraction in the UK.
In order both to fairly tax the extraordinary profits and encourage investment, the Chancellor announced a temporary new Energy Profits Levy with a generous investment allowance built in.
The new Levy will be charged on oil and gas company profits at a rate of 25% and is expected to raise around £5 billion in its first 12 months, which will go towards easing the burden on families. It will be temporary, and if oil and gas prices return to historically more normal levels, will be phased out.
The new Investment Allowance, similar in style to the super-deduction, incentivises companies to invest through saving them 91p for every £1 they invest. This nearly doubles the tax relief available and means the more a company invests, the less tax they will pay.
The government expects the combination of the Levy and the new investment allowance to lead to an overall increase in investment, and the Office for Budget Responsibility (OBR) will take account of this policy in their next forecast.
The Levy does not apply to the electricity generation sector – where extraordinary profits are also being made due to the impact that rising gas prices have on the price paid for electricity in the UK market. As set out in the Energy Security Strategy the government is consulting with the power generation sector and investors to drive forward energy market reforms and ensure that the price paid for electricity is more reflective of the costs of production.
The Chancellor announced today that the Treasury will urgently evaluate the scale of these extraordinary profits and the appropriate steps to take.
During the announcement, the Chancellor also set out the government's strategy to control inflation through independent monetary policy, fiscal responsibility, and supply side activism – a plan he said that should see inflation come down and returning to its target over time.
This is a highly progressive package of support, and three-quarters of the total support goes to the most-vulnerable households.

The majority of these measures will apply UK-wide except the Household Support Fund, which is England only. The Devolved Governments will receive Barnett funding as a result of this measure. The Energy Bill Support Scheme is only in Great Britain but we will deliver equivalent support to people in Northern Ireland.
These new cost of living payments will be paid directly to households across the UK by the UK Government.
In the absence of a functioning Executive in Northern Ireland, the UK Government is taking decisive action to support the people of Northern Ireland through these measures.



*

The World vs Russia Continued
In the wake of Ukraine's Eurovision Song Contest victory, Russia's President Putin said that if you fancy a bet next year put your money on Moldova.

*

Tractor Porn MP to be re-instated!!
Neil Parish says "That's about the size of it"

News just in suggests Neil Parish, the MP who resigned after admitting to viewing pornography on his phone in the House of Commons, is about to be re-instated. After initially saying he had been viewing a tractor website before accidentally clicking on a porn website with a similar name, it now seems that he was only looking at a porn website but hadn't progressed further than the trailer. He has promised not to be so foolish again but also recommends Dumper Trucks Do Dallas as a site to take a look at.
*
If you don't want a baby, wait until it's born and let it play with a perfectly legal firearm, American women told
Religious conservatives have told American women concerned about the Supreme Court overturning Roe v Wade that if they don't want a baby, there are perfectly constitutionally appropriate ways to get rid of them.
Republican Congressman Chuck Williams said, "Life is life, and a collection of cells a few weeks into its gestation period is the most alive thing that ever existed.
That life must be protected at all costs. Well, right up until it's born at least, because then its ongoing safety and right to life both come a very distant second to our god-given constitutional right to have a house full of guns.
It's very simple, unborn babies are the most important thing, then guns, then low taxes, then babies that have actually been born. Always in that order, I hope that's clear.
We've prepared a handy leaflet of advice for pregnant women, that they can obtain free with the purchase of any rapid-firing assault weapon. Once they have gone through the agonising, dangerous and often ridiculously expensive process of giving birth, if they still don't want the baby, they can easily solve their issue in the standard American way, by simply being a little bit careless about where they leave their guns.
Countless children die this way in America every single year, and the fundamentalist religious right have never shown any interest in legislating to prevent it, so you might as well embrace it as your new preferred method of avoiding having children.
Children dying in a hail of gunfire, 'accidental' or otherwise, is something myself and my Republican colleague will never try to prevent with changes to the law."

*
The Republicans have the full support of the Taliban –

Taliban Praises US Supreme Court For Plans To Clamp Down On Women's Rights.

After a leaked majority opinion suggested that the US Supreme Court could be on the verge of overturning the landmark Roe vs Wade decision, Taliban officials in Afghanistan have welcomed the move and praised the regressive thinking behind it.
Overturning an almost fifty-year-old decision that protects a pregnant woman's liberty to choose to have an abortion without excessive government restriction would make the United States a much more pleasant land, according the Afghanistan's new leadership, who spoke in glowing terms of the US' highest court.
A Taliban spokesman told us,
"We are delighted to see our brothers in the United States clamping down on the scourge that is 'women's rights'.
Women making decisions about their own bodies will lead to them wanting to make more decisions about other things that affect them personally, and before you know it, women will be thinking they are equal under the law.
We are relieved to see that our American brethren recognise this dangerous risk to our way of life, and that they are taking steps to reduce the rights of women under the law.
Sure, they could definitely go a bit further with the whole 'subjugating women' thing, but this is an excellent first step and we look to them enacting further restrictions on the women of America.
This may take some time, obviously. The caliphate will not be built in a day. But as you've seen, the Taliban is willing to play the long-game when it comes to female subjegation.
In the meantime, the American Taliban have our full support. Should they be looking for ideas on what to do next, then all they need to do is call."

*
Republicans 'to explore' banning women altogether

The US Republican Party, who have been instrumental in pushing for a potential ban on abortion, are to look into the possibility of removing women's basic right to exist.
"It's certainly something I'd be supportive of," said Senator Chuck Williams, a racist and criminal who has fast become a rising star in the party.
"I think that we'd be a better, more Christian society if we didn't have any women, with their expensive hair products and screechy voices. Banning them outright would certainly be a step on the way back to making America great again."
Although there is unlikely to be any immediate federal ban on women, Republicans will be pushing for Individual states to have the freedom to decide whether or not women should be banned at a state level. This would almost certainly lead to the southern, more staunchly religious states to remove the rights of women to exist at the first opportunity.
"S'in the bible," said Obadiah Fuckhead, a preacher from Alabama.
"'And did our Lord, begat unto Jonah, that he should lead the women into the wilderness' – s'in there, alright. Somewhere near the back. This here's a good Christian country. Sooner we follow the teachings of our Lord Jesus Christ and get rid us of all them women, the better for everyone."
Whilst the Democrats are in favour of women retaining the right to exists, Senators Joe Manchin and Kyrsten Sinema have indicated that they might be interested in supporting such plans and would like more information.

*
Elizabeth Line Bosses Promise Passengers 'State Of The Art' Excuses For Delays

With the Elizabeth Line finally opening this month only £4 million over budget and just 4 years late, passengers will be delighted to learn that bosses have spent millions developing the next generation of feeble excuses for their inevitably delayed services.
Her Majesty the Queen opened the line but when interviewed, said she originally had no intention of opening the line named in her honour as she had asked them to name it the Lilibet Line but they refused. Prince Charles apparently helped change her mind when he told his mother that it was about time she got out again a bit more. Charles also pointed out that since her husband's death his mother had been overdoing the smiling a little and as her subjects just might get the wrong impression would she please stop it.
Commuters on the new line can expect a break from the 'leaves on the line' style reasons for why their train services have been delayed or cancelled. Executives running the new line insist there will be no return to the same old unconvincing explanations for why your train isn't running.
"When people start commuting using the Elizabeth Line they're gonna be blown away by a raft of innovative new excuses," said one railway boss.
"Passengers will be rolling their eyes and turning up late to important meetings for reasons they would never have thought of!"
He outlined other potential excuses including -
Cracks in the multiverse
With the concept of the multiverse now gaining traction in modern fiction, bosses have wasted no time in extending their repertoire of excuses to include other universes.
"Passengers will be happier arriving an hour late, if they know it's the fault of a parallel version of themselves pulling the emergency brake in an alternative timeline."
Unavailability of passengers
A clever twist on the hackneyed 'unavailability of train crew' excuse.
"I love this one!" he said. "Classic yet fresh. We'll just have to lock the station gates to make it work."
Train has low self-esteem
Anthropomorphism will apparently play a part in the future of shoddy Elizabeth Line services.
"Our passengers will love having trains which seem a bit more human. Why shouldn't engines have a crisis of confidence from time to time? And how can you be angry when they do? Mental health is important in this day and age, and that extends to the rolling stock on the Elizabeth Line."
A butterfly flapped its wings in Beijing
Good old-fashioned chaos theory.
"The amazing thing about this one is that it's literally nobody's fault. It's the ultimate excuse."
After revealing that millions had been spent on consultants to come up with these new excuses, the spokesman continued,
"Don't worry. The cost will be more than covered by massive increase in fares we are planning to announce immediately after launch."

*

Prince Charles Handcuffs Himself To Throne After Delivering Queen's Speech
Roads around the House of Lords were closed to enable Prince Charles to deliver the Queen's speech containing a law to stop people disrupting traffic.
After delivering the Queen's Speech on his mother's behalf, Prince Charles remained seated on the throne in the House of Lords, insisting 'I'm the king now'. Her Majesty was actually at the ceremony but due to the natural shrinkage that comes with age was unable to be seen under her crown.
After seventy years as Queen, She was unable to carry out her duty this year due to 'episodic movement issues'. A Buckingham Palace spokesperson told me that she had tried all the recommended over the counter treatments for her problem but to no avail, and that she felt it wise to remain at home this year to be closer to the royal chamber.
It therefore fell to professional heir Prince Charles to read out the usual rubbish on behalf of the current Government. The trouble is, now that his buttocks are firmly ensconced on a throne, he's refusing to budge.
"Bugger off, it's mine!" he shouted to Parliamentary officials when they told him the ceremony was over and that he should now leave, before handcuffing himself to the throne.
"I'm King now! I'm King of the castle, d'you hear me?
Get your hands off me you dirty rascal or I'll have you executed! I can, you know, 'cos I'm the King!
"Bow down! Bow down before me!"
After an hour or so, a potted geranium was brought in to talk some sense into Charles. However, the Prince of Wales responded by urinating over the flower, obviously glad of the opportunity to relieve himself without having to get up.
When royal aides turned to the Queen for guidance, her response was impressively pragmatic.
"Do you know what?" said Her Majesty. "Let the idiot stay there. He made a stupid decision and now he can stew in his own faeces with wee (not the Royal 'we', you understand) running down his legs.
It's actually a perfect metaphor for what this country has become.
I'm just glad I'll be dead soon."

*

A statue erected in honour of former Conservative leader Margaret Thatcher, in her home town of Grantham, was pelted with eggs a couple of hours after its unveiling. The Government has acted swiftly by announcing the egg-covered statue is to officially become a food bank. that will be seen as a key source of nutrition for the local community.
Just over a week since Ashfield MP Lee Anderson caused outrage by claiming that people should be able to cook a meal for less than 30p, he today celebrated that even this now sounds 'rather extravagant'.
"What we have here is an example of the Tories listening to the people, as we always do," he said.
"The people said that 30p wasn't right, so in a matter of days, we have solved that. A statue of a Goddess that will provide food for a whole community in just a couple of licks. It is genius. It has a ring of divinity to it. Thatcher is basically Jesus now."
He went on to say,
"We have provided everything that this community needs to share its resources. I do have to say that I am a little disappointed that there has been such a lack of imagination in the types of donation that this particular food bank has received. Eggs are a great start, but a little bit of bacon, or even some Foie Gras shouldn't be too much to ask.
Once again, we seem to be able to provide the tools, only to be let down by the public not trying hard enough. It's like they just don't want to help themselves."
If the scheme is a success, plans are already afoot for further statues to be peppered around the country. As the cost of eggs has risen dramatically, the Government are urging people to come up with other ideas for less costly food items to be used instead.

*

Labour Party Urge Government To Change Tory Party Emblem

In the light of recent government faux pas, the Labour Party has suggested that the Tories update their emblem to better reflect the Government's stance on most things, especially those Labour disagree with. Deputy Labour Party leader Angela Rayner suggested they use a condom instead of the current image of a scribbly tree adorned with a just as scribbly Union Flag.
"After all," she was heard to say, " A condom allows for inflation, halts production, destroys the next generation, and gives you a false sense of security while you're actually being screwed."
No comment has, as yet, been forthcoming from the Prime Minister other than that he 'will have something for the weekend'.
FRONT PAGE NEWS

Exit Stage Left Pursued By A Ghost
Outgoing Royal Shakespeare head, Gregory Doran, has said that only disabled actors should in future play Richard III as it was no longer acceptable to not cast a disabled actor in the role. We are already seeing fewer white actors playing Othello and Simon Callow has claimed that he would now have to reconsider playing all 37 characters of A Christmas Carol, including Tiny Tim, as he could not be all the different shapes and sizes required at the same time. He is, as he said, 'just a thin actor'.
Mr. Doran, meanwhile, might like to consider if only dead actors should be allowed to play ghosts and whether there are any actors who actually have Richard III's scoliosis disfigurement.
HOME FRONT NEWS

Slight scare a couple of weeks ago when my youngest son was rushed to hospital from work after his speech began slurring and he felt pains in his left arm. Guildford hosptal scanned him and diagnosed a minor stroke. He's OK now and will, hopefully, listen to their advice about cutting down on drinking and smoking and get more sleep than his usual 4-5 hours a night. He'll also have to slow down as he's dived headlong into everything he's ever done and concerned himself more about the problems of others than his own. His recent break up with his fiance probably hasn't helped either and we'll just have to hope this wake up call is heard by him.
We're both concerned about him, of course, but, like all mothers, my wife is especially so. I'm also a little concerned about her but my fears were allayed when she came home from her doctor's appointment grinning from ear to ear. Unaccustomed to this, I asked her,
"Why are you so happy?"
The wife said,
"The doctor told me that for a sixty eight year-old woman, I have the breasts of an eighteen year old."
"Oh yeah?" I quipped, "What did he say about your forty-five year old arse?"
She said,
"Your name never came up in the conversation."
Strange things do come up in conversation, though. With apologies to anyone who has suffered a recent bereavement and who this might upset, but I was at the funeral of a distant relative recently and had an urgent need to use my phone so I asked the deceased's wife what her wi-fi code was. I was met with an unexpected torrent of abuse that ended with
"Don't you think that's an inappropriate thing to ask at an occasion like this. You short-arsed, fat bastard?!"
"I just had to respond so I asked her
"Is that all lower case?"
That upcoming holiday in Rhodes I told you about last time has come about because my wife asked me,
"Why don't you treat me like you did when we first started dating?"
She wasn't satisfied when I took her to the pictures and then to the pub before dropping her off at her parent's house. It was thoughtless of me really. I should have remembered that they'd been dead for some years and the house had been converted into flats. Still, she's got a Freedom Pass so it didn't cost her anything to find her own way home.
When I saw her trip over a few weeks back while carrying a basket of clothes she'd just ironed, I waatched it all unfold. It was then that she told me,
"You need to do more household chores."
To which I retorted,
"Can we please change the subject."
Clever clogs' answer to that was,
"OK. More chores around the house need to be done by you."
Hence, the holiday had to be arranged but after this I'm done with being a people pleaser. If everyone's ok with that.
Talking of holiday's again, I'll still be away whilst you're all enjoying your Platinum Jubilee celebrations. Being a staunch royalist, I'm sure I'll be able to raise a glass or two to Her Majesty in Rhodes, and as it's an all-inclusive hotel they should be free. Elizabeth's had a great life but it's actually longer than people think -
Adam and Eve were walking through the Garden of Eden for the first time.
They marvel at the beauty. Waterfalls, beautiful plants, trees, and animals, and an incredible sky are the things they look at and enjoy. Adam looks past God and sees a woman standing there. With Eve next to him, he wonders who it is. He asks God,
"Who is that standing there?"
God turns round and Queen Elizabeth II smiles and waves at him.

God turns back to him and says,
"I've got no idea. She was here when I got here."
Must go now. I've reached that point where my train of thought has left the station without me. As some of you slow readers read this, I'll, hopefully, have caught up with the train and will now be on the plane to Rhodes. I'll be thinking of you all and ocassionally logging in to see if you're misbehaving yourselves. I hope so but do keep it clean. Catch up soon.
*


JOKES OF THE WEEK

Armed only with a false passport and disguised as a human being, Vladimir Putin was in the line for customs when he arrived in Turin for the Eurovision Song Contest.

Customs Officer: "Name?"

Putin: "Vladimir Putin."

Customs Officer: "Nationality?"

Putin: "Russian."

Customs Officer: "Occupation?"

Putin: "No, just visiting."

*
A Greek and an Italian were sitting in a coffee shop one afternoon discussing who had the superior culture.
The Greek says, "Well, we have the Parthenon."

Arching his eyebrows, the Italian replies, "We have the Coliseum."

The Greek retorts, "We Greeks gave birth to philosophy.

The Italian, nodding agreement, says, "But we built the Roman Empire."

And so on and so on until the Greek comes up with what he thinks will end the discussion.

With a flourish of finality he says, "The Greeks invented sex!"

The Italian replies, "That is true, but it was the Romans who found out you could do it with women."
An Australian bloke is travelling around the Greek Islands. He walks into a bar and, by chance, is served by an Australian barmaid. As she takes his order, a Fosters, she notices his accent. Over the course of the evening they get chatting. At the end of her shift he asks if she wants to come back to his place.

Although she is attracted to him she says no. He then offers to pay her $200 to sleep with him.
As she is travelling around the world, and is short of funds, she agrees.

The next night the bloke turns up again. Again he orders Fosters and after showing her plenty of attention, asks if she will sleep with him again for $200. She remembers the payout from the night before and is only too happy to agree.

This goes on for 5 nights. On the 6th night the bloke comes in again, orders Fosters but goes and sits in the corner. The barmaid thinks that if she pays him more attention then, maybe she can shake some more cash out of him. So she goes over and sits next to him.

She asks him where he's from in Australia ..

' Melbourne ', he tells her.

'So am I. What suburb?' she enquires.

'Glen Iris' he replies.

'That's amazing,' she says excitedly, 'so am I - what street?'

' Cameo Street ' he replies.

'This is unbelievable.........' she says, her voice quavering;

'What number?'

'Number 20', he replies.

She is totally astonished. 'You are NOT going to believe this,' she screams, 'but I'm from number 22! My parents still live there!'

'I know...' he says, 'Your Dad gave me $1,000 to give to you'
*

THOUGHTS FOR THE WEEK

After 70 years on the throne, it's obvious Her Majesty the Queen must have said a few things and it's probably true to say that most of us won't have remembered them. Here's a few quotes attributed to her (or possibly her speech writers, or even someone long forgotten) -

There are long periods when life seems a small, dull round, a petty business with no point, and then suddenly we are caught up in some great event which gives us a glimpse of the solid and durable foundations of our existence.
*
When life seems hard, the courageous do not lie down and accept defeat; instead, they are all the more determined to struggle for a better future.
*
Good memories are our second chance at happiness.
*
Let us not take ourselves too seriously. None of us has a monopoly on wisdom.
*
Grief is the price we pay for love.
*
People are employed at huge cost to think up these logos but do we ever really take much notice of them or understand what they're all about? I doubt it –

Do you see the white arrow between the 'E' and the 'x'?

*
The 2nd and 3rd "T's" are two people sharing (or fighting over) a tortilla and a bowl of salsa.

*
The world's most famous bike race. The "R" in "Tour" is a cyclist.
The yellow circle is the front wheel of a bicycle, the "O" is the back wheel.


*

The arrow means Amazon has everything from A to Z.

*
There is a dancing bear above the "ble".
Toblerone chocolate bars originated in Berne, Switzerland, whose symbol is the bear.

*
See the gorilla and lioness (in white) facing each other?

*
If we go to confession and say "forgive me, pastor, vicar padre, priest" is it because we've synonymed?
* * *


The Story of The NEVERWELLS (WHO ARE NEVER OUT OF TROUBLE)

Many years ago I picked up a small book at a car boot sale and now, With two years in the world of Covid behind us, I thought it might be a good time to share its contents with you.
The book in question, published in 1948 (the year the NHS came into being), is titled The Story of The NEVERWELLS (WHO ARE NEVER OUT OF TROUBLE) and was written by William Edwards, a doctor, under the pseudonym Dr. Goodenough.
The Neverwells included mum and dad, their small boy Billy, growing-up Mary and baby Roy, and came into being after the Editor of The People newspaper met two people on a train. One of them was a doctor friend of the Editor's, 'a kindly soul yet a man of the world who has one of the biggest practices in the South of England.' He said:
"I am rushed off my feet these days. And in most cases I need not have been called in at all, if only people had a simple knowledge about ordinary illnesses."
Later, the Editor found himself talking to a woman passenger with two children -
"They're not too strong," she said, "always under the doctor with one thing or another. It's never serious you know, but the trouble is you can never be sure and so you must call the doctor."
The same night as he had spoken to the two people on the train, the Editor of The People telephoned his doctor friend and asked him if he would become Dr. Goodenough and write for him every week the story of a family - the Neverwell family - about their complaints and how he treated them, and in simple language so that ordinary people could at last learn the elementary things about illness.
For over a year before the book was published, Dr. Goodenough entertained and instructed People readers every week with the story of the never-ending complaints of the Neverwells. There were words of wisdom and understanding in these little features as well. So much so that, increasingly, the People was inundated with letters from readers asking for a book to be written. Hence, the book I picked up some 30 years after it was first published I now bring to you each time I update this Home Page of the website. I hope you find some enjoyment in its pages and can see the comparisons it enables us to make between the way medicine was practiced back then and how much it has advanced in such a relatively short space of time whilst the personal touch has moved in the opposite direction.
This tenth piece from the book shows how Catarrh wasn't just to be sniffed at -

Catarrh
"What can I do about my catarrh, doctor?" asked Mr. Neverwell. "I'm full up with the stuff every morning, and my wife says she's tired of washing my handkerchiefs. Isn't there any cure for it?"
" 'Pends what you've really got," said Dr. Goodenough. "Let me examine your nose properly, and see what's the matter."
He shone a light up Mr. Neverwell's nostrils. He put a mirror at the back of his mouth and took a look behind his nose. He darkened the room and put a very bright light in Mr. Neverwell's mouth.
"What's the big idea?" asked Mr. Neverwell.
"I'm trying to find out, first if you have an obstruction or other unhealthy condition in your nose. Second, if your antra and sinuses are infected. You know how, if you shine a torch behind your thumb, some of the light comes through and it looks red? You can get the same effect by putting a light in your mouth. The cheeks should shine red, because the cheek bones are hollow, not solid. But if the hollows are filled up with discharge, then the light doesn't come through. People with infected sinuses continually drip catarrhal stuff, and never get well until their sinuses are properly washed out. People with polyps or other obstructions in their noses always have catarrh, because the fresh air can't get in and blow the germs out. So, when we are trying to cure catarrh, it is essential to clear these organic things first, before we go any further."
"What have I got?" asked Mr. Neverwell.
"Nothing to write home about. Your nose is really pretty healthy."
"Then, why have I got catarrh?"
"In the fashion. Most people in cities have it. It's the chief disease of civilisation, caused by too much starchy food, too much fug (the stuffy atmosphere of a poorly ventilated space), too much smoking, too much beer, too many people in one cinema and far too many in one railway carriage. You see, the lining of your nose isn't a dry thing, like your skin. It is a mucous membrane, which means that it naturally secretes mucus to keep itself moist. In perfect health, there isn't too much and it isn't a nuisance; but all sorts of things will increase the flow enough to drip and be uncomfortable. Cold air shrinks the membrane, stuffy hot air makes it swell. Too much starchy food makes it swell. Not enough vitamins in your food makes it swell. Strong emotion will even make it swell - worried people nearly all have catarrh."
"Then, if you irritate the swollen lining, with smoking, or germs, or dust, it pours out more mucus."
"I think I see," said Mr. Neverwell. "But how do I get rid of my catarrh?"
"You can't do much about your diet, and you can't avoid crowds. You can take a vitamin pill, you can get as much fresh air as possible - sleep with your windows wide open, if Mrs. Neverwell will let you. You can stop worrying about it - it's unpleasant, but not hurtful. And you can cut down your smoking, stop drinking on an empty stomach, and wash your nose out every day."
"What do I wash it out with?"
"Soap and water. Push your soapy fingers up your nose each evening when you watch your face."
"But I only wash it in the mornings."
"Form a new habit, then, and wash it in the evenings, too. That is when it is most dirty, after all - when you have been out all day. Why go to bed with other people's germs on you?"
"Something in that," admitted Mr. Neverwell. "I'll try it. And you say catarrh isn't dangerous?"
"Not your sort. A neglected antrum might be - that is why it is important to be examined - but just an excessive mucus drip, as I said, can't lead to trouble. Try fresh air and cleanliness."
"Oh all right," said Mr. Neverwell. "But I thought you'd give me some injections."
"As a faith cure?" asked the doctor. I admit it can be marvellously effective that way. Goodbye!"
"Oh goodbye," said Mr. Neverwell, and walked home in rather a disgruntled state, as his wife would still be vexed about the handkerchiefs. However, when he did get back, she had something else to worry about instead.
"I don't feel at all happy about Billy," she said. "He's very feverish, and he's coughing his head off. I think you'd better get the doctor to him."
So back Mr. Neverwell had to go! What could be worrying Billy's mum? Has she spotted something?
Join us next time to see whether her instinct was right or whether she'd made a rash judgement as she's probably already decided Billy's showing signs of the onset of Measles. Mum's know best.
* * * * *

* * * * *

The Home We Called Sloane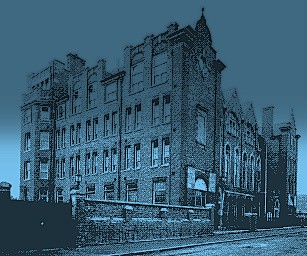 The Sloane building seen from Hortensia Road in 1908

The Sloane building was 100 years old in 2008, although it didn't actually start life as a boys' school until after the First World War, during which it served as a hospital. It still stands and many memories are, no doubt, ingrained in its walls along with the odd name and ribald comment. Who knows what the future holds, despite its Grade II listing on May 7th, 2002. Grade II listed buildings can be altered, extended, or even demolished, but only with Local Authority consent, so it may be that the building is considered historically or architecturally interesting enough for it's fabric to remain untouched. Some consideration may have been given to it having been the first purpose-built secondary school in London, and it is certainly one of only 3% of all ages of listed buildings that was built in the 20th century. Schools generally are seen as a good investment by developers because they're easy to convert. They are likely to be structurally sound because the authorities will have inspected them regularly to ensure they comply with Health and Safety requirements.
Sadly, Sloane Grammar School for Boys only lasted 51 years, from 1919-1970. Sloane old boy John Binfield, in one of his poems, writes -
... the school, with
All its past, was sucked into a huge
Turbulent sea of glass in Pimlico
And sank without trace. "full fathom five..
Sea nymphs hourly ring his knell.
Hark, now I hear them. Ding-dong bell".
The exterior of the building still survives in the form we all remember even if the interior doesn't. It would have been wonderful to have been able to celebrate, in 2019, what would have been its centenary as a boys' school, had it remained in existence as such. Unfortunately, for us, it wasn't to be, and the Covid-19 pandemic that gripped the world in 2020 and beyond didn't allow for a late celebration either . Maybe one day......

Sloane seen from the rear in 2014
* * *


This Website And The British Library's Web Archive

Please Note: - The school building still remains but not as a school. I've tried to preserve as much of its history and old boys' memories of it as I can, on this website. You might like to know that once I'm no longer around and have shuffled off to that classroom in the sky, this website will remain intact. Once my monthly payments to the Class Creator programmers cease the site will continue but to compensate them for their loss it will display adverts. If you're still around, you'll still be able to Log In to the site and carry on much as you did when I was alive. Naturally, the site will look exactly as it did (apart from the adverts) on the day I died. What will not be possible are any new members, unlikely as that is, as I won't be here to verify they are who they say they are.
In addition, in 2013 , just before the Legal Deposit regulations came into force, I asked to register the website with the British Library's UK Web Archive as one of historical interest and they agreed. So, when none of us are unable to Log In anymore or the Class Creator business ceases to operate, it will still be available for access by our children and grandchildren etc., as well as future historians, at this address -

Web Archiving
The British Library
96 Euston Road
London NW1 2DB
United Kingdom
Tel: +44 (0)20 7412 7184
E-mail: web-archivist@bl.uk
Since 2013, publishers need to give a copy of every UK publication they make to the British Library. Five other major UK libraries may also ask to be given a copy. This system is called legal deposit and it's been a part of English law since 1662.
Print publications for legal deposit can be books, journals, sheet music, maps, plans, charts or tables. Now legal deposit also covers material published digitally such as websites, blogs, e-journals and CD-ROMs.
Legal deposit has many benefits for publishers and authors. The deposited publications can be read inside the British Library and will be preserved for future generations. Their works become part of the nation's heritage, providing inspiration for new books and other publications.
Unfortunately, in the case of websites, the British Library say that much of the information contained in them cannot be archived for technical reasons. In addition, as almost all this website's pages are Password Protected, it will be impossible for them to be accessed unless I remove that restriction. At some point I will give the British Library's 'web crawler' access to our Password Protected pages to allow it to take a 'snapshot' of the site on a daily, weekly, monthly, quarterly or 6-monthly basis. At the time of writing this, 2020, their system doesn't have the capability to crawl and archive private content that sits behind a Log In procedure. They will noever be allowed access to members' Profiles and the personal information they contain.
The current generation of web crawlers cannot capture:
Interactive, dynamically generated content

Content that is only available via a search engine on the website, or some other form submission method

Some types of JavaScript-driven menus

YouTube videos, Flash movies and similar streaming audio or video (some audio and video files can be captured, e.g. those embedded via the standard

HTML5

<video> or <audio> tags).
Unlike static HTML, which is relatively easy to capture, script code is very hard for traditional web crawlers to analyse, which is why the Library runs web browsers for a limited part of their crawls. Even that cannot capture very interactive web sites, like single-page web applications, or any site feature that needs a remote server to function. In practical terms this means that entering queries into the search box of an archived version of a website will not work. Standard links on the website, however, will work as normal.
Some JavaScript driven menus do not function well once archived. YouTube videos, Flash movies, and similar streaming audio or video are also beyond the capability of web crawlers. However, as members of the International Internet Preservation Consortium, contributors to the UK Web Archive are developing tools which will help capture this content in the future.
Attempts are made to gather all of the objects associated with a website including html, images, PDF documents, audio and video files and other objects such as programming scripts. However, the crawler software cannot automatically gather any material that is protected behind a password, without the owner's collaboration. Web site owners may however choose to divulge confidentially a user ID and password to allow archiving of these areas. So, as I said, I'll collaborate with the British Library to allow them to gather only non-invasive non-personal information behind the password protection if and when their archiving system becomes capable of it .
Should you wish to visit the UK Web Archive to see what it makes available for viewing or if you know of a website that you think deserves preservation, use this link -

https://www.webarchive.org.uk/ukwa/info/nominate

* * *

Whatever our own personal reasons for it doing so, the school will still haunt most of us even if it disappears altogether. With that tenuous link, here's a poem that I came across in a copy of The Cheynean -

The Ghost of Sloane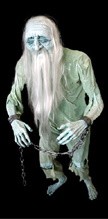 When London's asleep and the School very quiet,
No sound of footsteps, no sound of a riot,
No sound of even the shuffle of feet,
No sound of the creak of a pupil's seat,
Out of the darkness the ghost of Sloane
Awakes from rest with a sigh and a groan.
Then up he arises to haunt the School
Climbing the stairs in the guise of a ghoul.
He shuffles and clanks down each corridor
Into the classrooms where stand desks galore.
He examines each desk and checks the boys' work,
Allots ghostly marks in the dark and the murk.

If you ever lose books from out of your desk,
And the teacher upbraids you and calls you a pest,
Just tell him my story, however tall,
Of the white shrouded phantom that haunts the School Hall.

J. Hollingshead (3C)

As for us, the boys who used to attend our Chelsea school, we probably considered ourselves 'Chelsea men' but I doubt that many of us fitted the description in this poem, written when he was in the 5th year by one time Sloane Schoolboy, A R Doubledee. I get the impression he didn't particularly approve of the 'Beatniks' of the late 50s and early 60s that he found himself sharing Chelsea with or, as he called them the 'Weirdies' -

The Weirdies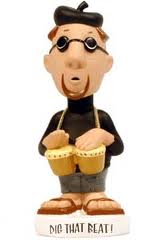 The Chelsea man is excessively queer,
He only drinks coffee and doesn't like beer.
He's always "chatting" the girls, and yet
This seems to make him "one of the set".

His unkempt chin and uncut hair
Go with his feet which are usually bare.
If he wears shoes, they've never got soles,
And he's usually found in Bohemian holes.

His outsize sweater is generally black
Contrasting well with his shorty mac.
He wears his clothing merely to show
That he can keep up with the boys of Soho.

To find a girl he doesn't look far,
But into the nearest coffee bar,
Where he's sure to meet a Bohemian "yob".
They're all from Chelsea - what a mob!

The girls with hair right down their backs
Wear irregular clothes that look like sacks.
They walk about wearing father's sweater:
I really don't see why he should let 'er.

Their gaudy clothes of reds and greens
Match up with the style of their men-friends' jeans.
Now that's how it goes with the latest style:
Girls on their faces make-up pile,
The men wear anything they can find -
I shouldn't stare, I should just act blind!

A.R. Doubledee (5b)
* * *

ANNOUNCEMENTS APPEAR BELOW
ONCE YOU'VE LOGGED IN