Sloane Grammar School boy, if you seek your memorial,
look around you.




DON'T FORGET!! -
PLEASE CHECK THE ANNOUNCEMENTS BOARD AT THE FOOT OF THIS PAGE FOR ANYTHING IMPORTANT and, after you Log In, the CALENDAR OF EVENTS PAGE FOR DETAILS OF FORTHCOMING EVENTS.
If you're having trouble logging in because you've forgotten your Password, click on Forgot Password? inside the Classmate Login box that appears after you click Sign In and you'll be Emailed a link to reset it.

You'll find other helpful tips under REMINDERS below.



The Sloane


Hello and Welcome to

Mark Foulsham's

Sloane Grammar School website
If I built it I knew you would come

A School that invited loyalty
(Quote by Don Wheal)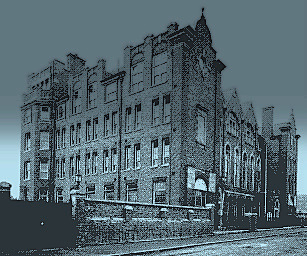 Gone But Not Forgotten
'Men are we, and must grieve when even the shade
Of that which once was great is pass'd away.'

William Wordsworth
On the Extinction of the Venetian Republic

You may think you're done with the past but the past isn't done with you!

"The merits of a school are judged as much by the men it produces as by their achievements as boys" -
(Old Cheynean D.J. Cowie, March 1929)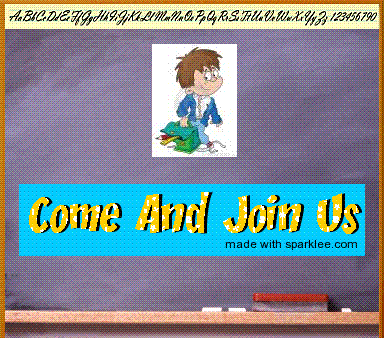 Register and link up with old school friends again and become part of Sloane Reunited.
If you were a pupil or member of staff at Sloane you qualify to register for the website. Click on Missing Classmates at the top of this page to see if we've been expecting you. If you see your name click on it and follow instructions. If your name's not there click on BECOME A MEMBER to learn more and then click the ADD NAME button to start the ball rolling or click Contact Us at the top of the page, read what you see then complete the box at the bottom of that page to ask me to add your name to the list.
It's Free, it's Easy, it's Secure
and
You're Never Alone As A Sloane

If you're a member, click on an image (



) at the top for more.

Here's what you'll find -

= Messages waiting for you. The red bubble shows how many.

= Website activity. Check for things you may have missed.

= Member functions like Profile, Contact, and Password changes.

AND -

If you're already a member please remember to keep your Email address up to date using Edit Contact Info, to be found by clicking on

the image at the top of the page.

Please don't forget to use the Notify Me page under the

image to make selections that will help you keep in touch as well as help you enjoy all the website has to offer.

You may already have the latest version of Adobe Flash Player but your browser no longer uses it automatically and it will not be supported at all after 31st December, 2020. From that date Google has confirmed it will completely block Flash from being able to run under the Chrome browser as will Mozilla for their Firefox browser and Microsoft for Internet Explorer and Edge. The Members Online feature uses Flashplayer (as do some animations and slideshows) so if it can't be seen clearly in the bottom right of your Home Page, click your mouse on what you can see and you'll be prompted to run Flashplayer. Agreeing will see the Members Online window re-appear. The same applies to animations and slideshows that don't show automatically. Use your Search Engine to search the web for how you allow Flash automatically in the browser you use but some browsers will ignore your choice anyway if you've chosen 'Allow', others, like Opera or Brave, will not. To check how this site handles Flash, click on the Padlock or Not Secure wording that precedes this website's Domain Name in your browser's Address Bar and set Flash to Allow or Ask (default). Click on Site Settings and under Permissions it also shows the same choice. HTML5 (Hypertext Markup Language) is the likely replacement for Flash and hopefully, this website will be converted to it before the deadline for the loss of Flash.

Please remember to Log Out when you leave the site by using the Log Out button to be found under the

image at the top of the page.


AND FINALLY, IF AT ALL POSSIBLE, -
Please let a close relative know of your participation in the Sloane website and show them how to use the Contact Us page to notify me in the sad event of your death. Not only will this allow me to notify other members, it will also put a stop to any website generated emails finding their way to your Inbox. Thank you.
Come on in!
Don't be late!
This is one detention
You'll be pleased to take.


A WARM WELCOME

to fellow Cheyneans and passers-by, from the Official Sloane Grammar School 1919-1970 Old Cheyneans and Friends web site.
Mark Foulsham, at Sloane 1963-70, created this site in August 2008 to record for posterity all that I can, and for all those who attended Sloane or simply have a Sloane connection, to share and enjoy. Feel free just to browse or, if you feel you qualify to join us, make full use of the site by becoming a Registered Classmate. Click on the Click Here to Register button above to start the registration process. It's Free!
I'll also be happy to send a personal invitation to anyone else with a Sloane School Chelsea connection who you think might like to join us. Just enter their Email address in the MISSING CLASSMATES box to your right and click Send Invite.
We may not understand why but memories of our days at Sloane remain with us while others do not. Whether they're good or they're bad, I'd like to give all old boys the opportunity to keep those memories alive.

Aspirations and Objectives

Sloane never had a motto and although our school badge is based on the lion rampant and boar's head of the Cadogan family crest their motto, Qui Invidet Minor Est or He That Envies Is Inferior, is not really appropriate so I'll adopt the one to be found on the Coat of Arms of the Royal Borough of Kensington and Chelsea as it suits us nicely -

Quam Bonum In Unum Habitare

(What A Good Thing It Is To Dwell Together In Unity)
It is hoped, in some small way, to be able to have similar objectives to those stated for the first issue of The Cheynean in December 1926 -

"To record faithfully the major activities of the School, to promote and foster a corporate spirit in the School, to excite a greater keenness both in the games and in other phases of its social life, and to serve as a link between present members of the School and the Old Cheyneans". -

and also to bring together, once again, old friends and classmates, and those of us who have outlived the school and share a common interest in its history and its future.
Sadly, I've no memory of having ever sung or even heard a school song but apparently one was written by music Master Mr Seymour Dicker in 1928, and was first sung in July of that year by pupil J E Bush. What became of it after that first performance is a mystery but it contained the lines -
"Salve, the School and its scholars so keen,
Long may they keep its memory green."
If you've any memories of Sloane you'd like to share, use the Contact Us page to send them in and, whilst you're there, register for the site as well.

Once you've registered, you can activate the Instant Messaging feature that allows you to hold a 'real-time' online conversation with anyone else who has logged on to the website. You can also send a message to someone else on the site via the Message Centre or by using their Profile. Click on their name on the Classmate Profiles page then click on the red 'Send ? a private message' at the top of their Profile.

After you've registered, why not take a look at all the Classmate Profiles ? Even if you don't know the person involved, the information they've put on their Profile can be interesting, illuminating and fun, and often brings back memories of something you thought you'd forgotten about.
If, at any time after becoming a member, you're unsure about anything click on this Using This Site link for an explanation or contact me direct via the Contact Us page.
* * * * * * * *

Why Not Take a Look at Where your Classmates are Living?

Find out the Postcode of a Classmate from their Profile (if they've agreed to let everyone know it) then Click on the link below, enter the details where it says 'Address', then Click on 'Go'. Not every country is covered yet and those that are have limited coverage, but it's worth a try.
Here's the link. Have fun - http://www.vpike.com/



* * * * * * * *






The Sloane News
BREAKING NEWS!
The Queen Reveals Details Of Chat With Harry
"...And then the little twat said "Can I still keep the uniform and medals though, Nan?"
I told him to p*ss off, obviously. You should have seen his face!"
*

Mars Landing! NASA Release First Image!

*

FRONT PAGE NEWS

Reason Revealed For Trump's Defeat

A small number of people still couldn't understand the reason for Donald Trump's election defeat until a conversation between two of his supporters was overheard -
First supporter: "I just can't believe it man! The greatest President this country has ever seen, Donald J Trump, has had the presidency stolen from him!"
Second supporter: "I don't understand it either. The man is a genius. That's what the 'J' stands for!"
*
Covid-19 Latest!
Welsh variant of Covid-19 discovered!

Just when you thought you'd heard everything there was to hear concerning the pandemic, brace yourself! Our man at the BBC has learnt that a Welsh variant of the virus has been discovered and are reportedly providing urgent Welsh language training to enable them to provide interminable daily statistics regarding variant Lllanfairpwllgwyngyllgogerychwyrndrobwllllantysiliogogogoch. If you're unsure of what is actually being said, details will be available in 7,000 different languages via post or online at www.boremetodeathwhydontcha. It has been decided not to use sign language interpreters to relay the progress of the variant as the NHS is under enough pressure as it is without having to deal with and increase in Repetitive Strain Injuries.
*

Opening Schools But Not Pubs Is damaging For Both Parents Ant Teachers

The Government has been warned that opening schools on Monday without having pubs open could lead to a mental health crisis across the education sector.

"Teaching isn't easy at the best of times," explained one teacher for the thousandth time..
"Lesson preparation, difficult kids, long days, insufficient materials, having to deal with the fact that Gavin Williamson is in charge of everything.
Literally the only thing that normally gets most of us through the day is a couple of hours in the pub afterwards making jokes about the thick kids. Making us go to school without being able to go to the pub afterwards is inhumane."
For once, pupils were in agreement with their teachers over the situation.
"Making us go to school without being able to go to the pub afterwards is inhuman," said one fifth-former.
"Homework, ill-prepared teachers, stupid after-school clubs, sharing a book between nine of us, having to deal with the fact that Gavin Williamson is in charge of everything.
The only thing that gets kids through the day at school is being able to go to pub afterwards and making jokes about the thick teachers."
It is thought that many schools will handle the difficult situation by relaxing the rules on bringing in alcohol and have everyone pretend everyone else isn't on a two-beer buzz from lunchtime onwards.
And to help overworked mums as well as teachers, supermarket alcohol counters will be there for you from 7am on Monday. It's because they care. So with children set to return to school on Monday the 8th of March, a smorgasbord of offers are being made at supermarkets across the land on alcohol to help you celebrate getting rid of the little bastards the day your children finally get back to the education they need.
"We're delighted to be able to make these superb offers to the long-suffering parents of the United Kingdom," beamed one supermarket manager.
"We're offering 3-for-2 on our finest reds, buy-one-get-one-free on our moderately-good reds, and the Merlot is a quid a bottle.
Of course, we remind all of our customers to drink responsibly."
"WINE!!" interrupted a 32-year-old mother of three who has been pretending to know what quadratic equations are since Christmas.
"That whole shelf, in this trolley, now, PLEASE.
"No, save me your judgments, I don't care. I have had no time for myself. Do you know what it's like to have three children ALL THE TIME? They're bloody everywhere. You're constantly outnumbered, and they all have different kinds of maths problems, NONE of which are familiar to me.
"The minute that bus is over the horizon, the Malbec is getting cracked open, a straw is going in the bottle and I'm binge-watching the Aussie version of Married at First Sight, or whatever other crap they dig out, ALL DAY."

*

Chocolate Factory Death Could Have Been Avoided Coroner Decides

The death of a Nestlé factory worker just before Christmas last year could have been avoided the coroner has decided. The night shift worker was crushed beneath a crate of chocolate that fell 20 feet off the storage racking. He did, apparently, call for help a number of times but every time he shouted "The Milky Bars are on me!" his colleagues just cheered.

*

Stuttering Murderer Convicted

The Lllanfairpwllgwyngyllgogerychwyrndrobwllllantysiliogogogoch murderer, Simon Simmons, a man with a terrible stammer, has been told he will spend the next 25 years of his life in prison. The judge admitted that he was unlikely to complete his sentence.
* * *


HOME FRONT NEWS
It's been a long time but as I've felt stronger in the past few days I thought it was about time I put finger to keyboard again and let you back into my life. Apologies if it seems as if Covid-19 is still dominating my life but, truth is, it probably is.
I've missed you and I've been lucky. There were times when I didn't think I'd escape the fickle finger of fate and pull through. I'm sure I'm over the worst now and won't be one of the virus' less pleasant statistics. I can't see it being too long before I'm back to my pre-Covid self and life returns to normal. It seems to have for the rest of our household. It will be a slow, gentle return and far less dramatic than I'm making it sound. Sorry. It's feels good to have the energy to string a few words together into a cohesive sentence again, to remember what I'd just said or written. One of the things I do need to do is learn to smile again.
I'm sure many of you have suffered the effects of Covid-19. I hope it wasn't as bad for you as it was for me and offer my sympathy however badly it's affected you and those around you, and especially so if you've lost someone close because of it. My heart goes out to you.
I eventually had my first vaccination, after being messed around a little, but I got it eventually and that's the main thing. The second one is due on 5th May. I think I'll still be around for it.
Back to a normal, diverse Home Front News next time around - hopefully.

* * *
THOUGHTS OF THE DAY

Remember when paper bags were being blamed for the destruction of trees and plastic bags were the solution. How times change, eh?

*
If you're easily offended, look away!

Scottish comedy programme The Scot Squad parodies how there's always someone you can offend with anything at all. It's a bit like Twitter, really.

The Scottish Police Chief is giving a speech to apologise to any offence he may have given the Chines in a previous speech -
"I'm delighted to be joined by a member of the Chinese community as I apologise for using the phrase 'Chinese whispers' in my earlier speech.. I appreciate that this is deeply offensive to the Chinese. I completely understand why they went totally mental. I'm now delighted to be joined by a mental health campaigner to witness my apology for using the phrase "They've gone mental". I see some of you are surprised that I'm apologising but, no. Gone are the days when getting an apology out of me was like getting a fiver out of an Aberdonian, eh?
I would like to apologise to the largest Aberdonian community, the Aberdonians. I do understand that Aberdonian feelings are important. I'm surprised, actually, that our Diversity Officer didn't make that clear to me. Honestly, sometimes around here it's like the blind leading the blind. I would like to apologise to Scotland's blind community. I hear your concerns and I promise you they will not fall on deaf ears. I would like to apologise to the deaf community. I would like to say sorry. When I realised what I had said, honestly, I had a fit. I apologise unreservedly to all Scotland's epileptics for my use of the word 'fit'. I completely understand why you've got a bee in your bonnet about it.I would like to apologise to anyone connected to bees or the wider bee community. Bees, indeed, are a vital part of society.
I tried my best to get a statement that wouldn't offend anyone, I really did, but, you know, when me and my advisers get together, honestly, it's like two bald men fighting over a comb. I would like to apologise to Scotland's tonsorially challenged community of which, as you can see, I am a member. I would therefore like to apologise and exonerate myself at the same time. I do like to kill two birds with one stone. I would like to apologise to the entire avian community for my cruel and insensitive words and hereby end this apology as time is short.

*

*

There's been a lot of talk again about the effect heading the ball in football could be having on a player's brain. They've even introduced 'Concussion Substitutes', meaning a player can be, indedd should be, substituted, if he's taken a blow to the head. I recall one of Bian Clough's players becoming concussed during a game and the phsio examining him.
"He says he doen't know who he is", the physio told Clough.
"Well," said Clough, "just tell him he's Pele and to get on with the game."

*
Celebrity is the new aristocracy. It's what the young now aspire to.
*

Is anyone as annoyed as I am by the constant use of the phrase 'learning loss' everytime anyone (who should know better) refers to the amount of time children have been out of achool due to the Coronavirus outbreak. How can you lose something you haven't been given in the first place?

*

Singer David Crosby, is as well known for his musical ability as he is for his drug intake. When asked why he took drugs and wouldn't stop taking them, his reply probably summed up the way it is for most people who take drugs. He said -
"I take drugs because I want to forget the now and live the dream."
And on the subject of addiction -
For many people, a substance addiction was an intruder that encroached onto every aspect of their lives. Those who've successfully recovered from an addiction worked hard to understand what led them to substance abuse, and how they could keep the addiction from invading their lives again.
Sadly, there are several myths and misconceptions that surround addiction and keep many who suffer from telling others about what they're going through. One struggle includes the social stigma that often surrounds addiction. People often hesitate to tell their families and friends for fear of being criticised or abandoned.
The best thing people can do for someone in recovery from an addiction is stand by their side during their ongoing journey.
Recovering from an addiction is difficult when done alone, even long after treatment. It's important for people to understand what their loved one endures while being addicted. That way, families, friends and spouses can band together to help the person in recovery stick to their sobriety plan.
Here are the things that people in recovery wish they could tell others about their past struggles with addiction:
They didn't choose to become addicted.
Addiction is never a person's choice. Plenty of people develop an addiction by taking drugs prescribed by a doctor to treat a medical condition. Over time, prescription drugs change the way a person's brain functions. They might continue taking the pills to feel "normal" and be able to get through the day. Before they know it, an addiction has formed and the person may begin craving higher doses of the prescribed substance.
But an addiction doesn't always build up over time. Many addictions are ignited by experimenting with a substance just once. Methamphetamine and hallucinogenic drugs like ecstasy are just a few of the most common examples that can cause an instant addiction. Just one dose of these drugs can kickstart a destructive pattern of abuse.
Addiction can happen to anyone at any time.
Television and films over the years have depicted people with addictions in a negative way. But the truth is that anyone can become addicted to drugs or alcohol regardless of their background, age or financial status.
Research has shown a number of contributing factors that make some people more likely to become addicted. For example, if they started using drugs or consuming alcohol at a young age, they're more susceptible to developing an addiction later in life. Having a family member with a drug or alcohol abuse problem also increases the likelihood of addiction.
There might be more than one reason why they began abusing drugs or alcohol in the first place.
There's rarely one single reason why a person becomes addicted to drugs or alcohol. Oftentimes, a person abuses substances to suppress any stressful or anxious feelings they have. These feelings that drive people to substance abuse might stem from persistent issues in family relationships or a mental illness. In fact, many people who go to rehabilitation for an addiction also receive treatment for a mental condition like depression or Post-Traumatic Stress Disorder (PTSD) that's occurring at the same time.
Luckily, today's rehabilitation centres are equipped to help people address all types of root causes of their substance abuse. Rather than focus on the addiction alone, treatment centres employ comprehensive, individualised programs that treat the whole person. This ensures the best chances of achieving a full recovery.
Don't bring up the past while they're rebuilding their future.
Making the decision to go to rehab is one of the toughest choices a person can make. It takes a tremendous amount of strength and self-actualisation to do this – especially for a person suffering from an addiction. Self-actualisation is the complete realisation of one's potential, and the full development of one's abilities and appreciation for life.
Dwelling on the past and reliving past mistakes is counterproductive for someone in recovery from an addiction. They're in a highly vulnerable state of mind, so it's far better for them to stay focused on the new, healthy life they want preparing for themselves. The best thing you can do is be there for the person in recovery and encourage them every step of the way.
They never wanted to hurt or disappoint you.
When a person begins to rely on drugs or alcohol, they're not aware of the expansive repercussions that could result from their substance use. They started abusing substances to feel better or different, but they never did it with the intention of hurting other people around them.
Sadly, it's all too common for a person's family, friends and spouses to be affected by their addiction. The people around the person addicted to substances might experience their explosive temperament, erratic behaviour or other effects from their substance abuse. Many rehabs and support groups offer family therapy as a part of a person's recovery to help mend and strengthen relationships after they've been damaged by the addiction.
They were still "them", the same people, underneath their addiction.
An addiction is a powerful disease that puts a person's body through physical and mental turmoil. It changes a person's brain by disturbing their normal hierarchy of needs and desires. The things that a person once enjoyed doing become secondary to obtaining and using drugs or alcohol.
Despite the addiction, your loved one was still the same person. The only difference was that they were sick and needed your help overcoming their addiction. During and after treatment, their true self begins to shine through once again.
They need your support now and always.
Millions of people need, but do not receive, treatment for an addiction every single year. This shows that addiction is a pervasive problem that's often ignored. But with your encouragement and support, your loved one's lifelong recovery journey is easier than they once thought possible.
Supporting A Loved One During Their Recovery
Here are some ways you can support someone during their recovery:
Set an example. Show how maintaining recovery is possible by establishing positive habits like cooking healthy foods or exercising.
Create a substance-free environment. Don't allow temptations or triggers in your home.
Listen to them. Sometimes, all a person in recovery needs is someone to talk to.
Attend support groups with them. It gives the person in recovery a boost of motivation when they know there's people on their side.
Be patient. Recovery takes time, discipline and commitment.
Know the signs of relapse. Relapse can happen, and it's important to know what to look out for. If a person in recovery seems to be falling back into old habits, get help immediately.
For some people, getting treatment for their addiction feels like they have hit rock bottom. But instead, by choosing to enter recovery they're actually choosing the beginning of the rest of their lives.
* * *
JOKES OF THE DAY

Three dogs were sitting in the waiting room at the vet's when they struck up a conversation. The Yellow Labrador turned to the Black Labrador and said, " So why are you here? "
The Black Lab replied, "I'm a pisser. I piss on everything....the sofa, the curtains, the cat, the kids. But the final straw was last night when I pissed in the middle of my owner's bed." The Yellow Lab said, " So what's the vet going to do?" "Gonna cut my nuts off " came the reply from the Black Lab. "They reckon it'll calm me down."
The Black Lab then turned to the Yellow Lab and asked "Why are you here " The Yellow Lab said, "I'm a digger. I dig under fences, dig up flowers and trees, I dig just for the hell of it. When I'm inside, I dig up the carpets. But I went over the line last night when I dug a great big hole in my owners' couch." "So what are they going to do to you? " the Black Lab inquired. "Looks like I'm losing my nuts too," the dejected Yellow Lab said.
The Black Lab then turned to the Great Dane and asked, "Why are you here?" "I'm a humper," said the Great Dane. "I'll hump anything. I'll hump the cat, a pillow, the table, fence posts, whatever. I want to hump everything I see." "Yesterday my owner had just got out of the shower and was bending down to dry her toes, and I just couldn't help myself. I hopped on her back and started hammering away." The Black and the Yellow Labs exchanged a sad glance and said,
"So, it's nuts off for you too, huh?"
The Great Dane said, "No. Apparently I'm here to get my nails clipped!"

*
* * *

* * * * *

The Home We Called Sloane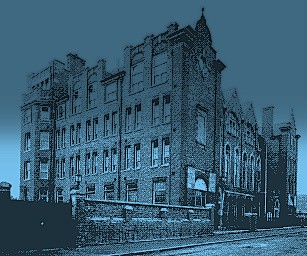 The Sloane building seen from Hortensia Road in 1908

The Sloane building was 100 years old in 2008, although it didn't actually start life as a boys' school until after the First World War, during which it served as a hospital. It still stands and many memories are, no doubt, ingrained in its walls along with the odd name and ribald comment. Who knows what the future holds, despite its Grade II listing on May 7th, 2002. Grade II listed buildings can be altered, extended, or even demolished, but only with Local Authority consent, so it may be that the building is considered historically or architecturally interesting enough for it's fabric to remain untouched. Some consideration may have been given to it having been the first purpose-built secondary school in London, and it is certainly one of only 3% of all ages of listed buildings that was built in the 20th century. Schools generally are seen as a good investment by developers because they're easy to convert. They are likely to be structurally sound because the authorities will have inspected them regularly to ensure they comply with Health and Safety requirements.

Sadly, Sloane Grammar School for Boys only lasted 51 years, from 1919-1970. Sloane old-boy John Binfield, in one of his poems, writes -
... the school, with
All its past, was sucked into a huge
Turbulent sea of glass in Pimlico
And sank without trace. "full fathom five..
Sea nymphs hourly ring his knell.
Hark, now I hear them. Ding-dong bell".
The exterior of the building still survives in the form we all remember even if the interior doesn't. It would have been wonderful to have been able to celebrate, in 2019, what would have been its centenary as a boys' school, had it remained in existence as such. Unfortunately, for us, it wasn't to be, and the Covid-19 pandemic that gripped the world in 2020 and beyond didn't allow for a late celebration either . Maybe one day......

Sloane seen from the rear in 2014
* * *


This Website And The British Library's Web Archive

Please Note: - The school building still remains but not as a school. I've tried to preserve as much of its history and old boys' memories of it as I can, on this website. You might like to know that once I'm no longer around and have shuffled off to that classroom in the sky, this website will remain intact. Once my monthly payments to the Class Creator programmers cease the site will continue but to compensate them for their loss it will display adverts. If you're still around, you'll still be able to Log In to the site and carry on much as you did when I was alive. Naturally, the site will look exactly as it did (apart from the adverts) on the day I died. What will not be possible are any new members, unlikely as that is, as I won't be here to verify they are who they say they are.
In addition, in 2013 , just before the Legal Deposit regulations came into force, I asked to register the website with the British Library's UK Web Archive as one of historical interest and they agreed. So, when none of us are unable to Log In anymore or the Class Creator business ceases to operate, it will still be available for access by our children and grandchildren etc., as well as future historians, at this address -

Web Archiving
The British Library
96 Euston Road
London NW1 2DB
United Kingdom
Tel: +44 (0)20 7412 7184
E-mail: web-archivist@bl.uk
Since 2013, publishers need to give a copy of every UK publication they make to the British Library. Five other major UK libraries may also ask to be given a copy. This system is called legal deposit and it's been a part of English law since 1662.
Print publications for legal deposit can be books, journals, sheet music, maps, plans, charts or tables. Now legal deposit also covers material published digitally such as websites, blogs, e-journals and CD-ROMs.
Legal deposit has many benefits for publishers and authors. The deposited publications can be read inside the British Library and will be preserved for future generations. Their works become part of the nation's heritage, providing inspiration for new books and other publications.
Unfortunately, in the case of websites, the British Library say that much of the information contained in them cannot be archived for technical reasons. In addition, as almost all this website's pages are Password Protected, it will be impossible for them to be accessed unless I remove that restriction. At some point I will give the British Library's 'web crawler' access to our Password Protected pages to allow it to take a 'snapshot' of the site on a daily, weekly, monthly, quarterly or 6-monthly basis. At the time of writing this, 2020, their system doesn't have the capability to crawl and archive private content that sits behind a Log In procedure. They will noever be allowed access to members' Profiles and the personal information they contain.
The current generation of web crawlers cannot capture:
Interactive, dynamically generated content

Content that is only available via a search engine on the website, or some other form submission method

Some types of JavaScript-driven menus

YouTube videos, Flash movies and similar streaming audio or video (some audio and video files can be captured, e.g. those embedded via the standard

HTML5

<video> or <audio> tags).
Unlike static HTML, which is relatively easy to capture, script code is very hard for traditional web crawlers to analyse, which is why the Library runs web browsers for a limited part of their crawls. Even that cannot capture very interactive web sites, like single-page web applications, or any site feature that needs a remote server to function. In practical terms this means that entering queries into the search box of an archived version of a website will not work. Standard links on the website, however, will work as normal.
Some JavaScript driven menus do not function well once archived. YouTube videos, Flash movies, and similar streaming audio or video are also beyond the capability of web crawlers. However, as members of the International Internet Preservation Consortium, contributors to the UK Web Archive are developing tools which will help capture this content in the future.
Attempts are made to gather all of the objects associated with a website including html, images, PDF documents, audio and video files and other objects such as programming scripts. However, the crawler software cannot automatically gather any material that is protected behind a password, without the owner's collaboration. Web site owners may however choose to divulge confidentially a user ID and password to allow archiving of these areas. So, as I said, I'll collaborate with the British Library to allow them to gather only non-invasive non-personal information behind the password protection if and when their archiving system becomes capable of it .
Should you wish to visit the UK Web Archive to see what it makes available for viewing or if you know of a website that you think deserves preservation, use this link -

www.webarchive.org.uk
* * *
Whatever our own personal reasons for it doing so, the school will still haunt most of us even if it disappears altogether. With that tenuous link, here's a poem that I came across in a copy of The Cheynean -

The Ghost of Sloane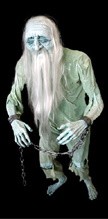 When London's asleep and the School very quiet,
No sound of footsteps, no sound of a riot,
No sound of even the shuffle of feet,
No sound of the creak of a pupil's seat,
Out of the darkness the ghost of Sloane
Awakes from rest with a sigh and a groan.
Then up he arises to haunt the School
Climbing the stairs in the guise of a ghoul.
He shuffles and clanks down each corridor
Into the classrooms where stand desks galore.
He examines each desk and checks the boys' work,
Allots ghostly marks in the dark and the murk.

If you ever lose books from out of your desk,
And the teacher upbraids you and calls you a pest,
Just tell him my story, however tall,
Of the white shrouded phantom that haunts the School Hall.

J. Hollingshead (3C)

As for us, the boys who used to attend our Chelsea school, we probably considered ourselves 'Chelsea men' but I doubt that many of fitted the description in this poem, written when he was in the 5th year by one time Sloane Schoolboy, A R Doubledee. I get the impression he didn't particularly approve of the 'Beatniks' of the late 50s and early 60s that he found himself sharing Chelsea with or, as he called them the 'Weirdies' -

The Weirdies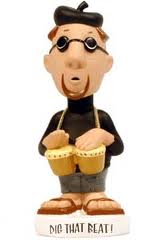 The Chelsea man is excessively queer,
He only drinks coffee and doesn't like beer.
He's always "chatting" the girls, and yet
This seems to make him "one of the set".

His unkempt chin and uncut hair
Go with his feet which are usually bare.
If he wears shoes, they've never got soles,
And he's usually found in Bohemian holes.

His outsize sweater is generally black
Contrasting well with his shorty mac.
He wears his clothing merely to show
That he can keep up with the boys of Soho.

To find a girl he doesn't look far,
But into the nearest coffee bar,
Where he's sure to meet a Bohemian "yob".
They're all from Chelsea - what a mob!

The girls with hair right down their backs
Wear irregular clothes that look like sacks.
They walk about wearing father's sweater:
I really don't see why he should let 'er.

Their gaudy clothes of reds and greens
Match up with the style of their men-friends' jeans.
Now that's how it goes with the latest style:
Girls on their faces make-up pile,
The men wear anything they can find -
I shouldn't stare, I should just act blind!

A.R. Doubledee (5b)
* * *

ANNOUNCEMENTS APPEAR BELOW
ONCE YOU'VE LOGGED IN