Sloane Grammar School boy, if you seek your memorial,
look around you but you'll need to register first.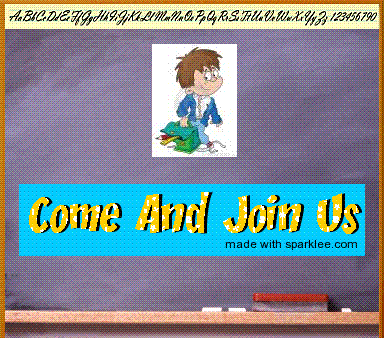 Register and link up with old school friends again and become part of Sloane Reunited.
If you were a pupil or member of staff at Sloane you qualify to register for the website. Click on Missing Classmates at the top of this page to see if we've been expecting you. If you see your name, click on it and follow instructions. If your name's not there click on BECOME A MEMBER to learn more and then click the ADD NAME button to start the ball rolling or click Contact Us at the top of the page, read what you see then complete the box at the bottom of that page to ask me to add your name to the list.
It's Free, it's Easy, it's Secure
and
You're Never Alone As A Sloane




TO ALL MEMBERS, DON'T FORGET!! -
PLEASE CHECK THE ANNOUNCEMENTS BOARD AT THE FOOT OF THIS PAGE FOR ANYTHING IMPORTANT and, after you Log In, the CALENDAR OF EVENTS PAGE FOR DETAILS OF FORTHCOMING EVENTS.
If you're having trouble logging in because you've forgotten your Password, click on Forgot Password? inside the Classmate Login box that appears after you click Sign In and you'll be Emailed a link to reset it.

You'll find other helpful tips under REMINDERS below.

The Sloane


Hello and Welcome to

Mark Foulsham's

Sloane Grammar School website
If I built it I knew you would come

A School that invited loyalty
(Quote by Don Wheal)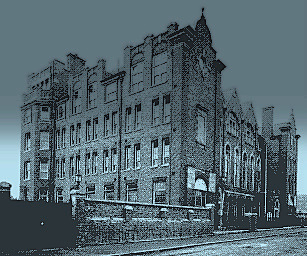 Gone But Not Forgotten
'Men are we, and must grieve when even the shade
Of that which once was great is pass'd away.'

William Wordsworth
On the Extinction of the Venetian Republic


You may think you're done with the past but the past isn't done with you!

"The merits of a school are judged as much by the men it produces as by their achievements as boys" -
(Old Cheynean D.J. Cowie, March 1929)


If you're a member, click on an image (



) at the top for more.

Here's what you'll find -

= Messages waiting for you. The red bubble shows how many.

= Website activity. Check for things you may have missed.

= Member functions like Profile, Contact, and Password changes.

AND -

If you're already a member please remember to keep your Email address up to date using Edit Contact Info, to be found by clicking on

the image at the top of the page.

Please don't forget to use the Notify Me page under the

image to make selections that will help you keep in touch as well as help you enjoy all the website has to offer.

You may already have the latest version of Adobe Flash Player but your browser no longer uses it automatically and it will not be supported at all after 31st December, 2020. From that date Google has confirmed it will completely block Flash from being able to run under the Chrome browser as will Mozilla for their Firefox browser and Microsoft for Internet Explorer and Edge. The Members Online feature uses Flashplayer (as do some animations and slideshows) so if it can't be seen clearly in the bottom right of your Home Page, click your mouse on what you can see and you'll be prompted to run Flashplayer. Agreeing will see the Members Online window re-appear. The same applies to animations and slideshows that don't show automatically. Use your Search Engine to search the web for how you allow Flash automatically in the browser you use but some browsers will ignore your choice anyway if you've chosen 'Allow', others, like Opera or Brave, will not. To check how this site handles Flash, click on the Padlock or Not Secure wording that precedes this website's Domain Name in your browser's Address Bar and set Flash to Allow or Ask (default). Click on Site Settings and under Permissions it also shows the same choice. HTML5 (Hypertext Markup Language) is the likely replacement for Flash and hopefully, this website will be converted to it before the deadline for the loss of Flash.

Please remember to Log Out when you leave the site by using the Log Out button to be found under the

image at the top of the page.


AND FINALLY, IF AT ALL POSSIBLE, -
Please let a close relative know of your participation in the Sloane website and show them how to use the Contact Us page to notify me in the sad event of your death. Not only will this allow me to notify other members, it will also put a stop to any website generated emails finding their way to your Inbox. Thank you.
Come on in!
Don't be late!
This is one detention
You'll be pleased to take.

A WARM WELCOME

to fellow Cheyneans and passers-by, from the Official Sloane Grammar School 1919-1970 Old Cheyneans and Friends web site.
Mark Foulsham, at Sloane 1963-70, created this site in August 2008 to record for posterity all that I can, and for all those who attended Sloane or simply have a Sloane connection, to share and enjoy. Feel free just to browse or, if you feel you qualify to join us, make full use of the site by becoming a Registered Classmate. Click on the Click Here to Register button above to start the registration process. It's Free!
I'll also be happy to send a personal invitation to anyone else with a Sloane School Chelsea connection who you think might like to join us. Just enter their Email address in the MISSING CLASSMATES box to your right and click Send Invite.
We may not understand why but memories of our days at Sloane remain with us while others do not. Whether they're good or they're bad, I'd like to give all old boys the opportunity to keep those memories alive.

Aspirations and Objectives

Sloane never had a motto and although our school badge is based on the lion rampant and boar's head of the Cadogan family crest their motto, Qui Invidet Minor Est or He That Envies Is Inferior, is not really appropriate so I'll adopt the one to be found on the Coat of Arms of the Royal Borough of Kensington and Chelsea as it suits us nicely -

Quam Bonum In Unum Habitare
(What A Good Thing It Is To Dwell Together In Unity)

It is hoped, in some small way, to be able to have similar objectives to those stated for the first issue of The Cheynean in December 1926 -

"To record faithfully the major activities of the School, to promote and foster a corporate spirit in the School, to excite a greater keenness both in the games and in other phases of its social life, and to serve as a link between present members of the School and the Old Cheyneans". -

and also to bring together, once again, old friends and classmates, and those of us who have outlived the school and share a common interest in its history and its future.
Sadly, I've no memory of having ever sung or even heard a school song but apparently one was written by music Master Mr Seymour Dicker in 1928, and was first sung in July of that year by pupil J E Bush. What became of it after that first performance is a mystery but it contained the lines -
"Salve, the School and its scholars so keen,
Long may they keep its memory green."
If you've any memories of Sloane you'd like to share, use the Contact Us page to send them in and, whilst you're there, register for the site as well.

Once you've registered, you can activate the Instant Messaging feature that allows you to hold a 'real-time' online conversation with anyone else who has logged on to the website. You can also send a message to someone else on the site via the Message Centre or by using their Profile. Click on their name on the Classmate Profiles page then click on the red 'Send ? a private message' at the top of their Profile.

After you've registered, why not take a look at all the Classmate Profiles ? Even if you don't know the person involved, the information they've put on their Profile can be interesting, illuminating and fun, and often brings back memories of something you thought you'd forgotten about.
If, at any time after becoming a member, you're unsure about anything click on this Using This Site link for an explanation or contact me direct via the Contact Us page.

* * * * * * * *

Why Not Take a Look at Where your Classmates are Living?

Find out the Postcode of a Classmate from their Profile (if they've agreed to let everyone know it) then Click on the link below, enter the details where it says 'Address', then Click on 'Go'. Not every country is covered yet and those that are have limited coverage, but it's worth a try.
Here's the link. Have fun - http://www.vpike.com/



* * * * * * * *
The Sloane News
BREAKING NEWS!

The BBC has announced that to cover yet another distinct possibility, their pre-programme telivision viewing warnings will now include -
"The following programme contains scenes featuring a white heterosexual couple which some viewers may find distressing"
You have been warned.

King Charles Offers Help To Ukraine

King Charles has met with Vlodymyr Zolensky to offer a solution for the speedy end to Ukraine's war with Russia. At a meeting in London recently, Charles offered two of the UK's finest helicopter pilots for free. Princes Harry and Andrew will be airlifted to Ukraine shortly to join their new comrades in arms as it was felt that letting them fly themselves there was too risky.
Later the same day, President Zelensky also shook hands with Prime Minister Rishi Sunak


and when told that his people were cold, tired, desperate and hungry, Zelensky offered his sincere commiserations and told Sunak he was sure things could only improve -

*

Putin attacks Russia for supplying so many weapons to Ukraine
Russian President Vladimir Putin has launched a scathing attack on the nation's supplying weapons to the Ukrainian army, with the biggest culprit being the Russian Army itself.
With huge amounts of reclaimed Russian military equipment already being used by the Ukrainian army, Putin spent hours yesterday criticising the Russian establishment that provided them.
"Anyone supplying Ukraine with weaponry is an enemy of Russia, and that includes Russia," explained Putin.
"Sure, the Germans have supplied 14 of their Leopard 2 tanks to the Ukraine military, but this pales into insignificance compared to the hundreds of tanks the Russian army has left behind for the Ukrainians to do with as they please. The number one supplier of arms to the Ukraine military is clearly Russia, and this must end. Right now.
If it does not, we will use all options available to us to prevent further Russian supply of weapons to Ukraine."
Jacob Rees-Mogg's top five reasons why a shortage of fresh produce is really a Brexit benefit


As supermarkets continue to limit the amount of fresh produce that their customers can buy, staunch Brexiter Jacob Rees-Mogg has come out swinging to explain why this situation is actually one of Brexit's many benefits.
With reduced supply due to poor weather, Spain and Morocco are prioritising the supply of fresh produce to the single market, ahead of orders for 'difficult to do business with' Brexit Britain, Rees-Mogg has leapt into action with his top five reasons why this is great news.
Below is his list in full:
1) "This is an opportunity to sample many of the nation's fine home-grown produce. Who needs Tomatoes and peppers when you can enjoy a salad of potatoes and turnips."
2) "When taken in high enough quantities, vitamin C can cause diarrhoea, nausea, abdominal cramps and other gastrointestinal issues, so by limiting access to foods high in vitamin C, Brexit is actually making our nation safer and healthier."
3) "According to the Roman poet, Sextus Aurelius Propertius, 'Absence makes the heart grow fonder'. So imagine how much you will enjoy a tomato when you finally get to enjoy one again, at some unspecified point in the future. Brexit will have increased your enjoyment of these foods tremendously."
4) "Tomatoes are red, and no one wants to eat communist foods, do they? Thank you Brexit!"
5) "While people are busy Googling how long it takes to get scurvy, no one is paying attention to the pig's ear we are currently making of the Northern Ireland Protocol and its impact on the Good Friday Agreement – thank you Brexit!"

*
Sir Keir Starmer outlines Labour's five excuses if they somehow manage to lose the next general election
Sir Keir Starmer has outlined Labour's five main excuses for not winning the next General Election.
During a speech in Manchester, the Labour leader revealed the main excuses that he and his party would use when they somehow manage to lose the election, despite that seeming impossible, given the current state of the Tories.
The five excuses, which would form the backbone of Labour's main excuse book include:
1) I'm boring as hell. So nobody will vote for me. People would rather have an incompetent liar than someone as boring as me.
2) We forgot to write any policies. We were just busy.
3) People are bloody stupid. The general public are so bloody stupid that after EVERYTHING that has happened in the last few years, they will still decide to vote Conservative.
4) The whole antisemitism thing. People are not overly keen on it.
5) People really are bloody stupid. And also have no memories.

Asked if he thinks Labour will go on to win the next general election, he told us
"It really depends just how bloody stupid people actually are."


* * *
FRONT PAGE NEWS

Northern Ireland Road Safety Partnership Swells Coffers By Finally Removing 4-Year-Old Complaint Letter From Advisor's Orifice

*

Barnsley couple speak of their fear that the vegetable shortage will spread to oven chips
* * *

HOME FRONT NEWS
Women. Do they, or do they not, say and do things at the most inappropriate times? I'm not saying my wife's technically challenged but she's only just worked out how to send text messages on her new mobile phone. When she was having coffee with a friend the other day, she decided to send me a romantic text message to show she now had grasp of the intricacies of doing so. She wrote -
"If you are sleeping, send me your dreams.
If you are laughing, send me your smile.
If you are eating, send me a bite.
If you are drinking, send me a sip.
If you are crying, send me your tears.
I love you."
I texted her back,
"On the toilet. Please advise."
Talking of tears, there were a fair few at my brother's funeral on 24th February. My brother Chas, always known as Sonny, was 80 when he died and for much of his later life the Freemasons had been his passion. As is there way, the Freemasons wanted to perform their own little Guard of Honour outside the chapel and the family readily agreed. We were careful to not let them hijack the day altogether.
One of Sonny's lodges was Dalhousie and Call Sign Lodge 865 and this was their website tribute to him on the day of his passing -
"It is with deep regret and sadness I write to announce the passing of Worshipful Brother Charles (Chas) Foulsham to the great lodge above this day, Sunday 8th January 2023."
4 Nov 1942 – 8 Jan 2023
RIP Chas, God bless.

A number of years caring for his wife, Yvonne, who was suffering with dementia and is now in a care home, unaware of his death, took there toll on my brother and in a way he and we were glad that his passing was sudden and unexpected. He had been complaining of a back ache so took himself to a chiropractor who knew it wasn't a job for him and referred my brother to the hospital. Four weeks later, having refused treatment to prolong his life, his life ended due to the speed at which his cancer had spread.
It's strange how things you'd never known about (or perhaps had but had forgotten over time) come out when families meet up. The celebrant (that's what they're called these days) who conducted my brother's service, was once a police officer serving at Fulham Police Station. When my nephew mentioned the name Foulsham to him, his eyes lit up as memories came flooding back. During his time at Fulham nick my Dad was, apparently, the man they arrested more than any other for drink driving. One of his convictions resulted in a year's disqualification and on the day the disqualification ended he got back into his car, drove to the pub they had arrested him outside, got drunk again, got back into his car at closing time, and on his way home was arrested again by the same officers. Predictable he may have been, and his drink driving wasn't something to be condoned, but when I look back I consider myself lucky not to have come to an earlier end as I was often in the same car with him as he drove us back, highly inebriated, from many a night out. Miraculously, he avoided a custodial sentence for his final misdemeanour, but never drove again thereafter. The celebrant told me they looked forward to arresting my Dad as he always kept them entertained, and at his funeral in 1986 his two largest wreaths were one from Fulham Police Station and one from Hammersmith Police Station. The local police knew him as Fulham's answer to Arthur Daley and he even had a 'lock-up' in the Fulham Road. Never the best of father's but a harmless man who enjoyed life and gave pleasure to many but perhaps not to everyone, especially my Mum who, after her housekeeping had been slapped on the fireplace surround each Friday, often found herself short of the money necessary to keep us all fed and clothed by the time Monday came around. Probably why she continued working in two or three jobs after they divorced and she was well into her sixties and in bad health. Old habits die hard and I dare say, in her own way, she enjoyed it.
In life there is often marriage, and it can happen at any age. Some elderly (80 years plus) neighbours of ours have been together for donkey's years without marrying but have suddenly decided to tie the knot. As is the norm these days, they've notified wedding guests that their chosen bridal gift shop from where we're all directed to buy our chosen presents for them, is to be our local chemist's. Apparently, they've had a look around the place and it sells everything they'll need to make married life bliss. So onto their wedding gift list has gone heart and circulation medication, medicines and tablets for rheumatism, arthritis, scoliosis, memory problems, jaundice, and antidotes for Parkinson's disease as well as various vitamins and minerals, and wheelchairs and Zimmer frames. We haven't chosen our gift yet but I'm grateful to see that the chemist doesn't offer gym membership as we might have been tempted just for a laugh.
Fair play to our chemist but there are some shops that just refuse to move with the times -

I only went into the shop to stock up on my wine. I enjoy a glass of wine, or two, each night but I hope you understand it's purely for health benefits. The other glasses are for my witty comebacks and floorless dance moves.
I hope, like me you made use of February's 28 days. Don't forget it's the month all men should celebrate because it contains the three days of the year when the woman is always right. That's the 29th, 30th and 31st. Next year's a different story, of course.

* * *

JOKES OF THE WEEK

Jurgen Klopp flies to Baghdad to watch a young Iraqi boy play football. He's suitably impressed and arranges for the boy to come over to the UK.
Two weeks later Liverpool are 0-4 down to Chelsea with only twenty minutes of the game left. In desperation Klopp turns to the young Iraqi boy to save the day and sends him on.
The lad is a sensation, scoring five goals and winning the game for Liverpool. Klopp, the fans and the rest of the team are all delighted and the media love their new star. As the lad comes off the phone someone hands him a phone so that he can phone his mum to tell her about his first day in English football.
"Hello, mum. Guess what?" he says. "I played for twenty minutes today. We were 0-4 down but I scored five and we won. Everybody loves me."
"Wonderful," says his mum. "Now let me tell you about my day. Your father was robbed and shot in the street, your sister and I were ambushed, gang raped and beaten up. Your brother has now joined a gang of looters, and all this has happened while you were having such a great time."
The young lad becomes very upset and says,
"I'm really sorry, mum, but what can I say?"
"Sorry!!! Sorry!!!," his mum screams down the phone.
"It' your bloody fault we came to Liverpool in the first place!"
*


*

Dave the Scouser is touring the USA when he stops off at a remote bar in the Nevada desert. While he's chatting to the barman he notices a Red Indian in full tribal dress seated in the corner.
"Blimey!" remarks Dave to the barman. "Who's he?"
"That's the memory man," replies the barman. "He knows everything there is to know. He's got a memory like an elephant. He can remember any fact. Go and try him out."
Dave walks over to the Red Indian believing he can outsmart him with a question about English football. He asks the memory man,
"Who won the 1965 FA Cup Final?"
"Liverpool," came the instantaneous reply.
Dave, although stunned, tried again asking,
"Who did they beat?"
"Leeds," replied the memory man.
Dave tried once more.
"What was the final score?" he asked.
Without hesitation, the Red Indian told him,
"2-1"
Dave still thinks he can outsmart him so asks,
"Who scored the winning goal?"
Without so much as blinking, the memory man says,
"Ian St John."
A stunned Dave has a few more drinks before catching his plane back to Liverpool, where he's quick to tell everyone about the Red Indian. Dave's curiosity about the memory man lingers for a long time so, after saving up for ten years, he returns to the States. For weeks he searches for the Red Indian where, after a tip-off, he finds him in a cave.
Humbled by memory man, Dave steps forward, bows, and greets the brave in his traditional tongue. Raising his hand, Dave says,
"How!"
The memory man squints at Dave and replies,
"Diving header in the six-yard box."

*
THOUGHTS FOR THE WEEK

Security cameras are a great invention but is it really progress? -

*

Karl Marks was an historically famous figure but nobody ever mentions his sister Onya or his son Skid. Why is that?
*
Do you think Shamima Begum is missing a trick. If she wants to get back into the country why doen't she tell the goverment she can lay her hands on an unlimited supply of tomatoes?
*
Why haven't Heinz brought out a Turnip Ketchup yet?

* * *

The Story of The NEVERWELLS (WHO ARE NEVER OUT OF TROUBLE)

Many years ago I picked up a small book at a car boot sale and now, with the world of Covid behind us, I thought it might be a good time to share its contents with you.
The book in question, published in 1948 (the year the NHS came into being), is titled The Story of The NEVERWELLS (WHO ARE NEVER OUT OF TROUBLE) and was written by William Edwards, a doctor, under the pseudonym Dr. Goodenough.
The Neverwells included mum and dad, their small boy Billy, growing-up Mary and baby Roy, and came into being after the Editor of The People newspaper met two people on a train. One of them was a doctor friend of the Editor's, 'a kindly soul yet a man of the world who has one of the biggest practices in the South of England.' He said:
"I am rushed off my feet these days. And in most cases I need not have been called in at all, if only people had a simple knowledge about ordinary illnesses."
Later, the Editor found himself talking to a woman passenger with two children -
"They're not too strong," she said, "always under the doctor with one thing or another. It's never serious you know, but the trouble is you can never be sure and so you must call the doctor."
The same night as he had spoken to the two people on the train, the Editor of The People telephoned his doctor friend and asked him if he would become Dr. Goodenough and write for him every week the story of a family - the Neverwell family - about their complaints and how he treated them, and in simple language so that ordinary people could at last learn the elementary things about illness.
For over a year before the book was published, Dr. Goodenough entertained and instructed People readers every week with the story of the never-ending complaints of the Neverwells. There were words of wisdom and understanding in these little features as well. So much so that, increasingly, the People was inundated with letters from readers asking for a book to be written. Hence, the book I picked up some 30 years after it was first published I now bring to you each time I update this Home Page of the website. I hope you find some enjoyment in its pages and can see the comparisons it enables us to make between the way medicine was practiced back then and how much it has advanced in such a relatively short space of time whilst the personal touch has moved in the opposite direction.
This piece from the book tells us all about -
Varicose Veins and Phlebitis

Mrs. Neverwell's legs had been aching for some time, but when a painful, inflames swellingstarted up on the inside of her right thigh, she got rather alarmed about it. That was why she had asked Mary to ask Dr, Goodenough to call.
"But don't send me to bed, doctor," she said. "It's quite impossible."
"Housewives can't be ill,eh?" said the doctor. "Too true. The days of a nice comfy illness with someone to bring you jellies are over. All the same, you'll have to look after this leg."
"What's the matter with it?"
"Thrombophlebitis."
"You mean it's my veins?"
"I mean it's your veins. Of course, you've neglected them for years. Having babies started it, as it so often does. Then you stand a lot, cooking and washing and queueing, and the veins get more and more tortuous."
"I've got veins showing on my legs, too," said Mary.
"So has everyone else, unless they're so fat the veins don't stand out. It isn't a prominent vein that's a varicose one. It's one that twists and turns all over the place - that's what I meant by tortuous. You see, veins get varicose when the valves in them give way under pressure. After that, the blood finds it as easy to go one way as the other, and as it's easier to go downhill - well it just doesn't go up. You get a heavy column of practically stationary blood, which only moves on at night when you're horizontal. That heavy column lengthens the vein, and so it twists about to take up the length."
"Yes, but what about my painful swelling?" asked Mrs. Neverwell.
"Thrombus means clot. Phlebitis means inflammation of a vein. If you have both you have thrombophlebitis. This stagnant, stationary blood clots from sheer weariness. If that's all, it doesn't matter frightfully, because as long as there's no inflammation, the clot is hard and stays put. True it blocks the vein, but that's really a good thing, because it never was much use as a vein, and blocking it may cure it and make it disappear. But it's a different story if some germs creep in and inflame the clot. In the first place, as you've found, it is painful. In the second, it makes the clot soft, so there is a danger of part of it breaking off, getting in the circulation, and landing up some other place."
"Do you mean it could go all over my body, doctor?"
"It could. It could land up - better not scare you too much, had we?"
"Oh, I'm not scared as easily as that. Besides, I know you'll stop it doing anything of the sort."
"What touching confidence you have in me! Well, it could land up in your brain and give you a stroke or meningitis. It could land up in your heart and cause sudden death. It could land up in your lungs and give you great difficulty in breathing and a possible lung abscess. So we've got to take it seriously."
"What have I got to do?"
"You ought to go to bed for three weeks, while we get the inflammation down. But I know you can't. So we must try and prevent the inflamed patch going any higher up the vein. I could do that by operating higher up and tying catgut round the vein. Maybe I'll have to, yet. But generally it's not too difficult. We'll just put some strapping plaster on your thigh, really tight, across the vein, above the patch of trouble. That should keep the vein collapsed and stop the clot spreading. But I'll have to keep an eye on it for a bit. Then, you could have some M & B, but I think it will be quicker to give you a really fat dose of penicillin."
Dr. Goodenough mixed up penicillin in a syringe and injected it.
"Oh," said Mrs. Neverwell. "That hurts!"
"Only for a minute, and it's the lesser of evils. Keep that leg quiet till tomorrow, anyhow. Then I can tell better how it's going to do."
But, when he came the next day, he found her waiting on Mr. Neverwell, who couldn't put his left leg to the ground.
Read the next thrilling instalment in the lives of the Neverwells to discover why Mr. Neverwell is having to balance on one leg while Mrs. Neverwell waits on him hand and foot. Sounds like another recipe for disaster.
* * *
* * * * *
The Home We Called Sloane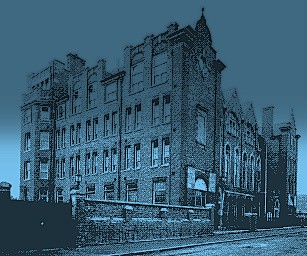 The Sloane building seen from Hortensia Road in 1908

The Sloane building was 100 years old in 2008, although it didn't actually start life as a boys' school until after the First World War, during which it served as a hospital. It still stands and many memories are, no doubt, ingrained in its walls along with the odd name and ribald comment. Who knows what the future holds, despite its Grade II listing on May 7th, 2002. Grade II listed buildings can be altered, extended, or even demolished, but only with Local Authority consent, so it may be that the building is considered historically or architecturally interesting enough for it's fabric to remain untouched. Some consideration may have been given to it having been the first purpose-built secondary school in London, and it is certainly one of only 3% of all ages of listed buildings that was built in the 20th century. Schools generally are seen as a good investment by developers because they're easy to convert. They are likely to be structurally sound because the authorities will have inspected them regularly to ensure they comply with Health and Safety requirements.
To learn more about what has happened to the building we left behind visit the Sloane Today page once you've become a registered member.
Sadly, Sloane Grammar School for Boys only lasted 51 years, from 1919-1970. Sloane old boy John Binfield, in one of his poems, writes -
... the school, with
All its past, was sucked into a huge
Turbulent sea of glass in Pimlico
And sank without trace. "full fathom five..
Sea nymphs hourly ring his knell.
Hark, now I hear them. Ding-dong bell".
The exterior of the building still survives in the form we all remember even if the interior doesn't. It would have been wonderful to have been able to celebrate, in 2019, what would have been its centenary as a boys' school, had it remained in existence as such. Unfortunately, for us, it wasn't to be, and the Covid-19 pandemic that gripped the world in 2020 and beyond didn't allow for a late celebration either . Maybe one day......

Sloane seen from the rear in 2014
* * *

This Website And The British Library's Web Archive

Please Note: - The school building still remains but not as a school. I've tried to preserve as much of its history and old boys' memories of it as I can, on this website. You might like to know that once I'm no longer around and have shuffled off to that classroom in the sky, this website will remain intact. Once my monthly payments to the Class Creator programmers cease the site will continue but to compensate them for their loss it will display adverts. If you're still around, you'll still be able to Log In to the site and carry on much as you did when I was alive. Naturally, the site will look exactly as it did (apart from the adverts) on the day I died. What will not be possible are any new members, unlikely as that is, as I won't be here to verify they are who they say they are.
In addition, in 2013 , just before the Legal Deposit regulations came into force, I asked to register the website with the British Library's UK Web Archive as one of historical interest and they agreed. So, when none of us are unable to Log In anymore or the Class Creator business ceases to operate, it will still be available for access by our children and grandchildren etc., as well as future historians, at this address -

Web Archiving
The British Library
96 Euston Road
London NW1 2DB
United Kingdom
Tel: +44 (0)20 7412 7184
E-mail: web-archivist@bl.uk
Since 2013, publishers need to give a copy of every UK publication they make to the British Library. Five other major UK libraries may also ask to be given a copy. This system is called legal deposit and it's been a part of English law since 1662.
Print publications for legal deposit can be books, journals, sheet music, maps, plans, charts or tables. Now legal deposit also covers material published digitally such as websites, blogs, e-journals and CD-ROMs.
Legal deposit has many benefits for publishers and authors. The deposited publications can be read inside the British Library and will be preserved for future generations. Their works become part of the nation's heritage, providing inspiration for new books and other publications.
Unfortunately, in the case of websites, the British Library say that much of the information contained in them cannot be archived for technical reasons. In addition, as almost all this website's pages are Password Protected, it will be impossible for them to be accessed unless I remove that restriction. At some point I will give the British Library's 'web crawler' access to our Password Protected pages to allow it to take a 'snapshot' of the site on a daily, weekly, monthly, quarterly or 6-monthly basis. At the time of writing this, 2020, their system doesn't have the capability to crawl and archive private content that sits behind a Log In procedure. They will noever be allowed access to members' Profiles and the personal information they contain.
The current generation of web crawlers cannot capture:
Interactive, dynamically generated content

Content that is only available via a search engine on the website, or some other form submission method

Some types of JavaScript-driven menus

YouTube videos, Flash movies and similar streaming audio or video (some audio and video files can be captured, e.g. those embedded via the standard

HTML5

<video> or <audio> tags).
Unlike static HTML, which is relatively easy to capture, script code is very hard for traditional web crawlers to analyse, which is why the Library runs web browsers for a limited part of their crawls. Even that cannot capture very interactive web sites, like single-page web applications, or any site feature that needs a remote server to function. In practical terms this means that entering queries into the search box of an archived version of a website will not work. Standard links on the website, however, will work as normal.
Some JavaScript driven menus do not function well once archived. YouTube videos, Flash movies, and similar streaming audio or video are also beyond the capability of web crawlers. However, as members of the International Internet Preservation Consortium, contributors to the UK Web Archive are developing tools which will help capture this content in the future.
Attempts are made to gather all of the objects associated with a website including html, images, PDF documents, audio and video files and other objects such as programming scripts. However, the crawler software cannot automatically gather any material that is protected behind a password, without the owner's collaboration. Web site owners may however choose to divulge confidentially a user ID and password to allow archiving of these areas. So, as I said, I'll collaborate with the British Library to allow them to gather only non-invasive non-personal information behind the password protection if and when their archiving system becomes capable of it .
Should you wish to visit the UK Web Archive to see what it makes available for viewing or if you know of a website that you think deserves preservation, use this link -

https://www.webarchive.org.uk/ukwa/info/nominate

* * *

Whatever our own personal reasons for it doing so, the school will still haunt most of us even if it disappears altogether. With that tenuous link, here's a poem that I came across in a copy of The Cheynean -

The Ghost of Sloane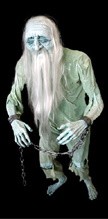 When London's asleep and the School very quiet,
No sound of footsteps, no sound of a riot,
No sound of even the shuffle of feet,
No sound of the creak of a pupil's seat,
Out of the darkness the ghost of Sloane
Awakes from rest with a sigh and a groan.
Then up he arises to haunt the School
Climbing the stairs in the guise of a ghoul.
He shuffles and clanks down each corridor
Into the classrooms where stand desks galore.
He examines each desk and checks the boys' work,
Allots ghostly marks in the dark and the murk.

If you ever lose books from out of your desk,
And the teacher upbraids you and calls you a pest,
Just tell him my story, however tall,
Of the white shrouded phantom that haunts the School Hall.

J. Hollingshead (3C)

As for us, the boys who used to attend our Chelsea school, we probably considered ourselves 'Chelsea men' but I doubt that many of us fitted the description in this poem, written when he was in the 5th year by one time Sloane Schoolboy, A R Doubledee. I get the impression he didn't particularly approve of the 'Beatniks' of the late 50s and early 60s that he found himself sharing Chelsea with or, as he called them the 'Weirdies' -

The Weirdies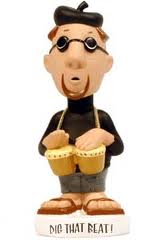 The Chelsea man is excessively queer,
He only drinks coffee and doesn't like beer.
He's always "chatting" the girls, and yet
This seems to make him "one of the set".

His unkempt chin and uncut hair
Go with his feet which are usually bare.
If he wears shoes, they've never got soles,
And he's usually found in Bohemian holes.

His outsize sweater is generally black
Contrasting well with his shorty mac.
He wears his clothing merely to show
That he can keep up with the boys of Soho.

To find a girl he doesn't look far,
But into the nearest coffee bar,
Where he's sure to meet a Bohemian "yob".
They're all from Chelsea - what a mob!

The girls with hair right down their backs
Wear irregular clothes that look like sacks.
They walk about wearing father's sweater:
I really don't see why he should let 'er.

Their gaudy clothes of reds and greens
Match up with the style of their men-friends' jeans.
Now that's how it goes with the latest style:
Girls on their faces make-up pile,
The men wear anything they can find -
I shouldn't stare, I should just act blind!

A.R. Doubledee (5b)
* * *

ANNOUNCEMENTS APPEAR BELOW
ONCE YOU'VE LOGGED IN