Sloane Grammar School boy, if you seek your memorial,
look around you.




DON'T FORGET!! -
PLEASE CHECK THE ANNOUNCEMENTS BOARD AT THE FOOT OF THIS PAGE FOR ANYTHING IMPORTANT and, after you Log In, the CALENDAR OF EVENTS PAGE FOR DETAILS OF FORTHCOMING EVENTS.
If you're having trouble logging in because you've forgotten your Password, click on Forgot Password? inside the Classmate Login box that appears after you click Sign In and you'll be Emailed a link to reset it.

You'll find other helpful tips under REMINDERS below.


The Sloane


Hello and Welcome to

Mark Foulsham's

Sloane Grammar School website
If I built it I knew you would come

A School that invited loyalty
(Quote by Don Wheal)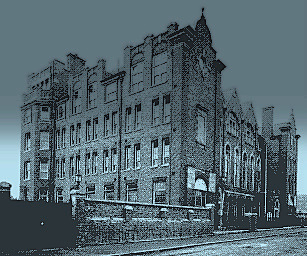 Gone But Not Forgotten
'Men are we, and must grieve when even the shade
Of that which once was great is pass'd away.'

William Wordsworth
On the Extinction of the Venetian Republic


You may think you're done with the past but the past isn't done with you!

"The merits of a school are judged as much by the men it produces as by their achievements as boys" -
(Old Cheynean D.J. Cowie, March 1929)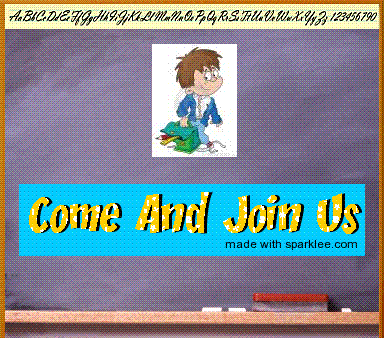 Register and link up with old school friends again and become part of Sloane Reunited.
If you were a pupil or member of staff at Sloane you qualify to register for the website. Click on Missing Classmates at the top of this page to see if we've been expecting you. If you see your name click on it and follow instructions. If your name's not there click on BECOME A MEMBER to learn more and then click the ADD NAME button to start the ball rolling or click Contact Us at the top of the page, read what you see then complete the box at the bottom of that page to ask me to add your name to the list.
It's Free, it's Easy, it's Secure
and
You're Never Alone As A Sloane

If you're a member, click on an image (



) at the top for more.

Here's what you'll find -

= Messages waiting for you. The red bubble shows how many.

= Website activity. Check for things you may have missed.

= Member functions like Profile, Contact, and Password changes.

AND -

If you're already a member please remember to keep your Email address up to date using Edit Contact Info, to be found by clicking on

the image at the top of the page.

Please don't forget to use the Notify Me page under the

image to make selections that will help you keep in touch as well as help you enjoy all the website has to offer.

You may already have the latest version of Adobe Flash Player but your browser no longer uses it automatically and it will not be supported at all after 31st December, 2020. From that date Google has confirmed it will completely block Flash from being able to run under the Chrome browser as will Mozilla for their Firefox browser and Microsoft for Internet Explorer and Edge. The Members Online feature uses Flashplayer (as do some animations and slideshows) so if it can't be seen clearly in the bottom right of your Home Page, click your mouse on what you can see and you'll be prompted to run Flashplayer. Agreeing will see the Members Online window re-appear. The same applies to animations and slideshows that don't show automatically. Use your Search Engine to search the web for how you allow Flash automatically in the browser you use but some browsers will ignore your choice anyway if you've chosen 'Allow', others, like Opera or Brave, will not. To check how this site handles Flash, click on the Padlock or Not Secure wording that precedes this website's Domain Name in your browser's Address Bar and set Flash to Allow or Ask (default). Click on Site Settings and under Permissions it also shows the same choice. HTML5 (Hypertext Markup Language) is the likely replacement for Flash and hopefully, this website will be converted to it before the deadline for the loss of Flash.

Please remember to Log Out when you leave the site by using the Log Out button to be found under the

image at the top of the page.


AND FINALLY, IF AT ALL POSSIBLE, -
Please let a close relative know of your participation in the Sloane website and show them how to use the Contact Us page to notify me in the sad event of your death. Not only will this allow me to notify other members, it will also put a stop to any website generated emails finding their way to your Inbox. Thank you.
Come on in!
Don't be late!
This is one detention
You'll be pleased to take.

A WARM WELCOME

to fellow Cheyneans and passers-by, from the Official Sloane Grammar School 1919-1970 Old Cheyneans and Friends web site.
Mark Foulsham, at Sloane 1963-70, created this site in August 2008 to record for posterity all that I can, and for all those who attended Sloane or simply have a Sloane connection, to share and enjoy. Feel free just to browse or, if you feel you qualify to join us, make full use of the site by becoming a Registered Classmate. Click on the Click Here to Register button above to start the registration process. It's Free!
I'll also be happy to send a personal invitation to anyone else with a Sloane School Chelsea connection who you think might like to join us. Just enter their Email address in the MISSING CLASSMATES box to your right and click Send Invite.
We may not understand why but memories of our days at Sloane remain with us while others do not. Whether they're good or they're bad, I'd like to give all old boys the opportunity to keep those memories alive.

Aspirations and Objectives

Sloane never had a motto and although our school badge is based on the lion rampant and boar's head of the Cadogan family crest their motto, Qui Invidet Minor Est or He That Envies Is Inferior, is not really appropriate so I'll adopt the one to be found on the Coat of Arms of the Royal Borough of Kensington and Chelsea as it suits us nicely -

Quam Bonum In Unum Habitare
(What A Good Thing It Is To Dwell Together In Unity)

It is hoped, in some small way, to be able to have similar objectives to those stated for the first issue of The Cheynean in December 1926 -

"To record faithfully the major activities of the School, to promote and foster a corporate spirit in the School, to excite a greater keenness both in the games and in other phases of its social life, and to serve as a link between present members of the School and the Old Cheyneans". -

and also to bring together, once again, old friends and classmates, and those of us who have outlived the school and share a common interest in its history and its future.
Sadly, I've no memory of having ever sung or even heard a school song but apparently one was written by music Master Mr Seymour Dicker in 1928, and was first sung in July of that year by pupil J E Bush. What became of it after that first performance is a mystery but it contained the lines -
"Salve, the School and its scholars so keen,
Long may they keep its memory green."
If you've any memories of Sloane you'd like to share, use the Contact Us page to send them in and, whilst you're there, register for the site as well.

Once you've registered, you can activate the Instant Messaging feature that allows you to hold a 'real-time' online conversation with anyone else who has logged on to the website. You can also send a message to someone else on the site via the Message Centre or by using their Profile. Click on their name on the Classmate Profiles page then click on the red 'Send ? a private message' at the top of their Profile.

After you've registered, why not take a look at all the Classmate Profiles ? Even if you don't know the person involved, the information they've put on their Profile can be interesting, illuminating and fun, and often brings back memories of something you thought you'd forgotten about.
If, at any time after becoming a member, you're unsure about anything click on this Using This Site link for an explanation or contact me direct via the Contact Us page.

* * * * * * * *

Why Not Take a Look at Where your Classmates are Living?

Find out the Postcode of a Classmate from their Profile (if they've agreed to let everyone know it) then Click on the link below, enter the details where it says 'Address', then Click on 'Go'. Not every country is covered yet and those that are have limited coverage, but it's worth a try.
Here's the link. Have fun - http://www.vpike.com/



* * * * * * * *
The Sloane News
BREAKING NEWS!
'Nah, just kidding,' Tory party members tell relieved nation
Unable to contain themselves anymore, the Tory party membership has burst out laughing and said 'nah, just kidding.'
A relieved nation is just now coming to terms with the fact that the election of Liz Truss to the position of Prime Minister was an elaborate practical joke.
"Oh my god, I can't believe you fell for it," laughed one Tory party member.
"We're kidding. Of course we're kidding. Liz Truss as your new Prime Minister? I mean, come on. We're mad, but we're not that mad.
"Your faces though, when you thought she was going to actually be in charge of things. Hilarious. You were all like 'what! Liz Truss!!' – we got you, we really got you.'"
When told the news, one member of the public, was being a good sport about it when she said,
"Oh my god. I can't believe I fell for that. I honestly thought that they'd really made Liz Truss Prime Minister. Can you imagine? She'd be all like 'I'm Prime Minister. Cheese is brilliant.' Oh wow, you definitely got me. Boy, is my face red."
The real leader of the party and subsequent Prime Minister is set to be announced later, with literally anyone being a better choice.
*

Fight erupts at Conservative conference after attendee reveals he went to a state school
A scuffle has broken out at the Conservative party conference this afternoon.
The fracas reportedly erupted after a conference delegate accidentally let slip that he attended a state school rather than the traditionally accepted educational outlets of either Eton or, at a pinch, St. Paul's.
"It was over coffee," said one attendee, wiping the blood from his nose.
"We were all comparing investment portfolios while making jokes about foreigners and laughing heartily – y'know, classic Conservative banter. Then the conversation turned to schools, and someone asked Jay where he went, and he said "St. Davids", and none of us had heard of it.
Then we asked how much it cost to go there, as that's how we judge worth around here. And he said 'nothing', and Julian immediately flew in with his fists. It was a bad move as Jay had gone to a state school so he was naturally better at fighting. He duffed up Julian pretty quickly.
Then everyone jumped in, nobody knew why we were fighting anymore, we were just all hitting each other and doing massive damage to each other."
One journalist said,
"You couldn't ask for a better metaphor for today's Conservative government."

*
Concern That New Ministers May Not Be The Right Choice

Our new Prime Minister was quick to put her own people into the Cabinet but there has been some concern that she may not have chosen wisely in some cases. Secretary of State for Health and Social Care Maria Caulfield and Jacob Rees-Mogg, who has taken on responsibility for energy in his role as Business Secretary, may not have been the first people to come to mind for their respective roles -
*
Liz Truss announces plans to return to the feudal system
Prime Minister Liz Truss has announced plans to build on her recent economic reforms and return Britain to the feudal system last seen in the middle-ages.
"Feudalism is exactly what we need to get Britain back on its feet after the imaginary Labour government that only exists in my head ruined everything," said Ms Truss.
A feudalist pilot will be introduced in Chelmsford, Essex. Surrounding villages and towns will be converted into simple farmland. Everyone will officially become peasants and work the land in exchange for a tax paid to the Lord and an obligation to be levied into a local Chelmsford regiment should foreign powers threaten the King.
Tory supporters, who by now must be so far gone that there's no way back for them, were obviously in favour of the new plans.
"Feudalism is exactly the sort of bold new strategy that's needed to get Britain out of the mess caused by a series of events that have absolutely nothing to do with the Government of the last twelve years," said one, an unemployed sewage-taster from Bootle.
"A little bit more deference to the local lord and some deft hoe-work and Britain will once again lead the world. God save the King!"
It is expected the new Tory feudal experiment will last until next Tuesday when it will be abandoned in favour of a brand-new insane plan conceived by a Prime Minister who would be out of her depth in a puddle.
Putin's 'Free' Choice Donbas Referendum
The result of the Russian referendum in the Donbas shows that 99% of those who voted, voted for "Whatever you say, just please don't shoot me in the head". The other 1% committed suicide after voting 'No''.
Further to the Donbas result, Putin has now formally annexed Chelsea.

*

Russia announces coincidental deaths of seven oligarchs in recent months

An as yet un-named Russian oligarch has been found dead after apparently falling down the stairs of his bungalow, prompting Chelsea FC fans to be concerned about former owner Roman Obramovich who sadly died tomorrow.

*

Currency Changes

Following the death of Her Majesty Queen Elizabeth II and the accession of King Charles III, £5, £10, £20 and £50 notes bearing a portrait of Her Majesty will now be replaced with those bearing King Charles' portrait.
This will be a gradual process with the new notes being introduced whilst the old notes are being withdrawn from circulation. To help speed up the process, an advert has been placed in all the daily UK newspapers to the effect that all old notes should now be sent to -
Mr Andru Baylee
Bank of England
PO Box 1414
Lagos
Nigeria
Upon receipt, new replacement notes will be sent to you by return so please ensure you enclose your correct address as well as your bank details in case of problems with delivery.
Please, also, don't be surprised if the new notes are twice the size of the old ones. We had some trouble with the size of your new King's ears.
*
New £50,000 Coin
The new £50,000 coin featuring the portrait of King Charles has been revealed and will be entering general circulation within weeks, it has emerged.
King Charles personally approved the design, and was pleased with the likeness, although he did query why the number appears to be quite a lot bigger than when he was first shown the mock-up just a couple of weeks ago.
A Royal Mint spokesperson, said,
"We explained to His Royal Highness that, whereas a week ago, it was indeed intended to be a 50p coin, the new government had decided to model its economic growth on Zimbabwe in the early noughties.
King Charles initially expressed concern until we reassured him that the increase in zeroes would not interfere with his profile. We can also confirm that the coin will be available for general use well before the end of the year. Obviously it might have a few more zeroes added to it by then.
The coins will be followed by the rollout of a new design of currency notes. The £1 million pound note to start with. We even hope to launch a gazillion pound note in circulation by 2025. But that will depend on whether we remain on our current trajectory. If the country descends into a dystopian nightmare where we revert to a barter system and where citizens exchange body parts for food and basic provisions, then this new money will become an irrelevance".

*

FRONT PAGE NEWS

If you, your children, grandchildren or great grandchildren are thinking of applying to join, please be aware that Oxford University's Faculty of Oriental Studies has now been renamed the Faculty of Asian and Middle Eastern Studies. Some scholars raised concerns over the use of the word 'Oriental' as they felt it the word perpetuates stereotypes and recalls British colonialism so, after what they say was a two-year consultation with students and staff, the university changed the name.
Editor Foulsham noted: "What a load of rot! Just another attempt to erase British History. It happened! Get used to it!"

*
Manchester Family Return Their Dog To The Dog's Trust As It Costs Too Much Too Feed


One Manchester family regret to announce that they have had to return their dog to the Dog's Trust as spiralling food costs mean they are now unable to feed it in the manner it has become accustomed to. When asked how they were managing to feed themselves, Mr. Glutton replied,
"We're living on stored reserves at the moment but don't expect to be able to after next week. We've had to reduce our weekly shop to four trolleys so, sadly, little Bo has had to be returned as we just couldn't fit his two tins in a trolley. We've had to put the needs of our growing children first. Bloody Tories ought to be ashamed of themselves. I bet they don't increase benefits to help the less well-off like us."
Prince Andrew Put In Charge Of Queen's Corgis

Despite not being allowed to wear his Jim Fixed It For Me medal to his mother's funeral, Prince Andrew has still been charged with looking after his mum's corgis until they join her, after she left the surviving three to him in her will. King Charles had suggested the idea to her as he felt it would be silly to waste his brother's vast grooming experience.
The Prince and the Paw Paw

*
The British were torn between the sadness of mourning the Queen and the absolute delight of a lovely queue
British citizens have, in recent weeks, been torn between the sadness of mourning the death of the Queen and absolutely loving a nice bit of queuing up.
With hundreds of thousands of people paying their respects to the Queen who is lying in state in Westminster Hall, mourners have been expressing their deep sorrow at the loss of their Monarch amongst the sheer joy at being part of a good old British queue.
One Royalist, who had been queuing for seventeen hours told us,
"This is the best queue ever! Obviously I am deeply saddened by the death of Her Majesty the Queen and really feel a huge sense of loss, both personally, and for the nation. But seriously, have you seen the size of this queue? It's amazing. I am absolutely loving it. I mean everyone knows that us Brits love a good queue, but this is incredible.
I really felt that I needed to come here and pay my respects to the Queen at this very emotional time.
"And also to join this massive queue because I just really love standing in really long lines of people."
A fellow mourner, five miles further back,confirmed,
"This is the best day ever."
The Magnificent Long Goodbye

On a more personal level, I couldn't help being struck by the Britishness of it all. I wouldn't have expected it to have happened any other way. The queue was long but patience matched it. The crowd was full of good humour and a friendliness that they shared with people they were unlikely to have met before. We have seen this side of Britain numerous times and it fills me with pride and grateful to have been born, and lived my life here. It may have seemed to be going on forever but the Queen's passing was a Magnificent Long Goodbye. Will the King's Coronation be just a wee welcome?
*

Not a bouncer, then

Police have been quick to confirm that the man who fell from the roof of an 18th floor nightclub was definitely not a bouncer.
* * *

HOME FRONT NEWS
My thoughts this past few weeks have primarily concerned themselves with Queen Elizabeth's passing, King Charles' accession and all the events surrounding both. My wife said the Queen's funeral was overly long. It was, but it was meant to be. It had been a long reign and tradition demanded a long departure. My wife wasn't complaining, just reminding me in her own unsubtle way that I'd done little else other than watch the television for days on end. I retorted,
" In that case, I hope for your sake, that you die before me as I'm insisting on three weeks' mourning and a week-long funeral."
As we get older we should, apparently, exercise more. Personally, I haven't got the strength and I'm worried it might kill me anyway. My wife tells me her doctor recommends a minimum daily half-hour walk along with her once a week water aerobic classes. I wonder if her doctor also recommends the 3 hours she spends in the cafe afterwards.
My doctor at Epsom hospital, the lovely Susannah, who's been handling my kidney stones saga, copied me in to a letter she wrote to my doctor that began,
"I had the pleasure of talking with this delightful gentleman......"
I'm assuming she was referring to me, and I'm concerned that she may be after my body. I'm sure she'll understand that she'll have to wait until I've actually donated it to medical science. I'll let her down gently.
The kidney stones are still a bone of contention, but I'm in their hands. Coincidentally, I was watching a programme on daytime TV today and a patient on there was in agonising pain with kidney stones. I hope mine don't get to that point but I'm to phone Susannah if they do.
I recently had my Autumn Covid-19 booster jab and, in case you haven't had yours yet, the after effects weren't pleasant. No problems with the first few jabs, but this one left me with a painful aching arm for a couple of weeks, occasional loss of balance, and flu-like symptoms. Be prepared! I've got my flu jab this coming Saturday and that should be it, for a while. My arms can take a rest.
I've also been for a Royal Marsden Hospital 'Man Van' check-up in the car-park of Croydon Hospital. They offered so I thought why not? Two lovely nurses asked me to complete a questionnaire and took a water sample, but there was little else involved. It all centres around possible prostate problems, of course, and I'll hear more in a week or two. Whatever they offer I'm grateful for so I'm not going to refuse any health tests that come my way.
As I finish typing this, I'm halfway through my 71st birthday and looking forward to my 72nd. The Government are obsessed with targets so why shouldn't I be? Looking ahead, I've even told my wife that one day I'm going to make her the happiest woman in the world. I'm not sure she was pleased to have that to look forward to but she did say,
"I'll miss you."
My next target is to actually read one of my ten copies of War and Peace. Why have I got ten copies? Well, it's a long story............
* * *


JOKES OF THE WEEK
*
A man joins a very exclusive nudist colony. On his first day there, he takes off all his clothes and starts to wander around. At one stage a gorgeoud blonde walks by and he immediately gets an erection. The woman notices his erection and says to him,
"Did you call for me?"
"No," he says. "What do you mean?"
"You must be new here," she says. "Let me explain," she says with a wink, "It's a rule here that if you get an erection it implies that you called for me."
Smiling, she leads him to the side of the swimming pool, lays down on a towel, eagerly pulls him into her and lets him have his way with her. The man gets up and continues to explore the colony's facilities. and enters the sauna. As he sits down he farts. Within seconds a huge, hairy man lumbers out of the steam room towards him.
"Did you call for me?" says the hairy man.
"No, what do you mean?" says the newcomer.
"You must be new here," says the hairy man. " It's a rule that if you fart it implies you called for me."
As he's speaking, the hairy man spins the newcomer around, bends him over, and has his way with him. The newcomer staggers back to the colony's office where he's greeted by the smiling, naked receptionist.
"May I help you?" she says.
The man yells,
"Here's my membership card, you can have my key back, and you can keep the £500 membership fee!"
"But sir," she replied, "you've only been here a few hours. You haven't had the chance to see all our facilities."
"Look lady," he says, "I'm 70 years old, I get one erection a year, and I fart 40 times a day."


*
Did you know you can lose weight easily just by shaking your head from side to side? Just do it when offered food.
*
In the year 2022, the Lord came unto Noah and said:
"Once again, the earth has become wicked and over-populated, and I see the end of all flash before me. Build another Ark and save 2 of every living thing along with a few good humans."

He gave Noah the blueprints, saying,
"You have 6 months to build the Ark before I will start the unending rain for 40 days and 40 nights."

Six months later, the Lord looked down and saw Noah weeping in his yard - but no Ark.

"Noah !" he roared. I'm about to start the rain ! Where is the Ark ?"

"Forgive me, Lord," begged Noah, "but things have changed. "

" I needed a building permit.

I've been arguing with the inspector about the need for a sprinkler system. My neighbors claim that I've violated the local laws by building the Ark in my backyard and exceeding the height limitations. We had to go appeal the decision.

Then the Department of Transport demanded we pay in advance for the future costs of moving power lines and other overhead obstructions, to clear the passage for the Ark 's move to the sea.
I told them that the sea would be coming to us, but they would hear nothing of it.

Getting the wood was another problem. There's a ban on cutting local trees in order to save the woodpecker.
I tried to convince the environmentalists that I needed the wood to save the woodpecker - but no go !

When I started gathering the animals, an animal rights' group sued me. They insisted that I was confining wild animals against their will.
They argued the accommodation was too restrictive, and it was cruel and inhumane to put so many animals in a confined space.

Then the Environmental Protection Agency ruled that I couldn't build the Ark until they'd conducted an environmental impact study on your proposed flood.

I'm still trying to resolve a complaint with the Human Rights Commission on how many minorities I'm supposed to hire for my building crew.

The Home Office are checking the residential status of most of the people who want to work.

The trades unions say I can't use my sons. They insist I have to hire only Union workers with Ark-building experience.

To make matters worse, the Tax Office seized all my assets, claiming I'm trying to leave the country illegally with endangered species.

So, forgive me, Lord, but it would take at least 10 years for me to finish this Ark. "

Suddenly the skies cleared, the sun began to shine, and a rainbow stretched across the sky.

Noah looked up in wonder and asked,
"You mean you're not going to destroy the world ?"

"No," said the Lord. "The Government clearly beat me to it"
*
* * *

THOUGHTS FOR THE WEEK
Quoted many times these past few weeks, as they were a favourite of our late Queen, were these words from an original Australian Aboriginal proverb. They are worth repeating again -
"We are all visitors to this time, this place. We are just passing through. Our purpose here is to observe, to learn, to grow, to love... and then we return home."
They may well be words of truth but their confirmation may only come when we, as individuals, cease to exist.
David Bowie once wrote, in his song Quicksand, -
" Don't believe in yourself, don't deceive with belief.
Knowledge comes with death's release."
Taken literally, his words imply there's an afterlife, but the only proof of it and the meaning of this life will only be ours when we die.

*

Great for those who've realised they're actually ageing -- especially the rule following the 12th Commandment -
TWELVE COMMANDMENTS FOR OLD PEOPLE:-
1 - Talk to yourself. There are times you need expert advice
2 - "In Style" are the clothes that still fit.
3 - You don't need anger management. You need people to stop p*****g you off.
4 - Your people skills are just fine. It's your tolerance for idiots that needs work.
5 - The biggest lie you tell yourself is, "I don't need to write that down. I'll remember it."
6 - "On time" is when you get there.
7 - Even duct tape can't fix stupid, but it does muffle the sound.
8 - It would be wonderful if we could put ourselves in the dryer for ten minutes, then come out wrinkle-free and three sizes smaller.
9 - Lately, you've noticed people your age are so much older than you.
10 - Growing old should have taken longer.
11 - Ageing has slowed you down, but it hasn't shut you up.
12 - You still haven't learned to act your age and hope you never will.
. . . And one more:
"One for the road" means peeing before you leave the house.
*
If you die and come back as a hillbilly is it called reintarnation?.

* * *
The Story of The NEVERWELLS (WHO ARE NEVER OUT OF TROUBLE)

Many years ago I picked up a small book at a car boot sale and now, With over two years in the world of Covid behind us, I thought it might be a good time to share its contents with you.
The book in question, published in 1948 (the year the NHS came into being), is titled The Story of The NEVERWELLS (WHO ARE NEVER OUT OF TROUBLE) and was written by William Edwards, a doctor, under the pseudonym Dr. Goodenough.
The Neverwells included mum and dad, their small boy Billy, growing-up Mary and baby Roy, and came into being after the Editor of The People newspaper met two people on a train. One of them was a doctor friend of the Editor's, 'a kindly soul yet a man of the world who has one of the biggest practices in the South of England.' He said:
"I am rushed off my feet these days. And in most cases I need not have been called in at all, if only people had a simple knowledge about ordinary illnesses."
Later, the Editor found himself talking to a woman passenger with two children -
"They're not too strong," she said, "always under the doctor with one thing or another. It's never serious you know, but the trouble is you can never be sure and so you must call the doctor."
The same night as he had spoken to the two people on the train, the Editor of The People telephoned his doctor friend and asked him if he would become Dr. Goodenough and write for him every week the story of a family - the Neverwell family - about their complaints and how he treated them, and in simple language so that ordinary people could at last learn the elementary things about illness.
For over a year before the book was published, Dr. Goodenough entertained and instructed People readers every week with the story of the never-ending complaints of the Neverwells. There were words of wisdom and understanding in these little features as well. So much so that, increasingly, the People was inundated with letters from readers asking for a book to be written. Hence, the book I picked up some 30 years after it was first published I now bring to you each time I update this Home Page of the website. I hope you find some enjoyment in its pages and can see the comparisons it enables us to make between the way medicine was practiced back then and how much it has advanced in such a relatively short space of time whilst the personal touch has moved in the opposite direction.
This next piece from the book tells us about something that doesn't sound particularly medical but was still something we used to bother the good old doctor with, Grit In The Eye. This time it's Mary that Dr. Goodenough comes to the rescue of -

Grit In The Eye

Mary was rubbing her eye to try to ease the pain.
"Don't do that," said Mrs. Neverwell. "You'll make it worse. Try blowing your nose." So Mary blew her nose loudly and lustily, but it made no difference at all.
"I'll get it out for you," said Mr. Neverwell, advancing on her with the corner of a handkerchief in his fingers. "Flick it out for you in no time."
Mary wasn't at all keen on this, but she let him look into her eye.
"Can't see anything," he said. "I expect it's come out. Tie a bandage round it and come and have your tea."
But, after tea, it was even worse, and Mary went on complaining, so, in the evening, Mr. Neverwell too her to see Dr. Goodenough.
"Mother's quite right," said the doctor. "Rubbing is the worst thing you can do. It just wedges the grit right into the eye-ball and makes it much harder to get it out. The best way, when something gets in your eye, is to keep on blinking with both eyes, like mad, till you've made some tears run, and they will generally wash it out. If that doesn't do it, drop in a drop of castor oil and see if that will float it out."
"But castor oil is frightfully strong stuff," protested Mr. Neverwell. "I took some once; never again!"
"Fortunately, it doesn't have the same effect on your eye. It doesn't irritate that at all - in fact, it is the most soothing thing you can put in. Try it, next time. And don't go poking about with the corners of hankies. They are too stiff, unless they are silk' and may scratch the eyeball. Well. this bit of grit isn't to be seen on the front of the eyeball, so presumably it is under the upper lid."
He put Mary in a chair facing the light, stood behind her, bent her head slighly backwards and told ger to look down. Then he laid a matchstick across the upper part of the lid, took her lashes in his fingers, and with one neat flick turned the eyelid inside out. The grit was there, and he removed it with a wisp of cotton wool. The eyelid popped back the right way round as soon as he let go, and Mary said: "Oooh, that's better!"
"That's how it is done," said the doctor.
"Looks to me as if it needs a lot of practice," said Mr. Neverwell.
"Most things do," agreed the doctor. "But this isn't at all difficult. The secret is to get a good hold of the lashes and then flick very quickly. It doesn't hurt at all. Get Mary to practice on you, sometime!"
Mr. Neverwell felt rather dubious about that, as he took a grateful Mary home again; but a few nights later a pal of his was in the same fix, and Mr. Neverwell, trying to remember what the doctor had told him, got the grit out and earned a free pint if beer for his trouble. This put Mr. Neverwell on top of the world for a day or two. But it could not last. One fine morning he woke up with a streaming cold!"
Join Dr. Goodenough and the Neverwells next time to learn more about the not so simple Colds and how to prevent and cure them.

* * * * *
* * * * *

The Home We Called Sloane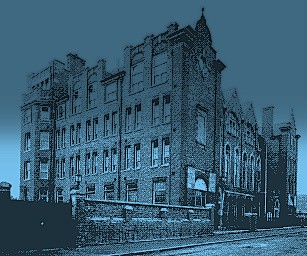 The Sloane building seen from Hortensia Road in 1908

The Sloane building was 100 years old in 2008, although it didn't actually start life as a boys' school until after the First World War, during which it served as a hospital. It still stands and many memories are, no doubt, ingrained in its walls along with the odd name and ribald comment. Who knows what the future holds, despite its Grade II listing on May 7th, 2002. Grade II listed buildings can be altered, extended, or even demolished, but only with Local Authority consent, so it may be that the building is considered historically or architecturally interesting enough for it's fabric to remain untouched. Some consideration may have been given to it having been the first purpose-built secondary school in London, and it is certainly one of only 3% of all ages of listed buildings that was built in the 20th century. Schools generally are seen as a good investment by developers because they're easy to convert. They are likely to be structurally sound because the authorities will have inspected them regularly to ensure they comply with Health and Safety requirements.
Sadly, Sloane Grammar School for Boys only lasted 51 years, from 1919-1970. Sloane old boy John Binfield, in one of his poems, writes -
... the school, with
All its past, was sucked into a huge
Turbulent sea of glass in Pimlico
And sank without trace. "full fathom five..
Sea nymphs hourly ring his knell.
Hark, now I hear them. Ding-dong bell".
The exterior of the building still survives in the form we all remember even if the interior doesn't. It would have been wonderful to have been able to celebrate, in 2019, what would have been its centenary as a boys' school, had it remained in existence as such. Unfortunately, for us, it wasn't to be, and the Covid-19 pandemic that gripped the world in 2020 and beyond didn't allow for a late celebration either . Maybe one day......

Sloane seen from the rear in 2014
* * *


This Website And The British Library's Web Archive

Please Note: - The school building still remains but not as a school. I've tried to preserve as much of its history and old boys' memories of it as I can, on this website. You might like to know that once I'm no longer around and have shuffled off to that classroom in the sky, this website will remain intact. Once my monthly payments to the Class Creator programmers cease the site will continue but to compensate them for their loss it will display adverts. If you're still around, you'll still be able to Log In to the site and carry on much as you did when I was alive. Naturally, the site will look exactly as it did (apart from the adverts) on the day I died. What will not be possible are any new members, unlikely as that is, as I won't be here to verify they are who they say they are.
In addition, in 2013 , just before the Legal Deposit regulations came into force, I asked to register the website with the British Library's UK Web Archive as one of historical interest and they agreed. So, when none of us are unable to Log In anymore or the Class Creator business ceases to operate, it will still be available for access by our children and grandchildren etc., as well as future historians, at this address -

Web Archiving
The British Library
96 Euston Road
London NW1 2DB
United Kingdom
Tel: +44 (0)20 7412 7184
E-mail: web-archivist@bl.uk
Since 2013, publishers need to give a copy of every UK publication they make to the British Library. Five other major UK libraries may also ask to be given a copy. This system is called legal deposit and it's been a part of English law since 1662.
Print publications for legal deposit can be books, journals, sheet music, maps, plans, charts or tables. Now legal deposit also covers material published digitally such as websites, blogs, e-journals and CD-ROMs.
Legal deposit has many benefits for publishers and authors. The deposited publications can be read inside the British Library and will be preserved for future generations. Their works become part of the nation's heritage, providing inspiration for new books and other publications.
Unfortunately, in the case of websites, the British Library say that much of the information contained in them cannot be archived for technical reasons. In addition, as almost all this website's pages are Password Protected, it will be impossible for them to be accessed unless I remove that restriction. At some point I will give the British Library's 'web crawler' access to our Password Protected pages to allow it to take a 'snapshot' of the site on a daily, weekly, monthly, quarterly or 6-monthly basis. At the time of writing this, 2020, their system doesn't have the capability to crawl and archive private content that sits behind a Log In procedure. They will noever be allowed access to members' Profiles and the personal information they contain.
The current generation of web crawlers cannot capture:
Interactive, dynamically generated content

Content that is only available via a search engine on the website, or some other form submission method

Some types of JavaScript-driven menus

YouTube videos, Flash movies and similar streaming audio or video (some audio and video files can be captured, e.g. those embedded via the standard

HTML5

<video> or <audio> tags).
Unlike static HTML, which is relatively easy to capture, script code is very hard for traditional web crawlers to analyse, which is why the Library runs web browsers for a limited part of their crawls. Even that cannot capture very interactive web sites, like single-page web applications, or any site feature that needs a remote server to function. In practical terms this means that entering queries into the search box of an archived version of a website will not work. Standard links on the website, however, will work as normal.
Some JavaScript driven menus do not function well once archived. YouTube videos, Flash movies, and similar streaming audio or video are also beyond the capability of web crawlers. However, as members of the International Internet Preservation Consortium, contributors to the UK Web Archive are developing tools which will help capture this content in the future.
Attempts are made to gather all of the objects associated with a website including html, images, PDF documents, audio and video files and other objects such as programming scripts. However, the crawler software cannot automatically gather any material that is protected behind a password, without the owner's collaboration. Web site owners may however choose to divulge confidentially a user ID and password to allow archiving of these areas. So, as I said, I'll collaborate with the British Library to allow them to gather only non-invasive non-personal information behind the password protection if and when their archiving system becomes capable of it .
Should you wish to visit the UK Web Archive to see what it makes available for viewing or if you know of a website that you think deserves preservation, use this link -

https://www.webarchive.org.uk/ukwa/info/nominate

* * *

Whatever our own personal reasons for it doing so, the school will still haunt most of us even if it disappears altogether. With that tenuous link, here's a poem that I came across in a copy of The Cheynean -

The Ghost of Sloane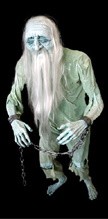 When London's asleep and the School very quiet,
No sound of footsteps, no sound of a riot,
No sound of even the shuffle of feet,
No sound of the creak of a pupil's seat,
Out of the darkness the ghost of Sloane
Awakes from rest with a sigh and a groan.
Then up he arises to haunt the School
Climbing the stairs in the guise of a ghoul.
He shuffles and clanks down each corridor
Into the classrooms where stand desks galore.
He examines each desk and checks the boys' work,
Allots ghostly marks in the dark and the murk.

If you ever lose books from out of your desk,
And the teacher upbraids you and calls you a pest,
Just tell him my story, however tall,
Of the white shrouded phantom that haunts the School Hall.

J. Hollingshead (3C)

As for us, the boys who used to attend our Chelsea school, we probably considered ourselves 'Chelsea men' but I doubt that many of us fitted the description in this poem, written when he was in the 5th year by one time Sloane Schoolboy, A R Doubledee. I get the impression he didn't particularly approve of the 'Beatniks' of the late 50s and early 60s that he found himself sharing Chelsea with or, as he called them the 'Weirdies' -

The Weirdies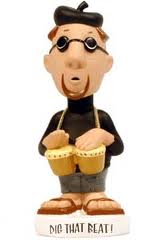 The Chelsea man is excessively queer,
He only drinks coffee and doesn't like beer.
He's always "chatting" the girls, and yet
This seems to make him "one of the set".

His unkempt chin and uncut hair
Go with his feet which are usually bare.
If he wears shoes, they've never got soles,
And he's usually found in Bohemian holes.

His outsize sweater is generally black
Contrasting well with his shorty mac.
He wears his clothing merely to show
That he can keep up with the boys of Soho.

To find a girl he doesn't look far,
But into the nearest coffee bar,
Where he's sure to meet a Bohemian "yob".
They're all from Chelsea - what a mob!

The girls with hair right down their backs
Wear irregular clothes that look like sacks.
They walk about wearing father's sweater:
I really don't see why he should let 'er.

Their gaudy clothes of reds and greens
Match up with the style of their men-friends' jeans.
Now that's how it goes with the latest style:
Girls on their faces make-up pile,
The men wear anything they can find -
I shouldn't stare, I should just act blind!

A.R. Doubledee (5b)
* * *

ANNOUNCEMENTS APPEAR BELOW
ONCE YOU'VE LOGGED IN