Sloane Grammar School boy, if you seek your memorial,
look around you but you'll need to register first.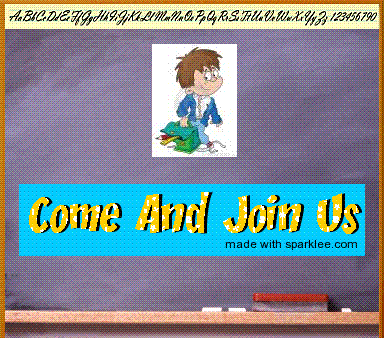 Register and link up with old school friends again and become part of Sloane Reunited.
If you were a pupil or member of staff at Sloane you qualify to register for the website. Click on Missing Classmates at the top of this page to see if we've been expecting you. If you see your name, click on it and follow instructions. If your name's not there click on BECOME A MEMBER to learn more and then click the ADD NAME button to start the ball rolling or click Contact Us at the top of the page, read what you see then complete the box at the bottom of that page to ask me to add your name to the list.
It's Free, it's Easy, it's Secure
and
You're Never Alone As A Sloane




TO ALL MEMBERS, DON'T FORGET!! -
PLEASE CHECK THE ANNOUNCEMENTS BOARD AT THE FOOT OF THIS PAGE FOR ANYTHING IMPORTANT and, after you Log In, the CALENDAR OF EVENTS PAGE FOR DETAILS OF FORTHCOMING EVENTS.
If you're having trouble logging in because you've forgotten your Password, click on Forgot Password? inside the Classmate Login box that appears after you click Sign In and you'll be Emailed a link to reset it.

You'll find other helpful tips under REMINDERS below.

The Sloane


Hello and Welcome to

Mark Foulsham's

Sloane Grammar School website
If I built it I knew you would come

A School that invited loyalty
(Quote by Don Wheal)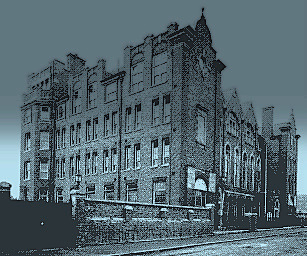 Gone But Not Forgotten
'Men are we, and must grieve when even the shade
Of that which once was great is pass'd away.'

William Wordsworth
On the Extinction of the Venetian Republic


You may think you're done with the past but the past isn't done with you!

"The merits of a school are judged as much by the men it produces as by their achievements as boys" -
(Old Cheynean D.J. Cowie, March 1929)


If you're a member, click on an image (



) at the top for more.

Here's what you'll find -

= Messages waiting for you. The red bubble shows how many.

= Website activity. Check for things you may have missed.

= Member functions like Profile, Contact, and Password changes.

AND -

If you're already a member please remember to keep your Email address up to date using Edit Contact Info, to be found by clicking on

the image at the top of the page.

Please don't forget to use the Notify Me page under the

image to make selections that will help you keep in touch as well as help you enjoy all the website has to offer.

Please remember to Log Out when you leave the site by using the Log Out button to be found under the

image at the top of the page.


AND FINALLY, IF AT ALL POSSIBLE, -
Please let a close relative know of your participation in the Sloane website and show them how to use the Contact Us page to notify me in the sad event of your death. Not only will this allow me to notify other members, it will also put a stop to any website generated emails finding their way to your Inbox. Thank you.
Come on in!
Don't be late!
This is one detention
You'll be pleased to take.

A WARM WELCOME

to fellow Cheyneans and passers-by, from the Official Sloane Grammar School 1919-1970 Old Cheyneans and Friends web site.
Mark Foulsham, at Sloane 1963-70, created this site in August 2008 to record for posterity all that I can, and for all those who attended Sloane or simply have a Sloane connection, to share and enjoy. Feel free just to browse or, if you feel you qualify to join us, make full use of the site by becoming a Registered Classmate. Click on the Click Here to Register button above to start the registration process. It's Free!
I'll also be happy to send a personal invitation to anyone else with a Sloane School Chelsea connection who you think might like to join us. Just enter their Email address in the MISSING CLASSMATES box to your right and click Send Invite.
We may not understand why but memories of our days at Sloane remain with us while others do not. Whether they're good or they're bad, I'd like to give all old boys the opportunity to keep those memories alive.

Aspirations and Objectives

Sloane never had a motto and although our school badge is based on the lion rampant and boar's head of the Cadogan family crest their motto, Qui Invidet Minor Est or He That Envies Is Inferior, is not really appropriate so I'll adopt the one to be found on the Coat of Arms of the Royal Borough of Kensington and Chelsea as it suits us nicely -

Quam Bonum In Unum Habitare
(What A Good Thing It Is To Dwell Together In Unity)

It is hoped, in some small way, to be able to have similar objectives to those stated for the first issue of The Cheynean in December 1926 -

"To record faithfully the major activities of the School, to promote and foster a corporate spirit in the School, to excite a greater keenness both in the games and in other phases of its social life, and to serve as a link between present members of the School and the Old Cheyneans". -

and also to bring together, once again, old friends and classmates, and those of us who have outlived the school and share a common interest in its history and its future.
Sadly, I've no memory of having ever sung or even heard a school song but apparently one was written by music Master Mr Seymour Dicker in 1928, and was first sung in July of that year by pupil J E Bush. What became of it after that first performance is a mystery but it contained the lines -
"Salve, the School and its scholars so keen,
Long may they keep its memory green."
If you've any memories of Sloane you'd like to share, use the Contact Us page to send them in and, whilst you're there, register for the site as well.

Once you've registered, you can activate the Instant Messaging feature that allows you to hold a 'real-time' online conversation with anyone else who has logged on to the website. You can also send a message to someone else on the site via the Message Centre or by using their Profile. Click on their name on the Classmate Profiles page then click on the red 'Send ? a private message' at the top of their Profile.

After you've registered, why not take a look at all the Classmate Profiles ? Even if you don't know the person involved, the information they've put on their Profile can be interesting, illuminating and fun, and often brings back memories of something you thought you'd forgotten about.
If, at any time after becoming a member, you're unsure about anything click on this Using This Site link for an explanation or contact me direct via the Contact Us page.

* * * * * * * *

Why Not Take a Look at Where your Classmates are Living?

Find out the Postcode of a Classmate from their Profile (if they've agreed to let everyone know it) then Click on the link below, enter the details where it says 'Address', then Click on 'Go'. Not every country is covered yet and those that are have limited coverage, but it's worth a try.
Here's the link. Have fun - http://www.vpike.com/



* * * * * * * *
The Sloane News
BREAKING NEWS!

Braverman sacked! Cameron returns! Government Ministers resign!
But now for the important news - Krispy Kreme To Give Away 60,000 cream doughnuts!
Oh, I almost forgot, I'm back!
* * *

Chelsea v Manchester City game enters 21st hour. Chelsea down to three men. Seventeen goals disallowed. Referee Sends Himself Off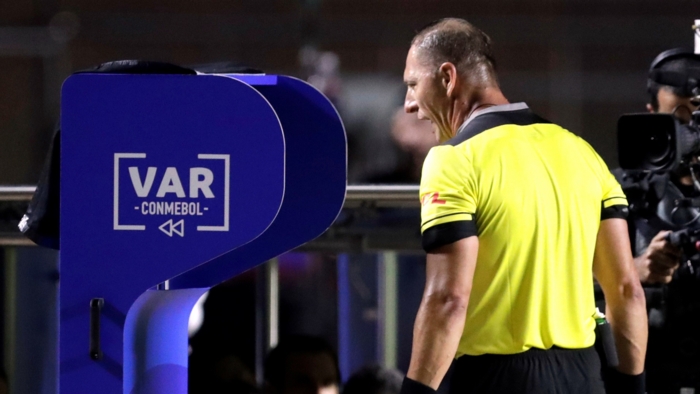 The Chelsea V Manchester City game has entered its fifteenth hour of play this afternoon it is revealed, with Chelsea going down to three men after a seventeenth goal was disallowed.

With millions of football fans treated to a feast of disallowed goals and carnage, for approximately three hours in the first half, with almost six minutes of actual football being played, fans have woken this morning to find the game is almost over with just nine players left on the pitch.
One fan, who has managed to stay awake for the whole game told me
"Best. Game. Ever. I think so anyway. I ended up falling asleep for a couple of hours of the second half during one of the VAR delays, as they took about twenty minutes to disallow yet another goal.
But other than it has been great. Obviously going down to three men is going to be difficult for the last hour or so of injury time we have left, but I think the lads can pull this off and get a result.
Thankfully Chelsea are now down to six after reversed decisions, and there are only eleven goals in it, or maybe ten but we have them right where we want them."
*

Trump Wastes Cell Phone Call Entitlement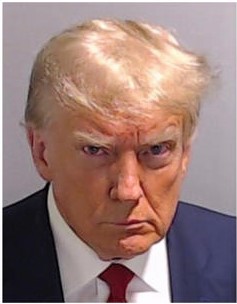 After his arrest, being well aware of his rights, Donald Trump asked to use his one phone call to phone his lawyer. Unfortunately for him, the phone rang in the next cell to his.

*
Water bosses told to clean up the nation's shoreline using thousands of tiny poo bags


Water bosses are facing an ordeal experienced by millions of pet owners every day, after being told to clean up their shite using tiny plastic bags.
Dozens of water executives from around the country will be put on wooden rafts on faeces infested shorelines and told to clean up the shite using an assortment of tiny bags.
"Finally, a plan for the nations waterways that I can get behind," explained one excited voter.
"I never bought the whole 'it's too difficult to clean up the turds' excuse being used by the water industry. Every dog owner knows it's easy enough to clean up a turd – unpleasant, yes, but certainly achievable.
I'm sure cleaning up thousands will be hard work, but let's not pretend it can't be done just because it's not a nice job to do."
Another voter did admit he had one small area of sympathy for the executives, telling us,
"I guess that being out on the water they won't have any trees from which to hang the shite bags? Shame."

*
Loathsome left-wing autocrat launches evil dystopian scheme to force cleaner air on London's children
Sadiq Khan's Ulez scheme has begun in Greater London as part of his unrelentingly selfish pursuit of cleaner air for the children living in the capital.
Despite being surrounded by controversy, Khan's Ulez scheme has been launched and will now restrict access to London's outer roads for some of the most polluting cars in circulation.
One Hayes resident and Ulez opponent, told us,
"If children have to develop breathing difficulties so I can drive around outer London in my fifteen-year-old diesel car, then so be it. That is the price they will have to pay for my freedom.
That selfish fool Khan with his big fat smug face looks so pleased with himself for taking another small step towards forcing cleaner air into the lungs of London's children. How DARE he decide what sort of air our children should breathe! That's the job of a parent, not some communist in his ivory tower.
Ulez is going to ruin the local economy because I have decided to ignore the fact that 90% of cars won't be affected by this at all, and I will instead focus on how it's going to affect me personally, while also insisting to anyone who'll listen that it's all part of a conspiracy to restrict all of our freedoms. Somehow.
I'm not that big on the detail, but I saw online that billionaire and philanthropist George Soros is behind it. Which means it's really bad.
*
Calls For Frankie Dettori To Resign!!
Frankie Dettori may regret his decision to retire from horse racing.
One of the many winning horses Frankie Dettori has ridden to victory during his illustrious career has broken its silence to tell the world that the kiss Dettori gave him after the victory was non-consensual. Dettori says the horse definitely agreed to being kissed and will in future be insisting on an after-race pre-kiss agreement being drawn up prior to riding any horse again. This has been seen as some as an explanation for Dettori's lack of rides in recent months and his decision to retire at the end of this season. Dettori says that he kissed all of his winning rides, fillies or colts, and that should show there was no bias towards one or the other and in fact proves he treated all his winners equally.
Police anticipate that further horses will now come out of the stables but refuse to take seriously the photo of a foal sent to them by another horse along with claims that Dettori is the father.

*
Rishi Sunak commits to net zero leadership by 2025

Prime Minister Rishi Sunak has confirmed his commitment to net zero leadership by 2025.
With news emerging earlier that the government is expected to water down plans around the reduction in production of petrol cars and gas boilers, further news has now emerged that the Prime Minister is expected to announce a firm commitment to net-zero leadership, insisting he will show no leadership whatsoever as early as 2025.
A Spokesperson for the government confirmed
"We think it can be done. The Prime Minister will confirm today his ambitious plans of achieving net-zero leadership by 2025, with absolutely no leadership shown at all.
Obviously this is likely to be taken out of his hands anyway as the years progress. And when we lose the general election he should easily achieve his target.
"However, in the unlikely event that we do cling on to power, despite you know… everything, Rishi Sunak is confident that he can continue to show unprecedented levels of inaction over every single issue facing the country, and that he will be doing literally nothing by 2025.
"Essentially, Rishi is promising there will be net-zero leadership over the next twelve months, no matter what happens. He will basically just do nothing."
Asked if he would perhaps just look at ONE issue over the next few months, such as public sector strikes, or inflation or anything, we were told "No".
*
Man who goes to work in a gold carriage relieved he didn't have to chastise homeless people for their tents

King Charles is said to be relieved he didn't have to announce his government's plans to clamp down on homeless people using tents, after arriving to give his speech in a literal golden carriage.
A last-minute amendment to the speech saw the removal of Suella Braverman's attempts to demonise the homeless, after she described living in a tent as a 'lifestyle choice'.
"Thank Christ for that," Charles told Camilla, having been handed a revised draft in the carriage en route to Parliament to deliver his speech outlining the government's agenda for the coming year.
"I genuinely thought I was going to have to caveat that bit, which would be a first, but I couldn't very well announce plans to remove the tiny roof over the heads of the homeless after arriving in a gold-plated carriage, could I?
I know I'm quite far removed from real life, but that's just cruel, right? Before that bit I was going to say 'this isn't me by the way, I quite like homeless people, but I'm constitutionally obliged to say this next bit, sorry.
Thankfully my final copy of the speech had a big red pen through anything Suella wanted me to say, thus averting a constitutional crisis.
I think Rishi should take a big red pen to more things Suella wants to say, definitely."
* * *

FRONT PAGE NEWS

Bags For Strife

The Royal Borough of Kensington and Chelsea are appealing to any of their residents thinking of putting carrier bags over ULEZ cameras to remember that the borough does have standards. They are asking them to consider using Waitrose and Marks and Spencer bags only in order to maintain appearances. As these particular bags are Bags For Life they are sustainable. The cheap flimsy ones from Lidl just won't do.
*
Bank of Mum and Dad to seek government bailout after paying for summer holidays and new school uniforms

Britain's biggest lender, the Bank of Mum and Dad, is understood to be under 'severe pressure' after funding both summer holidays and new school uniforms in the last few weeks.
Mum and Dad, who were widely believed to be a stable source of funding, made the request to the Treasury yesterday after seeing the list of trips they'll be expected to fork out for during the coming school year.
"The Bank of Mum and Dad was formed after a drunken night out in Marbella in 2010, and I don't think either of the directors ever expected the demands that would be placed upon them by new customers, at least one of whom was unplanned," said one Dad, aged 37.
"Our capital reserves have been almost exhausted by excessive exposure to the currency markets, specifically buying enough Euros for a family of four to go to Zakynthos for two weeks in August."
Mum and Dad have also been accused of a series of unwise deals on the swaps market after arranging several exchange trips to France.
"The only way we're going to be able to weather further calls upon equity this term is if the government just prints a load of money and gives it to us like they did for everyone else," they told us.
*
The BBC doesn't do advertising, but would quite like to tell you about a new book a celebrity is bringing out in time for Christmas.
The BBC's 6pm news programme took a few minutes that could have been spent on other things to tell you about Barbara Streisand's upcoming biography.
"Vital information," confirmed a BBC spokesperson.
"We took a poll of the public and it turned out 97% of people did not know My Name Is Barbara was going to be released on November 7th with an admittedly insane RRP of £35.The 3% who DID know were Streisand herself, her agent, several of her friends, and the manager of the local Waterstones. So obviously we had to tell all of our viewers about it immediately, with a lovely big photo of the front cover of the book. But that's not the same as advertising. Yes, we had to cut a piece about the rising price of energy this winter and important tips for older people who are struggling, but none of them have a book coming out.
Once again, Barbara Streisand's My Name Is Barbara, is out now."

A random BBC news viewer said,
"They dedicated actual airtime to Eric Cantona's new single last week, which isn't a concept I ever expected to hear about, nor was it one I felt better for knowing about.
This definitely FEELS like adverts. I have the same sense of waiting for it to be over as I do with adverts.
* * *
HOME FRONT NEWS

Until very, very recently, (like yesterday) I was very concerned that my health problems were going to get the better of me and see me off. My breathing's not been good, I'd been feeling light-headed with occasional dizzy spells, lacking enthusiasm for anything, had little energy, loss of appetite, knee and hip joint pains. On reflection, I can trace the onset of most of the problems to the Covid-19 I had and the onset of diabetes. This most recent episode of problems was exacerbated by a non-specific virus that I was prescribed two different lots of antibiotics for. I've now self-diagnosed Long-Covid and my mis-management of my diabetes. My blood glucose levels have gone through the roof lately and it's only when I monitor them more closely than I have been doing and make adjustments to my diet that I feel like my old self. I've got an appointment with my Doctor and one with my diabetic nurse tis coming week so I should get a chance to air my thoughts. I say 'should' becasue they've now got into the habit of looking at their watch every five minutes to make sure you don't overstay your welcome.
With the diabetes problems having got to me, I turned to drink for comfort. I know it's not advisable especially as I'm always telling myself I've got to stop drinking. But I'm not about to listen to some drunk who talks to himself.
Incidentally, talking of drink, I was hoping to have a gathering of Sloane old boys (any age, any era) before Christmas but I'm not sure I'm going to be up to it and time's getting short (no, I don't mean I'm about to pop my clogs). I'll give it some more thought and hopefully I'll improve and try to get something to happen. Well I wouldn't want to miss it, would I? I'll let you know if I come up with anything but please let me know if you have any ideas. Nothing too big, just a drink and a laugh in a pub of your choosing.
My wife's been away again. She went to Rhodes with my daughter and her family once more but, sadly, I wasn't up to it and the energy it takes to keep an eye on my Grandkids was something I just didn't have.
I may not have been able to go away with them but the thought of the possibility did remind me of our cruise again and of something I forgot to mention when I last updated this Home Page. Another thing the cruise operators weren't so good at was their choice of films. This one was probably the worst one I've ever seen. Sid James wasn't even in it -
My wife would no doubt have enjoyed herself as much as she always does but the enjoyment was short-lived this time around. They stayed in a beautiful villa with walls and floors of marble as well as a pool. Pool and marble floors are also an accident waiting to happen, and it did. My wife got out of the pool, slipped on the floor, then down a flight of stairs and before long her body resembled one enormous blood clot.

Since she came back, I've been telling my wife that she's not up to babysitting at the drop of a hat anymore and she should learn to say 'No!' to our daughter occasionally. Fat chance. first got home, but her fall hasn't deterred her and she's already been over to my daughter's three times to babysit. She also forgets she's not getting any younger. I'm much the same when it comes to listening to others, though, as I prefer to make my own decisions rather than listen to advice from others. In fact, only yesterday she said to me
"You only hear what you want to hear."
"Yes, thank you, I'd love another beer," I told her.
It doesn't really help either when my new hearing aids seem to have a mind of their own but as they're new I shan't be able to use them as an excuse for a while.

I recently received a text from an old friend of mine who said he'd been driven to such despair that he booked himself into one of those Swiss suicide clinics. His since changed his mind. Not bcause he's had a change of heart but because all they offered him for breakfast were Cheerios.
He checked himself in after his wife left him. She told him she was going out for milk and never came back. Before I found out he was leaving for Switzerland I asked him how he was coping. He told me,
"Not bad. I've been using some of that powdered stuff."
Back indoors, Halloween with its dreaded trick or treat, went by with few surprises except, would you believe, my youngest son dressing for the occasion as he always does, in something he'd bought. Unfortunately, he left home with nothing on his feet (which is not uncommon), slipped on the pavement during a torrential downpour and, just like his mother, fell heavily enough for one of his elbows to change direction and stick out of his arm at an alarming angle. There's many a slip twixt the cup and the lip........
I spent Halloween as I spend most Halloween's, sat in my chair listening for the ring of the doorbell and laughing as my wife got up and down countless times to answer the door. She loves feeding the kids (whose parents realise this so don't feed them themselves in the run up to the day) whereas I derive my pleasure from watching her tire herself out doing it. I don't mean to give the impression I'm a Grinch but some things are best left to the Americans. Even if they didn't invent it there's no doubt it suits them perfectly and they're welcome to it!
Just Christmas to look forward to (??!) now but I'm going to break myself in gently. Unlike my wife and children who'll all come close to breaking various parts of their body.
Until next time (only a few weeks, I promise) I'll leave you to your shopping.
* * *

JOKES OF THE WEEK


Paddy says to Mick,
"How did you get on at the faith healing group last night?"
Mick answered,
"He was useless. Absolute shite. Even the feller in the wheelchair got up and walked out."

*

A man was getting a haircut prior to a trip to Rome. He mentioned the trip to the barber, who asked,
"Why would anyone want to go there. It's crowded and dirty and full of Italians. You're crazy to go to Rome.. How are you getting there?"
"We're taking Easyjet" was the reply. "We got a great rate!"
"Easyjet!" exclaimed the barber. "That's a terrible airline. Their planes are old, their flight attendants are ugly and they're always late. Where are you staying in Rome?"

"We'll be at the downtown International Marriott."
"That dump! That's the worst hotel in Rome.The rooms are small, the service is surly and they're overpriced. "What are you doing when you get there?"

"We're going to go to see the Vatican and we hope to see the Pope."
"That's rich," laughed the barber. "You and a million other people trying to see him. He'll look the size of an ant. Boy, good luck on this lousy trip of yours. You're going to need it!"

A month later, the man again came in for his regular haircut. The barber asked him about his trip to Rome.
"It was wonderful," explained the man. "Not only were we on time in one of Easyjet's brand new planes, but it was overbooked and they bumped us up to first class. The food and wine were wonderful, and I had a beautiful young stewardess who waited on me hand and foot.

And the hotel! Well, it was great! They'd just finished a 25 million Euros remodeling job and now it's the finest hotel in the city. They were overbooked too, so they apologized and gave us the presidential suite at no extra charge!"

"Well,"muttered the barber. "I know you didn't get to see the Pope."
"Actually, we were quite lucky, for as we toured the Vatican, a Swiss Guard tapped me on the shoulder and explained that the Pope likes to meet some of the visitors, and if I'd be so kind as to step into his private room and wait, the Pope would personally greet me.
Sure enough, five minutes later, the Pope walked in. As I knelt down he spoke to me."
"What did he say?"
"He said, 'Where'd you get the awful haircut ?

*

*

The Mother Superior and a novice nun were driving through some woods. Suddenly, a vampire drops onto the bonnet of their car. "Quick!" says the Mother Superior to the novice nun. "Show him your cross". "Get off the bloody bonnet!" shouts the novice!

*

Seamus was about to tee off on the first hole when a second golfer (Paddy) approached and asked if he could join him. Seamus said that he usually played alone, but agreed to the twosome.
They were even after the first few holes. Paddy said,
"We're about evenly matched, how about playing for £5.00 a hole?"
Seamus said that he wasn't much for betting, but agreed.
Paddy easily won the remaining 16 holes. They walked off number eighteen while Paddy counted his £80.00. He then confessed that he was the pro at a neighboring course and "liked to pick on suckers."
Seamus, shocked, revealed that he was the Parish Priest.
Paddy the pro was flustered and apologetic and offered to return the money.
Seamus replied,
"You won fair and square I was foolish to bet with you. Keep your winnings."
An embarrassed Paddy asked,
"Please, is there anything I can do to make it up to you?"
Seamus replied,
"Well, you could come to Mass on Sunday and make a donation. And, if you want to bring your Mother and Father along I'll marry them.

*

An Englishman, taking a road trip through the United States, notices he's low on fuel, so pulls into the first gas station he sees. The attendant walks out and approaches the car.
"How can I help you, sir?"
And in a posh voice, the man says,
"I'm low on petrol; please top off the tank."
With an odd look, the guy begins to fill 'er up.
The Englishman then says,
"Also, while I'm here could you open the bonnet and check the oil?"
Now looking slightly peeved but still saying nothing, the serviceman does as requested.
"Oh, yes," says the Brit, "It appears my windscreen needs a good cleaning. Would you mind terribly?"
Unable to hold his tongue any more the attendant angrily snaps,
"Alright, that's enough! It's not Petrol, it's gasoline! It's not a bonnet, it's a hood! And it's not a windscreen, it's a windshield! We invented cars, so you call them by their American names!"
And with that wonderful, charming, stiff-upper-lip UK wit, the Englishman calmly replies,
"Well yes, my friend, you may have invented the automobile, but we invented the language!"

*

*

Two sisters inherit the family farm.
Unfortunately, after just a few years, things are not going well and they find themselves in financial trouble.
In order to keep the bank from repossessing the farm, they need to purchase a bull from another farmer some miles away so that they can breed their own stock.
They only have £600 available.
The older sister says,
"I'm going to take the bus to the farmer since you need the truck. When I get there, if I decide to buy a bull, I'll contact you to bring the pickup truck and trailer and haul it home."
The older sister arrives at the farmer's, inspects a bull, and decides she wants to buy it. The man tells her that he will sell it for £599, no less. After paying him, she makes her way to the nearest town to send her sister a telegram telling her the news.
She walks into the Post Office and says,
"I want to send a telegram to my sister, telling her that I've bought a bull for our farm. I need her to hitch the trailer to our pickup truck and drive out here so we can haul it home."
The counter clerk said he'll be glad to help her, then adds,
"It's 99 pence a word."
Well, after paying for the bull, she only had a pound left, enough to send one word.
After a few minutes of thinking, she nods and says,
"I want you to send her this word: comfortable."
The operator shakes his head.
'How is she ever going to know that you want her to hitch the trailer to the pickup truck and drive out here to haul that bull back to your farm if you send her just the word comfortable?"
She explained,
"This is a big word for my sister. So she'll read it very slowly ... sounding it out as com-for-da-bull."

*
An Englishman, Welshman and Scotsman were captured during the war and were sentenced to be shot as spies. When asked if they had any last requests the Welshman asked to hear a recording of a Welsh male voice choir. The Scotsman asked to hear a recording of bagpipes playing Scotland the Brave. The Englishman asked if he could be shot first.

* * *
THOUGHTS OF THE WEEK
*

As we age we change not our surroundings but the way we view them. In fact, the world doesn't change much at all but our perception of it and the things in it does.

*
*

For those of you who love rugby but don't quite understand the rules, a New Zealander, in Cork recently for the Rugby World Cup, has provided this -
"Here is my understanding of how it works. The fat guys all run into each other, while the slightly slimmer guys stand in a line watching them. Eventually, the fat guys get tired and have a lie down on top of each other. The ball comes out of the back of this lie down and the skinnier guys kick it back and forward to each other for half an hour. Then the fat guys wake up and start running into each other again. Every now and again the referee stops play because someone dropped the ball. That's the oly thing you are not allowed to do in rugby. Everything elses would appear to be okay. Sometimes, one group of fat guys pushes the other group over the line and and there is some manly hugging, but no kissing like there is in soccer. After 80 minutes they add up the score and New Zealand wins."

* * *
The Story of The NEVERWELLS (WHO ARE NEVER OUT OF TROUBLE)

Many years ago I picked up a small book at a car boot sale and now, With over two years in the world of Covid behind us, I thought it might be a good time to share its contents with you. I know I said I thought I'd lost it the last time I wrote, well now, having sweet-talked his receptionist and had a hunt among his records it's turned up again and I'm able to resume the tales of Dr. Goodenough and the Neverwell family. Seems he was using it as a reference. I thought some of the diagnoses he'd been giving me sounded familiar.
The book in question, published in 1948 (the year the NHS came into being), is titled The Story of The NEVERWELLS (WHO ARE NEVER OUT OF TROUBLE) and was written by William Edwards, a doctor, under the pseudonym Dr. Goodenough.
The Neverwells included mum and dad, their small boy Billy, growing-up Mary and baby Roy, and came into being after the Editor of The People newspaper met two people on a train. One of them was a doctor friend of the Editor's, 'a kindly soul yet a man of the world who has one of the biggest practices in the South of England.' He said:
"I am rushed off my feet these days. And in most cases I need not have been called in at all, if only people had a simple knowledge about ordinary illnesses."
Later, the Editor found himself talking to a woman passenger with two children -
"They're not too strong," she said, "always under the doctor with one thing or another. It's never serious you know, but the trouble is you can never be sure and so you must call the doctor."
The same night as he had spoken to the two people on the train, the Editor of The People telephoned his doctor friend and asked him if he would become Dr. Goodenough and write for him every week the story of a family - the Neverwell family - about their complaints and how he treated them, and in simple language so that ordinary people could at last learn the elementary things about illness.
For over a year before the book was published, Dr. Goodenough entertained and instructed People readers every week with the story of the never-ending complaints of the Neverwells. There were words of wisdom and understanding in these little features as well. So much so that, increasingly, the People was inundated with letters from readers asking for a book to be written. Hence, the book I picked up some 30 years after it was first published I now bring to you each time I update this Home Page of the website. I hope you find some enjoyment in its pages and can see the comparisons it enables us to make between the way medicine was practiced back then and how much it has advanced in such a relatively short space of time whilst the personal touch has moved in the opposite direction.

Tonsillitis

Billy's tonsils were large and red, and his temperature was 101°. It hurt him to swallow, but otherwise he was fairly cheerful. Dr. Goodenough undressed him to look for a rash.
"Scarlet fever is far more likely than diphtheria," he said. "As a matter of fact, he was immunised for that, wasn't he?"
"Yes, when he was a year old. Did he ought to be done again?"
"It would be a good idea to give him another shot. But he hasn't got diphtheria. Children with that disease are far more ill. Even if they have only a slight temperature, they look bad, they are a bad colour, they seem choked up. They have very large painful glands in the neck and, if you look at the throat, you see a white creamy membrane, not only on the actual tonsils, but spreading over the palate as well. Actually, since immunisation became popular, diphtheria has become fairly rare among children, and most of the cases we see are in people in the twenties, who have neve been immunised. It would be a great thing if everyone were immunised and the disease were completely stamped out.
"He hasn't got scarlet fever, has he," she asked.
"He's no rash, anyhow. The scarlet fever rash comes in the first twenty-four hours usually. Not on the face - just a sort of red blush all over the trunk. The face may be flushed, but there's no real rash. But, of course, scarlet fever isn't a clear cut disease at all. It's just one form of tonsillitis. Probably it is no more infectious and no more dangerous than any other tonsillitis. The tonsillitis germ forms two sorts of poison; one giving a sore throat, one giving a rash. You can be immune to either of them, so you can get the rash without the sore throat or the sore throat without the rash - or both or neither. I've often seen two or three cases in one house, of whom only one had the real full-blown picture of scarlet fever - but they obviously all had the same disease."
"But isn't that very dangerous? They might spread it."
"All tonsillitis is infectious; and if you take the proper precautions with every sore throat, that's as much as you can do for the scarlet case anyhow. That's the way I look at it. Don't let the child cough in your face, wash your hands after you have attended to him - as you should do for any invalid, have a gargle night and morning - and you're all right."
"I see," said Mrs. Neverwell. "Then we needn't worry too much about Billy?"
"Just a sore throat," said Mr. Neverwell, entering the room. "I told you so. You're the one that wants the doctor, my dear. I believe you're anæmic."
Join us again next time as Dr. Goodenough's visit to see Billy is longer than he expected as he tries to iron out Billy's mum's Anæmia.
* * *
* * * * *
The Home We Called Sloane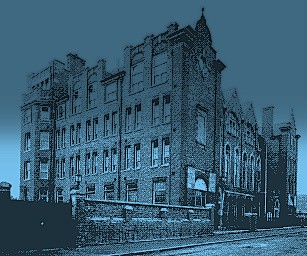 The Sloane building seen from Hortensia Road in 1908

The Sloane building was 100 years old in 2008, although it didn't actually start life as a boys' school until after the First World War, during which it served as a hospital. It still stands and many memories are, no doubt, ingrained in its walls along with the odd name and ribald comment. Who knows what the future holds, despite its Grade II listing on May 7th, 2002. Grade II listed buildings can be altered, extended, or even demolished, but only with Local Authority consent, so it may be that the building is considered historically or architecturally interesting enough for it's fabric to remain untouched. Some consideration may have been given to it having been the first purpose-built secondary school in London, and it is certainly one of only 3% of all ages of listed buildings that was built in the 20th century. Schools generally are seen as a good investment by developers because they're easy to convert. They are likely to be structurally sound because the authorities will have inspected them regularly to ensure they comply with Health and Safety requirements.
To learn more about what has happened to the building we left behind visit the Sloane Today page once you've become a registered member.
Sadly, Sloane Grammar School for Boys only lasted 51 years, from 1919-1970. Sloane old boy John Binfield, in one of his poems, writes -
... the school, with
All its past, was sucked into a huge
Turbulent sea of glass in Pimlico
And sank without trace. "full fathom five..
Sea nymphs hourly ring his knell.
Hark, now I hear them. Ding-dong bell".
The exterior of the building still survives in the form we all remember even if the interior doesn't. It would have been wonderful to have been able to celebrate, in 2019, what would have been its centenary as a boys' school, had it remained in existence as such. Unfortunately, for us, it wasn't to be, and the Covid-19 pandemic that gripped the world in 2020 and beyond didn't allow for a late celebration either . Maybe one day......

Sloane seen from the rear in 2014
* * *

This Website And The British Library's Web Archive

Please Note: - The school building still remains but not as a school. I've tried to preserve as much of its history and old boys' memories of it as I can, on this website. You might like to know that once I'm no longer around and have shuffled off to that classroom in the sky, this website will remain intact. Once my monthly payments to the Class Creator programmers cease the site will continue but to compensate them for their loss it will display adverts. If you're still around, you'll still be able to Log In to the site and carry on much as you did when I was alive. Naturally, the site will look exactly as it did (apart from the adverts) on the day I died. What will not be possible are any new members, unlikely as that is, as I won't be here to verify they are who they say they are.
In addition, in 2013 , just before the Legal Deposit regulations came into force, I asked to register the website with the British Library's UK Web Archive as one of historical interest and they agreed. So, when none of us are unable to Log In anymore or the Class Creator business ceases to operate, it will still be available for access by our children and grandchildren etc., as well as future historians, at this address -

Web Archiving
The British Library
96 Euston Road
London NW1 2DB
United Kingdom
Tel: +44 (0)20 7412 7184
E-mail: web-archivist@bl.uk
Since 2013, publishers need to give a copy of every UK publication they make to the British Library. Five other major UK libraries may also ask to be given a copy. This system is called legal deposit and it's been a part of English law since 1662.
Print publications for legal deposit can be books, journals, sheet music, maps, plans, charts or tables. Now legal deposit also covers material published digitally such as websites, blogs, e-journals and CD-ROMs.
Legal deposit has many benefits for publishers and authors. The deposited publications can be read inside the British Library and will be preserved for future generations. Their works become part of the nation's heritage, providing inspiration for new books and other publications.
Unfortunately, in the case of websites, the British Library say that much of the information contained in them cannot be archived for technical reasons. In addition, as almost all this website's pages are Password Protected, it will be impossible for them to be accessed unless I remove that restriction. At some point I will give the British Library's 'web crawler' access to our Password Protected pages to allow it to take a 'snapshot' of the site on a daily, weekly, monthly, quarterly or 6-monthly basis. At the time of writing this, 2020, their system doesn't have the capability to crawl and archive private content that sits behind a Log In procedure. They will never be allowed access to members' Profiles and the personal information they contain.
The current generation of web crawlers cannot capture:
Interactive, dynamically generated content

Content that is only available via a search engine on the website, or some other form submission method

Some types of JavaScript-driven menus

YouTube videos, Flash movies and similar streaming audio or video (some audio and video files can be captured, e.g. those embedded via the standard

HTML5

<video> or <audio> tags).
Unlike static HTML, which is relatively easy to capture, script code is very hard for traditional web crawlers to analyse, which is why the Library runs web browsers for a limited part of their crawls. Even that cannot capture very interactive web sites, like single-page web applications, or any site feature that needs a remote server to function. In practical terms this means that entering queries into the search box of an archived version of a website will not work. Standard links on the website, however, will work as normal.
Some JavaScript driven menus do not function well once archived. YouTube videos, Flash movies, and similar streaming audio or video are also beyond the capability of web crawlers. However, as members of the International Internet Preservation Consortium, contributors to the UK Web Archive are developing tools which will help capture this content in the future.
Attempts are made to gather all of the objects associated with a website including html, images, PDF documents, audio and video files and other objects such as programming scripts. However, the crawler software cannot automatically gather any material that is protected behind a password, without the owner's collaboration. Web site owners may however choose to divulge confidentially a user ID and password to allow archiving of these areas. So, as I said, I'll collaborate with the British Library to allow them to gather only non-invasive non-personal information behind the password protection if and when their archiving system becomes capable of it .
Should you wish to visit the UK Web Archive to see what it makes available for viewing or if you know of a website that you think deserves preservation, use this link -

https://www.webarchive.org.uk/ukwa/info/nominate

* * *

Whatever our own personal reasons for it doing so, the school will still haunt most of us even if it disappears altogether. With that tenuous link, here's a poem that I came across in a copy of The Cheynean -

The Ghost of Sloane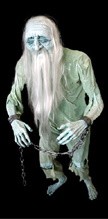 When London's asleep and the School very quiet,
No sound of footsteps, no sound of a riot,
No sound of even the shuffle of feet,
No sound of the creak of a pupil's seat,
Out of the darkness the ghost of Sloane
Awakes from rest with a sigh and a groan.
Then up he arises to haunt the School
Climbing the stairs in the guise of a ghoul.
He shuffles and clanks down each corridor
Into the classrooms where stand desks galore.
He examines each desk and checks the boys' work,
Allots ghostly marks in the dark and the murk.

If you ever lose books from out of your desk,
And the teacher upbraids you and calls you a pest,
Just tell him my story, however tall,
Of the white shrouded phantom that haunts the School Hall.

J. Hollingshead (3C)

As for us, the boys who used to attend our Chelsea school, we probably considered ourselves 'Chelsea men' but I doubt that many of us fitted the description in this poem, written when he was in the 5th year by one time Sloane Schoolboy, A R Doubledee. I get the impression he didn't particularly approve of the 'Beatniks' of the late 50s and early 60s that he found himself sharing Chelsea with or, as he called them the 'Weirdies' -

The Weirdies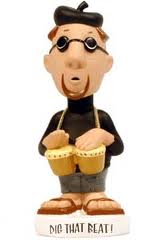 The Chelsea man is excessively queer,
He only drinks coffee and doesn't like beer.
He's always "chatting" the girls, and yet
This seems to make him "one of the set".

His unkempt chin and uncut hair
Go with his feet which are usually bare.
If he wears shoes, they've never got soles,
And he's usually found in Bohemian holes.

His outsize sweater is generally black
Contrasting well with his shorty mac.
He wears his clothing merely to show
That he can keep up with the boys of Soho.

To find a girl he doesn't look far,
But into the nearest coffee bar,
Where he's sure to meet a Bohemian "yob".
They're all from Chelsea - what a mob!

The girls with hair right down their backs
Wear irregular clothes that look like sacks.
They walk about wearing father's sweater:
I really don't see why he should let 'er.

Their gaudy clothes of reds and greens
Match up with the style of their men-friends' jeans.
Now that's how it goes with the latest style:
Girls on their faces make-up pile,
The men wear anything they can find -
I shouldn't stare, I should just act blind!

A.R. Doubledee (5b)
* * *

ANNOUNCEMENTS APPEAR BELOW
ONCE YOU'VE LOGGED IN