Sloane Grammar School boy, if you seek your memorial,
look around you.




DON'T FORGET!! -
PLEASE CHECK THE ANNOUNCEMENTS BOARD AT THE FOOT OF THIS PAGE FOR ANYTHING IMPORTANT and, after you Log In, the CALENDAR OF EVENTS PAGE FOR DETAILS OF FORTHCOMING EVENTS.
If you're having trouble logging in because you've forgotten your Password, click on Forgot Password? inside the Classmate Login box that appears after you click Sign In and you'll be Emailed a link to reset it.

You'll find other helpful tips under REMINDERS below.


The Sloane


Hello and Welcome to

Mark Foulsham's

Sloane Grammar School website
If I built it I knew you would come

A School that invited loyalty
(Quote by Don Wheal)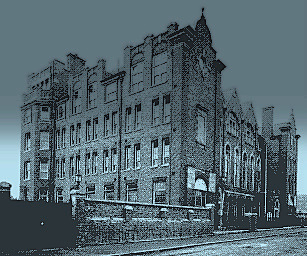 Gone But Not Forgotten
'Men are we, and must grieve when even the shade
Of that which once was great is pass'd away.'

William Wordsworth
On the Extinction of the Venetian Republic


You may think you're done with the past but the past isn't done with you!

"The merits of a school are judged as much by the men it produces as by their achievements as boys" -
(Old Cheynean D.J. Cowie, March 1929)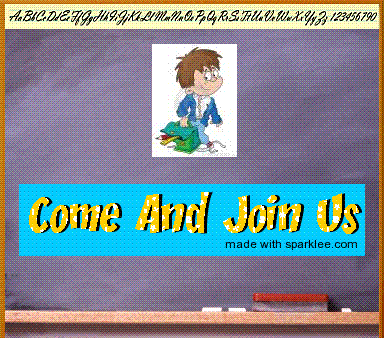 Register and link up with old school friends again and become part of Sloane Reunited.
If you were a pupil or member of staff at Sloane you qualify to register for the website. Click on Missing Classmates at the top of this page to see if we've been expecting you. If you see your name click on it and follow instructions. If your name's not there click on BECOME A MEMBER to learn more and then click the ADD NAME button to start the ball rolling or click Contact Us at the top of the page, read what you see then complete the box at the bottom of that page to ask me to add your name to the list.
It's Free, it's Easy, it's Secure
and
You're Never Alone As A Sloane

If you're a member, click on an image (



) at the top for more.

Here's what you'll find -

= Messages waiting for you. The red bubble shows how many.

= Website activity. Check for things you may have missed.

= Member functions like Profile, Contact, and Password changes.

AND -

If you're already a member please remember to keep your Email address up to date using Edit Contact Info, to be found by clicking on

the image at the top of the page.

Please don't forget to use the Notify Me page under the

image to make selections that will help you keep in touch as well as help you enjoy all the website has to offer.

You may already have the latest version of Adobe Flash Player but your browser no longer uses it automatically and it will not be supported at all after 31st December, 2020. From that date Google has confirmed it will completely block Flash from being able to run under the Chrome browser as will Mozilla for their Firefox browser and Microsoft for Internet Explorer and Edge. The Members Online feature uses Flashplayer (as do some animations and slideshows) so if it can't be seen clearly in the bottom right of your Home Page, click your mouse on what you can see and you'll be prompted to run Flashplayer. Agreeing will see the Members Online window re-appear. The same applies to animations and slideshows that don't show automatically. Use your Search Engine to search the web for how you allow Flash automatically in the browser you use but some browsers will ignore your choice anyway if you've chosen 'Allow', others, like Opera or Brave, will not. To check how this site handles Flash, click on the Padlock or Not Secure wording that precedes this website's Domain Name in your browser's Address Bar and set Flash to Allow or Ask (default). Click on Site Settings and under Permissions it also shows the same choice. HTML5 (Hypertext Markup Language) is the likely replacement for Flash and hopefully, this website will be converted to it before the deadline for the loss of Flash.

Please remember to Log Out when you leave the site by using the Log Out button to be found under the

image at the top of the page.


AND FINALLY, IF AT ALL POSSIBLE, -
Please let a close relative know of your participation in the Sloane website and show them how to use the Contact Us page to notify me in the sad event of your death. Not only will this allow me to notify other members, it will also put a stop to any website generated emails finding their way to your Inbox. Thank you.
Come on in!
Don't be late!
This is one detention
You'll be pleased to take.

A WARM WELCOME

to fellow Cheyneans and passers-by, from the Official Sloane Grammar School 1919-1970 Old Cheyneans and Friends web site.
Mark Foulsham, at Sloane 1963-70, created this site in August 2008 to record for posterity all that I can, and for all those who attended Sloane or simply have a Sloane connection, to share and enjoy. Feel free just to browse or, if you feel you qualify to join us, make full use of the site by becoming a Registered Classmate. Click on the Click Here to Register button above to start the registration process. It's Free!
I'll also be happy to send a personal invitation to anyone else with a Sloane School Chelsea connection who you think might like to join us. Just enter their Email address in the MISSING CLASSMATES box to your right and click Send Invite.
We may not understand why but memories of our days at Sloane remain with us while others do not. Whether they're good or they're bad, I'd like to give all old boys the opportunity to keep those memories alive.

Aspirations and Objectives

Sloane never had a motto and although our school badge is based on the lion rampant and boar's head of the Cadogan family crest their motto, Qui Invidet Minor Est or He That Envies Is Inferior, is not really appropriate so I'll adopt the one to be found on the Coat of Arms of the Royal Borough of Kensington and Chelsea as it suits us nicely -

Quam Bonum In Unum Habitare
(What A Good Thing It Is To Dwell Together In Unity)

It is hoped, in some small way, to be able to have similar objectives to those stated for the first issue of The Cheynean in December 1926 -

"To record faithfully the major activities of the School, to promote and foster a corporate spirit in the School, to excite a greater keenness both in the games and in other phases of its social life, and to serve as a link between present members of the School and the Old Cheyneans". -

and also to bring together, once again, old friends and classmates, and those of us who have outlived the school and share a common interest in its history and its future.
Sadly, I've no memory of having ever sung or even heard a school song but apparently one was written by music Master Mr Seymour Dicker in 1928, and was first sung in July of that year by pupil J E Bush. What became of it after that first performance is a mystery but it contained the lines -
"Salve, the School and its scholars so keen,
Long may they keep its memory green."
If you've any memories of Sloane you'd like to share, use the Contact Us page to send them in and, whilst you're there, register for the site as well.

Once you've registered, you can activate the Instant Messaging feature that allows you to hold a 'real-time' online conversation with anyone else who has logged on to the website. You can also send a message to someone else on the site via the Message Centre or by using their Profile. Click on their name on the Classmate Profiles page then click on the red 'Send ? a private message' at the top of their Profile.

After you've registered, why not take a look at all the Classmate Profiles ? Even if you don't know the person involved, the information they've put on their Profile can be interesting, illuminating and fun, and often brings back memories of something you thought you'd forgotten about.
If, at any time after becoming a member, you're unsure about anything click on this Using This Site link for an explanation or contact me direct via the Contact Us page.

* * * * * * * *

Why Not Take a Look at Where your Classmates are Living?

Find out the Postcode of a Classmate from their Profile (if they've agreed to let everyone know it) then Click on the link below, enter the details where it says 'Address', then Click on 'Go'. Not every country is covered yet and those that are have limited coverage, but it's worth a try.
Here's the link. Have fun - http://www.vpike.com/



* * * * * * * *
The Sloane News

BREAKING NEWS !!

You'll vote again and again until you give the answer I want, pledges Nicola Sturgeon
The people of Scotland will vote in referendum after referendum until they get it right, the SNP have promised.
The pledge was made by Nicola Sturgeon this week, as she announced 19th October 2023 as the date she would like the next referendum, as her speech was met by what might have sounded like enthusiastic cheering if that's what you'd already decided you were going to hear.
Sturgeon confirmed that they would hold referenda as often as it takes to get the answer she wants, and then the subject would be dropped and never asked again.
All the referenda would be paid for by the English, she added.
Audience reaction was mixed, with The National newspaper reporting that at least one person clapped.
Independence referendum
However, ordinary Scots seemed keen on the proposals for endless referenda until the SNP get the result they want.
"The last referendum campaign was a really positive social experience," said Michael Gilhoolie of Arran.
"My neighbours hate me, my wife won't talk to me, and I received extensive personal abuse from strangers on the Internet. Why would I not want to go through all that again next autumn? Bring it on."

*
Poundland to be renamed 'Tennerland'
Poundland is to be renamed 'Tennerland' it has been revealed today, due to the continuing increase in UK inflation.
With prices now rising at the fastest rate in forty years, popular bargain retailer Poundland has confirmed that it needs to rename its shops 'Tennerland' with immediate effect, as that is now the cost of the cheapest thing in the store.
Their store manager in Oldham confirmed,
"Yes everything is ten quid now, there's nothing we can do about it. That's inflation for you.
I'm afraid calling the shop Poundland really doesn't work anymore, and it's misleading to customers, because you can't get anything for a pound – not any more. Can of Iron Bru? Tenner. Washing up liquid? Tenner. Crisps? Tenner. Shampoo? Actually that's seven quid now. Packet of custard cremes? Tenner mate, sorry. Although to be fair the custard cremes have two smaller packets in it so it's not a bad deal to be honest, in this day and age.
We did consider calling the store 'Fiverland' last week as prices continued to rise, but we could only sell things at a fiver for a few days before we had to increase the prices again. We have also bought new wipeable store signs for outside the store as well to save us buying more, just in case we need to change the name of the shop again next week.
"To 'Fiftypoundland' or 'Tonland' or something."
*
Charity shops overwhelmed by sudden surge in donations of M&S waistcoats

Following England's recent 4-0 drubbing at the hands of Hungary, charity shops across the country have been besieged by donations of precision-tailored M&S waistcoats.
The chic garments achieved peak demand during England's last World Cup campaign, but their popularity has hit the floor quicker than a Greek barman on the receiving end of a Harry Maguire bill query. As calls for Gareth Southgate's head rang out, Oxfam staff found their doorways blocked with the finest silk "statement purchases" that you can get for £47.99, including packaging and shipping.
Even Colleen Rooney and Rebekah Vardy have put their differences aside over the outfits, with Vardy branding wearers as bandwagon-jumpers via her agent.
The sudden rush in donations means parts of the Congo could soon reach levels of sartorial elegance on a par with Knightsbridge despite ongoing drought, civil war and Belgian peacekeepers.
And in a tea-time outburst, Blue Peter's, Richie Driss, pleaded with viewers to "stop sending us your Gareth Southgate inspired cast-offs", adding "you don't need your parents' permission."
One fashion company CEO and England fan, added,
"Since wearing one of these to boardroom meetings, my company's profits have all but evaporated and I have consistently failed to make the best use of the resources at my disposal."
He added,
"With Gareth Southgate's future hanging in the balance, the Graham Taylor shell-suit is making an impressive comeback.
Even if he isn't."

*

*

Accident Leaves Driver Lost For Words!!
A lorry loaded with thousands of copies of Roget's Thesaurus spilled its load as it left York. Witnesses were said to be stunned, startled, aghast, stupefied, confused, shocked, rattled, paralyzed, dazed, bewildered, surprised, dumfounded, flabbergasted, confounded, astonished, and numbed.
*

Late News, Just In!

Having been on holiday when the Queen and her coumtry were celebrating her Platinum Jubilee, it's taken a while to catch up on things. I've just found this photo from one of our reporters in my In-Tray -


*
HOME FRONT NEWS
I'm still in holiday mode so apologies for the half-hearted effort I've made on the Home Page today. I'm not happy with it but there's not much I am happy with at the moment. Having returned from our break in Rhodes still in pain from the sunburn on my feet and legs that I made no effort to prevent, I can honestly say I still enjoyed myself. The Greeks are even more laid back than me but that's the way it is and the way it should be. So laid back are they that they, probably unwittingly, provided the funniest moment of the holiday. We took the Grandkids to the Valley of the Butterflies one day and were greeted by a sign near the gates saying
" Entrance 5 Euros ".
At least that's what it would have said if the 5 hadn't been hastily crossed out and '3' written in its place. When I queried why the price was now cheaper, the young girl in the ticket booth very matter-of-factly told me,
"No butterflies".
As I stifled my laughter, she went on to clarify the situation. Apparently, the Valley of the Butterflies only has certain butterflies at certain times of the year and the rarest ones weren't to be found in June. We still paid our 3 Euros for a what turned out to be a steep, often treacherous walk in a beautiful location. I gave up halfway as breathing wasn't easy but it was pleasant enough just sitting on a bench in a lovely setting watching the rest of our party struggle to reach the top.
We returned home and looked forward to our next holiday, the cruise around the Med and the Greek Isles, that we were due to take in September. Not anymore. When I phoned up to pay the balance I was calmly told that Norwegian Cruise Lines had cancelled that particular cruise, according to the woman I spoke to, just 15 minutes before I had phoned! I'm still waiting for the return of our deposit and my wife still wants to go away again this year. I'll do my best but I'm going to wait until I receive a date for my kidney stone removal and work around that.
I had both a telephone chat and a face to face chat with the pre-op assessment team at Epsom Hospital last week but even that didn't go to plan. The telephone chat was to tell them how I was feeling, what medication I was on, and for them to tell me that my face to face chat was the following day! Again, due to my breathing problems and the fact that there was a rail strike, they had to collect me from home and bring me back after the assessment. I'd almost given up on the driver when he arrived with his excuses, half an hour before I was due at the hospital. We arrived at Epsom ten minutes late and after yet another chat with a doctor who asked more or less the same questions I'd been asked the day before, I was whisked upstairs for a series of tests. After the tests, I was still sitting there waiting for transport home 2½ hurs later when I received a call on my mobile from a man who said he was waiting downstairs, by the main entrance, with his cab. Apparently, he'd been called by hospital transport because they wouldn't have anything available for at least another hour, maybe two. I hadn't been told they's called me a cab and the driver didn't help by not telling me what car he was in, hat his name was or where, exactly he was parked. A ten minute wander around the hospital grounds and we finally managed to locate each other. He was a pleasant enough bloke, but what a palaver!
On Monday of this week, I was due at a family funeral in Hounslow and was just leaving when I got a phone call asking me if I would return to Epsom Hospital as they'd lost one of my test results (MR & MRA) and couldn't proceed with the operation without it! I said I'd have to go back another day but even then only if they collected and returned me again. They agreed but on Wednesday of this week I received another phone call to say they'd be sending me the swab sticks in the post that I was to use to swab my groin and then take the stick to the St Helier Hospital Pathology Lab. At last, a little common sense! St Helier is only two buses away but I'm still waiting for the swab to arrive! I'm tempted to book myself into hospital just in case they find anything else wrong with me. Should cut down on the travelling time and keep me away from the high pollen count which recently made me sneeze so hard it put my back out. I'm convinced I'm only one strong fart away from complete paralysis. The swabs finally arrived in the post today (Thursday) about 4 hours after Epsom had phoned me to offer me dates for the operation! And there was me thinking the operation couldn't happen until they had the swab results! The NHS, and Epsom Hospital in particular, are in a bigger mess than I thought. But, even worse, my sister tells me they've just heard that her husband's clinic can no longer budget for his trachea implant that allows him to breathe and talk almost normally. He's now got to fund them himself if he wants to stay alive, at a cost of £80 each. He needs four a year.
In general, the NHS and its staff do a wonderful job, but I've been thinking that, perhaps, self-diagnosis is the way forward. Thanks to this natural approach, sent in by Classmate Alan Layland, I'll be starting tomorrow -

I'll do my swipes in the morning and get take them to the hospital afterwards. I can't say I'm happy about it all and doesn't it open the tests up to possible contamination anyway? I suppose I should be grateful the hospital staff aren't working from home. Unlike our postman. He phoned me the other day to say he'd be working from home for a while but was happy to open my mail and read it to me.
We're back to normal at home. The wife's still having her moments. I got a phone call from her the other day and she said,
"I left my keys in the car and it's been stolen! I couldn't find the keys in my pocket and realised I must have left them in the ignition. I know you've scolded me a thousand times for doing it but you'll just have to put it down to my age and come and collect me. I've already said the same thing to the police and reported the car as stolen."
"Now listen to me," I replied. "The car hasn't been stolen! I drove you to the supermarket and dropped you off! I won't be able to collect you until I've convinced this copper that I haven't stolen the bloody car I'm sitting in!"
She's right, though. It can only be her age that's causing her problems. I hunted high and low for my glasses a while ago. I eventually found out that she'd returned them to the optician's. When he'd asked her why, as there was nothing wrong with them, she told him it was because I still wasn't seeing things her way. I would like to compliment her though on her ability to multitask despite her age. She can laugh, cough, sneeze and pee all at the same time.
I really do need to get out of the house more as occasionally, just occasionally, she drives me mad. To achieve this, and keep myself fit at the same time, I've joined the local ramblers. I thought she'd be pleased but when I told her she said,
"Is that walking or talking?"
Talking of keeping fit. We've found the easiest way now is to push the shopping trolley loaded with our medications from the chemist to home. It's only over the road but it's still a struggle and the sleeping policemen in the road don't help.
She's even asked me if I'd like a second honeymoon. "Sure," I said. "Who with?" I thought I'd better make up for that comment so, as I'm sometimes known to do, I added a little spice to her life,


Sometimes, though, I can also be a little cruel and rope in a couple of mates to get her excited -
Advancing years do make most of us realise what we can and can't do anymore. I say 'most of us' because the Rolling Stones, Paul McCartney and the Eagles, along with multiple other bands from the past, are still touring like they were in their twenties. It can't be the money they're soing it for, surely? Credit where credit's due though, they don't make a bad fist of it. It's the fans that have aged with them that are the problem -

It's interesting, isn't it, that those same fans, as well as many a lot younger, who were at Glastonbury to watch millionaires sing having paid £230 a ticket, first had to listen to a couple of millionaires on stage telling them how capitalism has failed them. Failed capitalism wouldn't have allowed me to buy the wife her latest luxury, a ride-on lawnmower -

Getting old brings it home to you how the world around you has changed and continues to change in the blink of an eye. These thoughts were sent to my by a family member in Australia -
"As a man, I used to think I was pretty much just a regular person, but I was born white, into a two-parent, two gender household which now, whether I like it or not, makes me "Privileged", a racist and responsible for slavery.

I am fiscal and moral, which by today's standards, makes me a fascist because I plan, budget and support myself. I went to school, worked my way "up the ladder", and always held a job. But I now find out that I am not here because I earned it, but because I was "advantaged".

I am heterosexual, which according to the "gay" community, now makes me homophobic.

I am not a Muslim, which now labels me as an infidel.

I am older than 60, making me a useless person who doesn't understand Facebook, Instagram or Twitter.

I think and I reason, and I doubt much of what the "mainstream" media tells me, which makes me a "Right-wing conspiracy nut".

I am proud of my heritage and our inclusive British culture, making me a xenophobe.

I believe in hard work, fair play, and fair compensation according to each individual's merits, which today makes me an anti-socialist.

I believe our system guarantees freedom of effort - not freedom of outcome or subsidies which must make me a borderline sociopath.

I believe in the defence and protection of the UK for and by all its people, now making me a militant.

I am proud of our flag, what it stands for and the many who died to let it fly, so I stand during our National Anthem - so I must be a racist.

Please help me come to terms with the new me because I'm just not sure who I am anymore.

If all this nonsense wasn't enough to deal with, now I don't even know which toilet to use… and I have to go more frequently!"

I thought I'd leave you with a strange couple of minutes that occurred in our garden this morning. My daughter brought our two youngest Grandkids over to see us and as my two year-old Granddaughter, Freya, was running around she suddenly stopped and said,
"Big doggy, over there," and wouldn't go any further. About a minute later she raised her arm, pointed to the sky, and said,
"Gone now."
We were a little puzzled but when we came into the house again she saw the large photo we have hanging on the wall of our dog Spirit, who we had to have put down the year before last, and pointing at it and smiling she said,
"Doggy here again."
She wasn't even born before the dog passed on. People who know me will know that I believe in the afterlife, and moments like this one re-affirm my beliefs. Nice to know Spirit's keeping an eye on us.

* * *


JOKES OF THE WEEK

*

*

*
*

*
*

THOUGHTS FOR THE WEEK


*
Is it true that an apple a day keeps the doctor away? Or is that just one of Granny's myths?

*

A farmer died leaving his 17 horses to his 3 sons.
When his sons opened up the Will it read:
My eldest son should get 1/2 (half) of total horses;
My middle son should be given 1/3rd (one-third) of the total horses;
My youngest son should be given 1/9th (one-ninth) of the total horses.
As it's impossible to divide 17 into half or 17 by 3 or 17 by 9, the three sons started to fight with each other. So, they decided to go to a farmer friend who they considered quite smart, to see if he could work it out for them.
The farmer friend read the Will patiently, and after giving it due thought he brought one of his own horses over and added it to the 17. That increased the total to 18 horses.
Now, he divided the horses according to their father's will.
Half of 18 = 9. So he gave the eldest son 9 horses
1/3rd of 18 = 6. So he gave the middle son 6 horses.
1/9th of 18 = 2. So he gave the youngest son 2 horses.
Now add up how many horses they have:
Eldest son 9
Middle son 6
Youngest son 2
TOTAL = 17
Now this leaves one horse over, so the farmer friend takes his horse back to his farm......
Problem solved!
Scratch your head over how that was accomplished ......................

*

When I was young I had a friend who wanted to be a doctor, so he took the entrance exam to go to Medical School.
One of the questions asked was to rearrange the letters "PNEIS" into the name of an important human body part which is most useful when erect.
Those who answered "spine" are doctors today.
The rest of us are putting jokes on websites.

* * *


The Story of The NEVERWELLS (WHO ARE NEVER OUT OF TROUBLE)

Many years ago I picked up a small book at a car boot sale and now, With two years in the world of Covid behind us, I thought it might be a good time to share its contents with you.
The book in question, published in 1948 (the year the NHS came into being), is titled The Story of The NEVERWELLS (WHO ARE NEVER OUT OF TROUBLE) and was written by William Edwards, a doctor, under the pseudonym Dr. Goodenough.
The Neverwells included mum and dad, their small boy Billy, growing-up Mary and baby Roy, and came into being after the Editor of The People newspaper met two people on a train. One of them was a doctor friend of the Editor's, 'a kindly soul yet a man of the world who has one of the biggest practices in the South of England.' He said:
"I am rushed off my feet these days. And in most cases I need not have been called in at all, if only people had a simple knowledge about ordinary illnesses."
Later, the Editor found himself talking to a woman passenger with two children -
"They're not too strong," she said, "always under the doctor with one thing or another. It's never serious you know, but the trouble is you can never be sure and so you must call the doctor."
The same night as he had spoken to the two people on the train, the Editor of The People telephoned his doctor friend and asked him if he would become Dr. Goodenough and write for him every week the story of a family - the Neverwell family - about their complaints and how he treated them, and in simple language so that ordinary people could at last learn the elementary things about illness.
For over a year before the book was published, Dr. Goodenough entertained and instructed People readers every week with the story of the never-ending complaints of the Neverwells. There were words of wisdom and understanding in these little features as well. So much so that, increasingly, the People was inundated with letters from readers asking for a book to be written. Hence, the book I picked up some 30 years after it was first published I now bring to you each time I update this Home Page of the website. I hope you find some enjoyment in its pages and can see the comparisons it enables us to make between the way medicine was practiced back then and how much it has advanced in such a relatively short space of time whilst the personal touch has moved in the opposite direction.
This next piece from the book concerns Billy and that old childhood nemesis, Measles.

Measles
Billy's temperature was 103, and he felt very hot and miserable. He sneezed and coughed, and didn't like the light on his eyes; his mouth tasted nasty and he wouldn't drink milk. All he wanted was water, which his mother refused to give him - so he cried.
Dr. Goodenough got him to open his mouth, and then shone a torch in. Inside Billy's cheeks were some bluish-white spots on a red background, And there were a few on the inside of his lower lip.
"Those are called Koplick's spots," he said, "and they mean he's got measles. They turn up two or three days before the rash in about four cases out of five. What are you crying for, Billy?"
"Want a drink of water," wailed Billy.
"Of course you do. Haven't you got any?"
"He wanted it cold," said Mrs. Neverwell," and I thought that would give him a chill."
"Not a bit of it," said the doctor. "For goodness sake get him a jugfull, so that he can help himself. All feverish people want water to drink, and the moe they drink the better they feel. In fact, you should persuade him to drink rather more than they want. It takes the aches away."
So Billy had his drink, and then the doctor examined his chest and looked in his ears with a special lamp.
"When the rash does come, he'll feel better," he said. "Look for it first behind the ears and on the forehead. It generally comes on the fourth day - rather like pink confetti. His chest is all right so far, but don't have too much fug in the room. He needs fresh air - and don't get worrying about these chills of yours: keep the windows well open. If he's cold, he can have another rug or a hot water bottle."
"But I can't pull the curtains back. He doesn't like the light," said Mrs. Neverwell.
"Well, why must he face it? Turn his bed round, so that he has his back to the light, and you won't have to bother so much about curtains, unless the sun streams in. Bathe those sore eyes with boracic three times a day - they may be very sticky first thing in the morning. Don't let him read - fix the radio up here for him if you can, then he won't want to look at books. And, when he gets hot and sticky, sponge him down with a tepid sponge. It's a good thing to do that when his temperature is high, too, it helps to bring it down a bit. If he gets earache, let me know. Chest trouble and earache are the chief complications of measles. Whatever you do, don't pour things down his ear."
"Not just a little warm oil? That's awfully good for earache," said Mrs. Neverwell.
"Not unless you're hankering to give him a mastoid. Earache means a threat of a mastoid in the ear. If one comes and bursts, there's a hole in the drum - and if you go pouring oil, peroxide, or other fluids though such a hole, anything may happen. I can tell if there is a hole there. You can't. So don't do things on your own. You can put a hot water bottle on the outside of his ear, and you can give him an aspirin for the pain, but that's enough. Bad trouble boils up very quickly in ears. Now what about that baby of yours?"
"Oh, I think he's all right," said Mrs. Neverwell.
"We hope so. But you've got to remember that, while Billy at eight can stand measles and get over it without much trouble; it's not nearly so funny at eighteen months. There's a definite risk of pneumonia at that age and, anyhow, he'd go right off his food and lose weight."
"I can keep them apart," said Mrs. Neverwell.
"You think you can. Billy sneezes his germs at leats ten yards every ten minutes. But we can make a baby immune for a few months by injecting into him the serum of someone who has had the disease. I expect you have?"
"Three times," said Mrs. Neverwell.
"That's your story. I expect two of them were German measles. Few people really have measles twice."
He drew off some of her blood and injected the baby, who howled, but soon got over it.
After a few days, Billy was better, and the doctor stopped calling; but one morning, Mr. Neverwell asked him to come.
"Billy's had earache all night," he said.
If that sounds familiar, you had a childhood similar to mine, and the next step was Mumps. Join me again next time as we see if it proves to be true...........
* * * * *

* * * * *

The Home We Called Sloane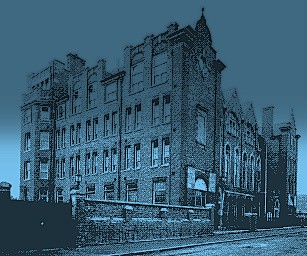 The Sloane building seen from Hortensia Road in 1908

The Sloane building was 100 years old in 2008, although it didn't actually start life as a boys' school until after the First World War, during which it served as a hospital. It still stands and many memories are, no doubt, ingrained in its walls along with the odd name and ribald comment. Who knows what the future holds, despite its Grade II listing on May 7th, 2002. Grade II listed buildings can be altered, extended, or even demolished, but only with Local Authority consent, so it may be that the building is considered historically or architecturally interesting enough for it's fabric to remain untouched. Some consideration may have been given to it having been the first purpose-built secondary school in London, and it is certainly one of only 3% of all ages of listed buildings that was built in the 20th century. Schools generally are seen as a good investment by developers because they're easy to convert. They are likely to be structurally sound because the authorities will have inspected them regularly to ensure they comply with Health and Safety requirements.
Sadly, Sloane Grammar School for Boys only lasted 51 years, from 1919-1970. Sloane old boy John Binfield, in one of his poems, writes -
... the school, with
All its past, was sucked into a huge
Turbulent sea of glass in Pimlico
And sank without trace. "full fathom five..
Sea nymphs hourly ring his knell.
Hark, now I hear them. Ding-dong bell".
The exterior of the building still survives in the form we all remember even if the interior doesn't. It would have been wonderful to have been able to celebrate, in 2019, what would have been its centenary as a boys' school, had it remained in existence as such. Unfortunately, for us, it wasn't to be, and the Covid-19 pandemic that gripped the world in 2020 and beyond didn't allow for a late celebration either . Maybe one day......

Sloane seen from the rear in 2014
* * *


This Website And The British Library's Web Archive

Please Note: - The school building still remains but not as a school. I've tried to preserve as much of its history and old boys' memories of it as I can, on this website. You might like to know that once I'm no longer around and have shuffled off to that classroom in the sky, this website will remain intact. Once my monthly payments to the Class Creator programmers cease the site will continue but to compensate them for their loss it will display adverts. If you're still around, you'll still be able to Log In to the site and carry on much as you did when I was alive. Naturally, the site will look exactly as it did (apart from the adverts) on the day I died. What will not be possible are any new members, unlikely as that is, as I won't be here to verify they are who they say they are.
In addition, in 2013 , just before the Legal Deposit regulations came into force, I asked to register the website with the British Library's UK Web Archive as one of historical interest and they agreed. So, when none of us are unable to Log In anymore or the Class Creator business ceases to operate, it will still be available for access by our children and grandchildren etc., as well as future historians, at this address -

Web Archiving
The British Library
96 Euston Road
London NW1 2DB
United Kingdom
Tel: +44 (0)20 7412 7184
E-mail: web-archivist@bl.uk
Since 2013, publishers need to give a copy of every UK publication they make to the British Library. Five other major UK libraries may also ask to be given a copy. This system is called legal deposit and it's been a part of English law since 1662.
Print publications for legal deposit can be books, journals, sheet music, maps, plans, charts or tables. Now legal deposit also covers material published digitally such as websites, blogs, e-journals and CD-ROMs.
Legal deposit has many benefits for publishers and authors. The deposited publications can be read inside the British Library and will be preserved for future generations. Their works become part of the nation's heritage, providing inspiration for new books and other publications.
Unfortunately, in the case of websites, the British Library say that much of the information contained in them cannot be archived for technical reasons. In addition, as almost all this website's pages are Password Protected, it will be impossible for them to be accessed unless I remove that restriction. At some point I will give the British Library's 'web crawler' access to our Password Protected pages to allow it to take a 'snapshot' of the site on a daily, weekly, monthly, quarterly or 6-monthly basis. At the time of writing this, 2020, their system doesn't have the capability to crawl and archive private content that sits behind a Log In procedure. They will noever be allowed access to members' Profiles and the personal information they contain.
The current generation of web crawlers cannot capture:
Interactive, dynamically generated content

Content that is only available via a search engine on the website, or some other form submission method

Some types of JavaScript-driven menus

YouTube videos, Flash movies and similar streaming audio or video (some audio and video files can be captured, e.g. those embedded via the standard

HTML5

<video> or <audio> tags).
Unlike static HTML, which is relatively easy to capture, script code is very hard for traditional web crawlers to analyse, which is why the Library runs web browsers for a limited part of their crawls. Even that cannot capture very interactive web sites, like single-page web applications, or any site feature that needs a remote server to function. In practical terms this means that entering queries into the search box of an archived version of a website will not work. Standard links on the website, however, will work as normal.
Some JavaScript driven menus do not function well once archived. YouTube videos, Flash movies, and similar streaming audio or video are also beyond the capability of web crawlers. However, as members of the International Internet Preservation Consortium, contributors to the UK Web Archive are developing tools which will help capture this content in the future.
Attempts are made to gather all of the objects associated with a website including html, images, PDF documents, audio and video files and other objects such as programming scripts. However, the crawler software cannot automatically gather any material that is protected behind a password, without the owner's collaboration. Web site owners may however choose to divulge confidentially a user ID and password to allow archiving of these areas. So, as I said, I'll collaborate with the British Library to allow them to gather only non-invasive non-personal information behind the password protection if and when their archiving system becomes capable of it .
Should you wish to visit the UK Web Archive to see what it makes available for viewing or if you know of a website that you think deserves preservation, use this link -

https://www.webarchive.org.uk/ukwa/info/nominate

* * *

Whatever our own personal reasons for it doing so, the school will still haunt most of us even if it disappears altogether. With that tenuous link, here's a poem that I came across in a copy of The Cheynean -

The Ghost of Sloane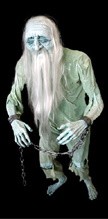 When London's asleep and the School very quiet,
No sound of footsteps, no sound of a riot,
No sound of even the shuffle of feet,
No sound of the creak of a pupil's seat,
Out of the darkness the ghost of Sloane
Awakes from rest with a sigh and a groan.
Then up he arises to haunt the School
Climbing the stairs in the guise of a ghoul.
He shuffles and clanks down each corridor
Into the classrooms where stand desks galore.
He examines each desk and checks the boys' work,
Allots ghostly marks in the dark and the murk.

If you ever lose books from out of your desk,
And the teacher upbraids you and calls you a pest,
Just tell him my story, however tall,
Of the white shrouded phantom that haunts the School Hall.

J. Hollingshead (3C)

As for us, the boys who used to attend our Chelsea school, we probably considered ourselves 'Chelsea men' but I doubt that many of us fitted the description in this poem, written when he was in the 5th year by one time Sloane Schoolboy, A R Doubledee. I get the impression he didn't particularly approve of the 'Beatniks' of the late 50s and early 60s that he found himself sharing Chelsea with or, as he called them the 'Weirdies' -

The Weirdies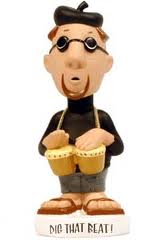 The Chelsea man is excessively queer,
He only drinks coffee and doesn't like beer.
He's always "chatting" the girls, and yet
This seems to make him "one of the set".

His unkempt chin and uncut hair
Go with his feet which are usually bare.
If he wears shoes, they've never got soles,
And he's usually found in Bohemian holes.

His outsize sweater is generally black
Contrasting well with his shorty mac.
He wears his clothing merely to show
That he can keep up with the boys of Soho.

To find a girl he doesn't look far,
But into the nearest coffee bar,
Where he's sure to meet a Bohemian "yob".
They're all from Chelsea - what a mob!

The girls with hair right down their backs
Wear irregular clothes that look like sacks.
They walk about wearing father's sweater:
I really don't see why he should let 'er.

Their gaudy clothes of reds and greens
Match up with the style of their men-friends' jeans.
Now that's how it goes with the latest style:
Girls on their faces make-up pile,
The men wear anything they can find -
I shouldn't stare, I should just act blind!

A.R. Doubledee (5b)
* * *

ANNOUNCEMENTS APPEAR BELOW
ONCE YOU'VE LOGGED IN