Malverne High School
Class Of 1950
Your Photos
This page is for any of your photos (any subject... anything...your life, your family, your work, pets, favorite photos from the Oracles, etc, etc, etc...) that you would like to share with your classmates. Please...not more than a million each...we have a limit of no limit, :-) and its all free...Whoopee!!! Email copies with details to me via the "CONTACT US' Link and I will post them on this page. Thanks..Harold
Janet Carnegie...following are 4 pictures of her family
Two year old Great Granddaughter Aria Isabelle
Left to right...Grandsons..Andrew, Rob...Son Jeff...Grandsons Kyle, Dylan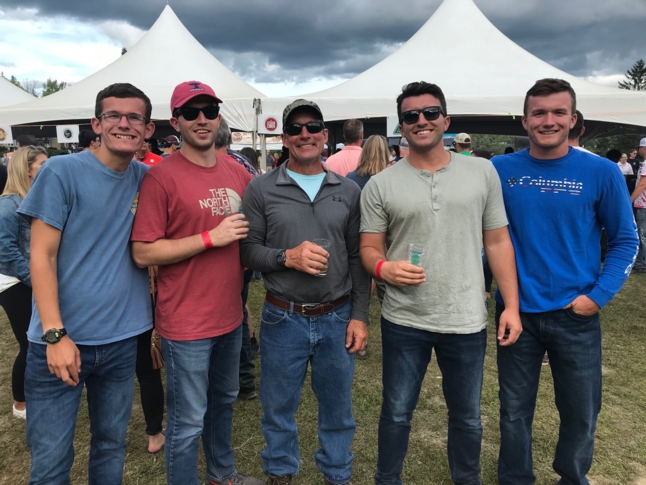 Janet with 5 month old great grandson, Ollie Chacon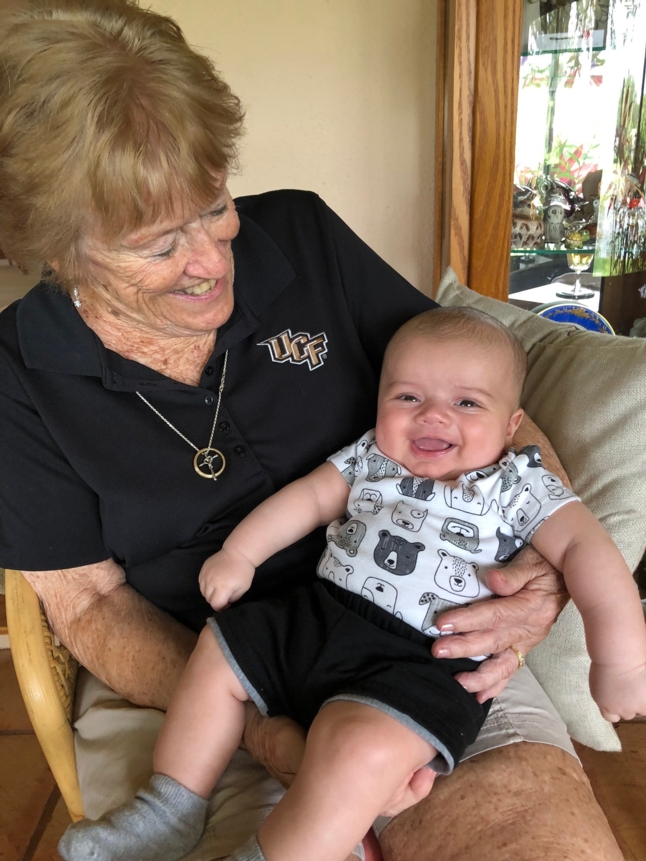 Janet with son Jeff in Southhold, Long Island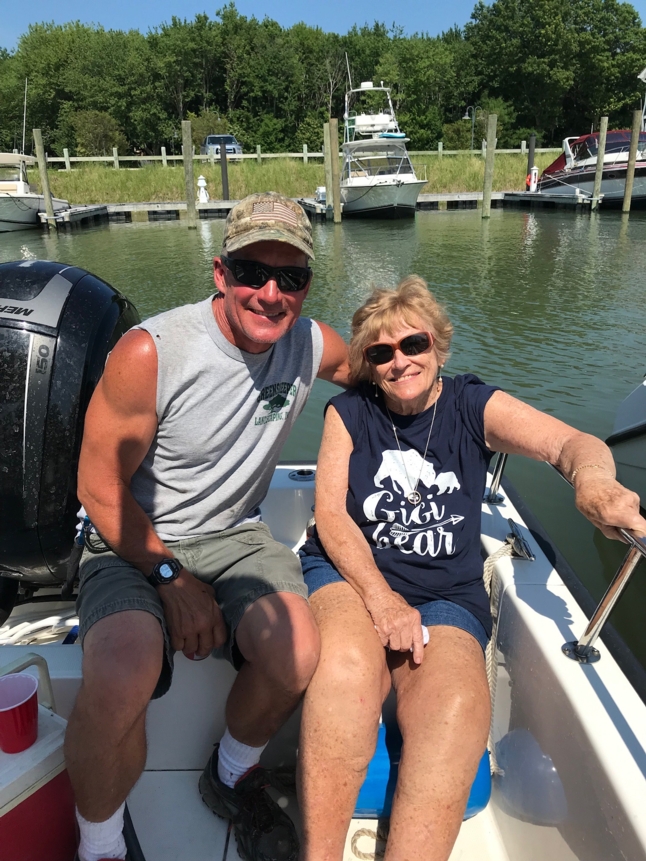 Barbara O'Brien on her birthday in late May.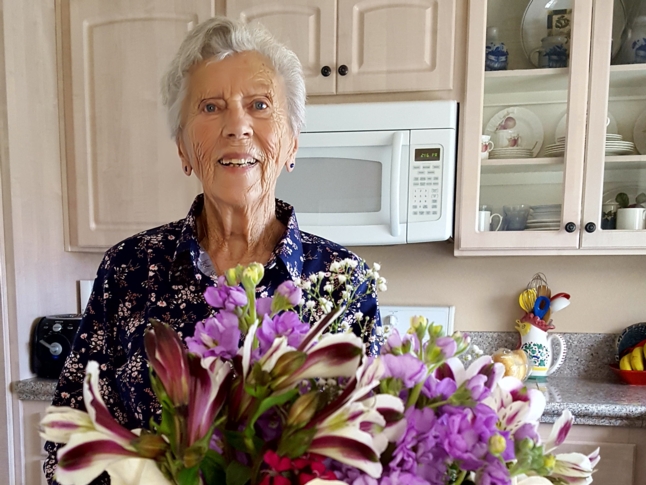 A good shot of Janet Carnegie (Clausen) with her older son and his wife, on his 66th birthday.
Recent picture of Janet Carnegie
Ronald McCloskey and his two sons, Blair and Brian. Easter 2019
THE FIVE PICTURES POSTED BELOW WERE SUPPLIED BY PAT HUDSON AND DATE 1949-1950
PAT ROBINSON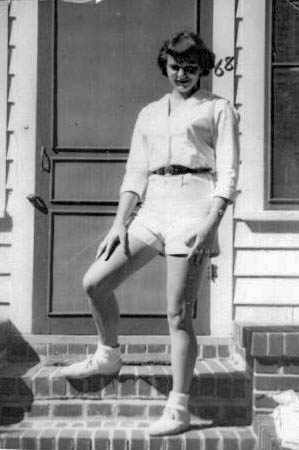 (left to right)
(top row) UNKNOWN (POSSIBLY VIOLET VOLLMER '51), GLORIA SCIUTTO, PAT BIERWIRTH, AGATHA CURCIO ('52)
(bottom row) DOT ARNOLD ('52), PAT HAIGHT ('51), UNKNOWN, MARILYN CAPPETTA
Joyce Gild de Leon
Pat Bierwirth, Janice Redhead, Pat Paradine, Pat Hudson, Marilyn Cappetta, Dotty (?), Jane Fitzpatrick, Estelle Billings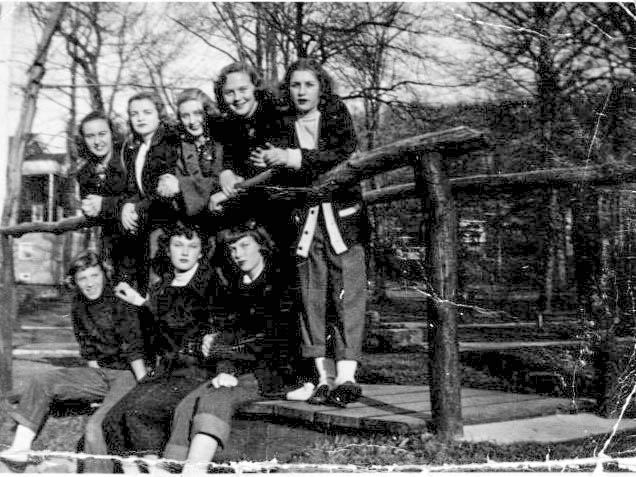 Pat Bierwirth, Marilyn Quigley, Marilyn Cappetta, Jane Fitzpatrick
Easter 2018. Howard McCoy and his sister by the Gulf of Mexico
Joyce Gil de Leon- taken New Year's Eve 12-31-17, 11 days before her 86th Birthday
Ron McCloskey with great-grandaughter Samantha (9 years) on a hike in the woods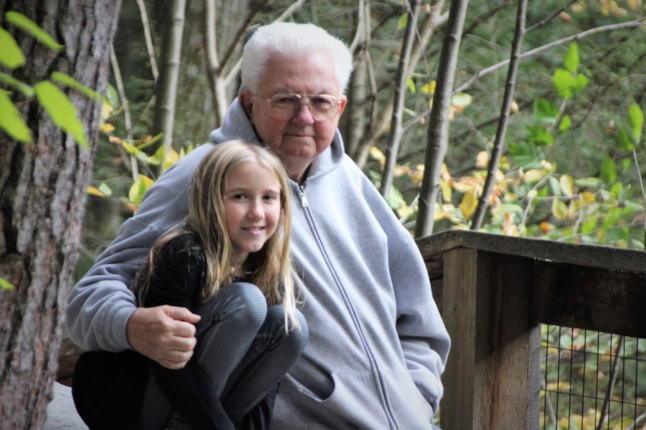 Happy Birthday to Janice Redhead, seen here with son Mark.
Jena Somogi at a BBQ given in her honor by her chorus. Front row (in chairs): L-R son Cam, husband Peter, Jena, two granddaughters Yani (6) and Sofia (17)
Barbara O'Brien on far right. Next to her are daughter Karen with her husband Bob and then grandaughter Heather with husband Brian holding Shea and Isla, their two adopted children from Ethiopia.
Joyce Gil de Leon surrounded by the equipment she has worked with during her lfe as a personal trainer.
JANICE REDHEAD WITH HER ONE YEAR OLD GREAT GRANDAUGHTER, TIEN CHERATON NGUYEN. TIEN IS THE DAUGHTER OF JANICE'S GRANDAUGHTER, TRACY FRANCES NGUYEN
BELOW ARE 6 PICTURES SENT BY JOAN KNITTEL, MOST TAKEN SOME YEARS AGO
JOAN WITH THE GRANDSON OF FDR AT THE ARIZONA MEMORIAL
JOAN, AS A GUIDE, IN 2001 AT THE PUNCHBOWL; THE NATIONAL CEMETERY OF THE PACIFIC
JOAN WITH HER MOTHER AND SISTER DOROTHY, '58
PICTURES FROM OUR 40TH REUNION- REMEMBER THAT ONE?
KEN MOSER IS STILL THE BEST DAMN VEGETABLE FARMER IN ILLINOIS. PICTURED ARE HIS 2014 STATE FAIR WINNERS- MARKET DISPLAY, CHAMPION OF ALL TOMATOES, AND TWO OF THE GOVENOR'S BASKET INCLUDING ONE OF THE FARMER HIMSELF.
FOUR GENERATIONS HERE...WARD WELSH WITH HIS YOUNGEST DAUGHTER VIRGINIA, VIRGINIA'S ADOPTED DAUGHTER (FROM INDIA), AND HER ADOPTED DAUGHTER'S TWO CHILDREN. (WARD'S GREAT GRANDCHILDREN)
Recent photo Lorraine and Dick Hendrick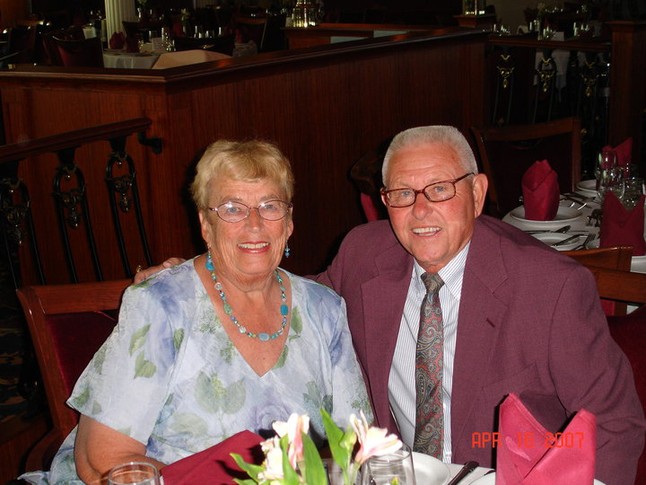 Joyce Gil DeLeon with granddaugher Siena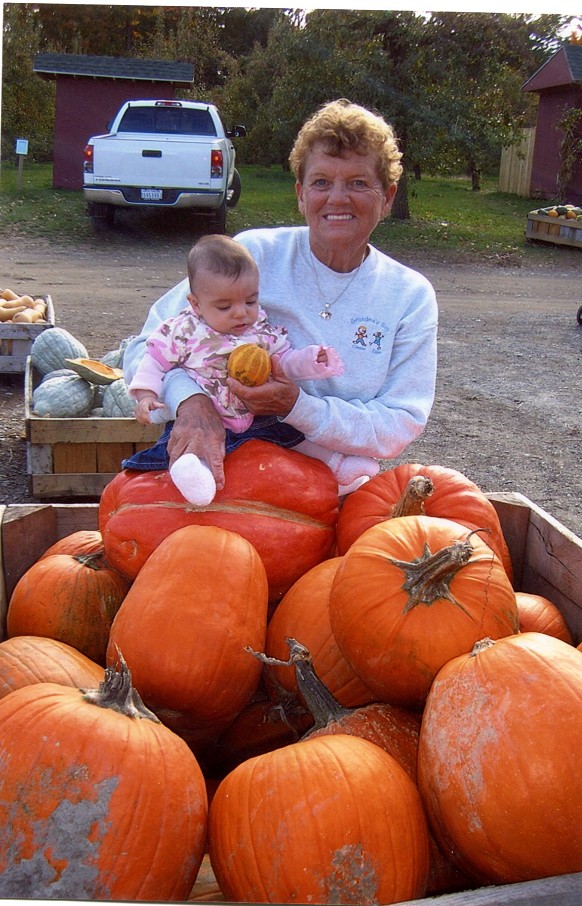 Joyce Gil DeLeon with grandson Jake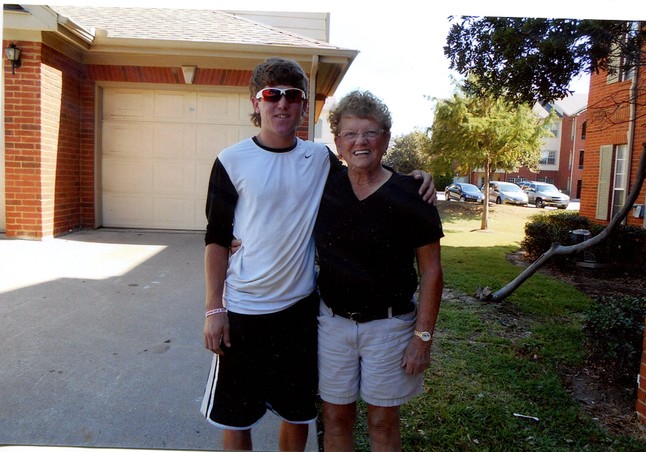 Joan Knittel (Huber) and her husband Bill, Jan 2015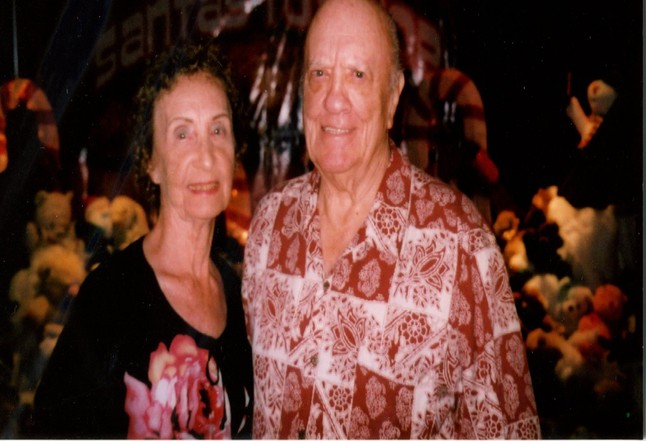 Ron McCloskey, Pat Wentworth and Joan Rissmann. 9/11/14 Ocean City, MD
Pat Wentworth, Ward Welsh, Joanne Waddell and Ron McCloskey. 9/14/2014 near Trenton, NJ
Easter 2014. Ron McCloskey with great-granddaughters. Samantha, age 5 on my left, Taylor age 6 on my right and Morgan (almost 2) in between.
Ron Mccloskey captured by The Wild Bunch! Older son Brian on my left, and younger son Blair on my right. Easter 2014
March 2014. Lunch at Vero Beach Fl with (left to right) Pat Paradine, Howie McCoy, Dick and Lori Hendrick, Joan Dunn, Ron McCloskey, Pat Wentworth, Bob and Pat Becker.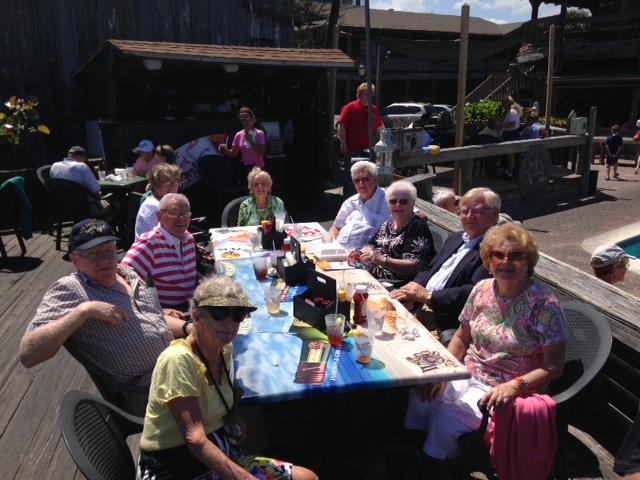 March 2014. Pat Wentworh in costume for the annual campground variety show.
Remember this? This was an iconic life magazine cover at the end of World War II. This 50-60 ft statue is in Sarasota Fl. In a park near the water, as a tribute to that photo.
March 2014 Sarasota lunch with Janet Carnegie, Gus Clausen, Pat Wentworth, Ron McCloskey and Jackie Jordan
Simone Zudeck with her oldest daughter and two grand-daughters.
Simone Zudeck holding her great-grandson (one of four)
Don Belcher test driving a yellow Lamborghini and a red Ferrari. He calls it, "The greatest experience of his life". He didn't tell us which one he is going to buy. Ha Ha!
Ward Welsh with wife Louise, bottom, 2 daughters, far left and far right, and 5 of 7 grandchildren, including one of two adopted from India 30 years ago.
Jane Fitzpatrick (McGowen) on her 80th birthday. In the first picture, with her 5 children. In the second picture with all her grandchilddren.
These next 5 pictures are from a lunch in Sarasota, FL, March 2013 with Pat Wentworth, Jackie Jordan, Janet Carnegie, Gus Clausen, and Ron McCloskey.
The next group of pictures were supplied by Ward Welsh from photos in his collection from the early years.
Ward Welsh and JoAnn Waddell at Riverton, NJ Town-wide fair. June 2013
Recent photo of Dick Hendrick
This is a recent picture of Don Belcher abs hia tae kwon do instructor who is seven years older than Don and Don will be 80 next month. Maybe there is something to this staying in shape business.
JoAnn Waddell (Foster) and Ward Welsh, Sept. 2012
The next four pictures are submitted by Don Belcher- date unknown.
First is a close up of Don wearing a NY Yankees World Series ring which belongs to Jack Shaw's son-in-law.
Second is Jack Shaw at home.
Third is Pat Wentworth, Jenny Anckner (Pat's Grandaughter), Marilyn Keating.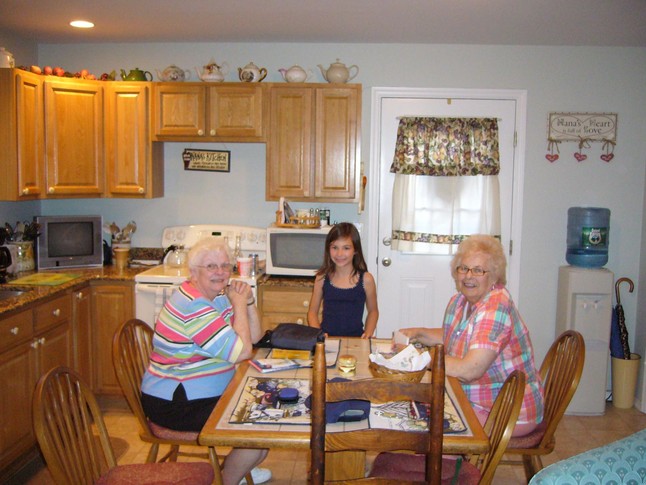 Fourth is Don with his Sensi (martial arts master)
L-R, Front: Pat Wentworth, Gus Clausen, Janet Carnegie Clausen, Art Griffin (MHS 48), Jackie Jordan
L-R, Back: Gloria Sciutto (Griffin), Janice Redhead, Ron McCloskey
Gladys Steinecke (Gibbons), Frank Gibbons, Pat Wentworth, Ron McCloskey, Naples FL March 2012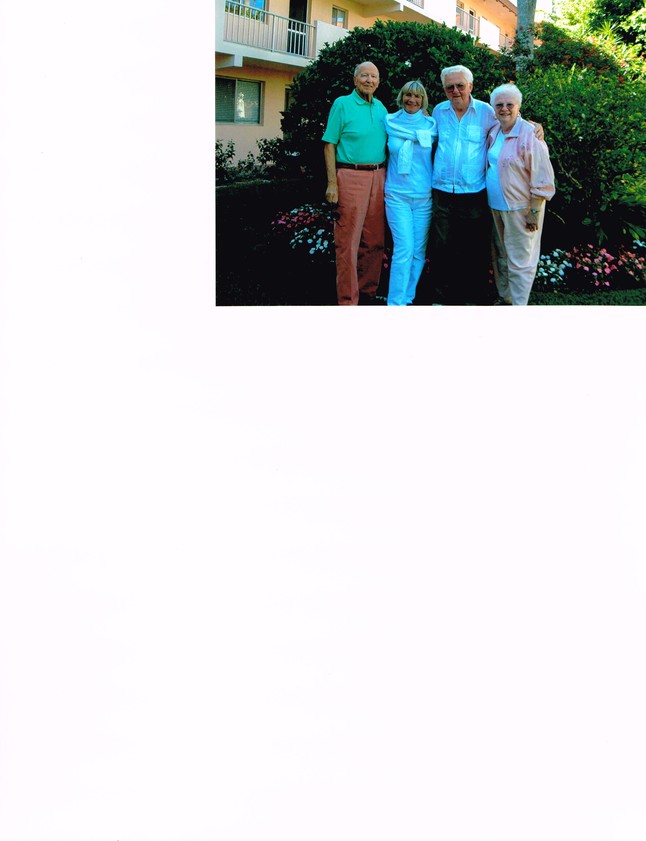 Ron and Ward Welsh, Sept. 20, 2011
Below are 4 additional photos of the 2011 luncheon provided by Janet Carnegie
Ron and Pat Wentworth at Virginia Beach, 2011
Pat Wentworth and Catherine Haltigan, Virginia Beach
Ron with Catherine Haltigan, Virginia Beach, VA April 2011
Ron with Bob Becker and his wife Pat at their house in Satellite Beach, Fl April 2011
Ron Ron with Jackie Jordan in her apt., St Petersburg, FL March, 2011
Ron, Gus and Janet, Venice FL
Ron. Ron, Janet and Gus, same place
Ron, Pat and Gus, same place
Ron McCloskey, Pat Wentworth, Janet Carnegie (Clausen), Gus Clausen at The Crow's Nest, Venice, Fl,
April 2011
Ron Ron McCloskey & Gladys Steinecke in Naples, Fl, Feb. 2011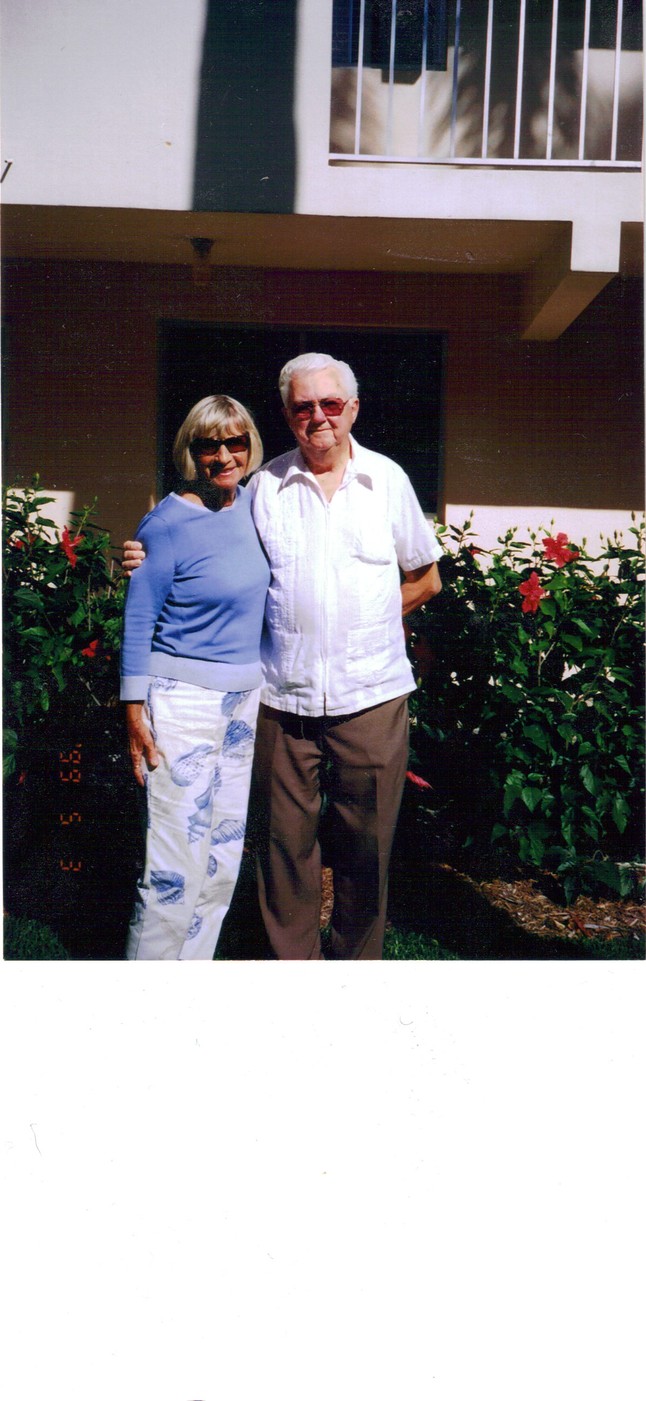 Ron McCloskey, Pat Wentworth, Pine Island FL April 20th, 2011
Jeanne Brussel (Wormser) at home early 2010.
Jackie Jordan is seen recently returning a puppy she raised for Seeing Eye. He is now going for further training at the institute.
This picture was submitted by Janice Redhead. It was taken by her sister Nancy, MHS "48 at a get-together of
MHS alums in Florida in 2007. Pictured are Catherine Haltigan, Pat Paradine, Betty Van Zandt, and Joan Dunn
Picture below is Pat Wentworth, Ron McCloskey and Jean Schult at lunch in Milford, PA 9/1/09
Same trio, same place with Pat's granddaughter Jenny
Marilyn Keating (Shaw), Pat Wentworth, and Jack Shaw at the Shaw's on Labor Day 2009
Rich Jonassen at his home 9/17/09
MHS west entrance (1947 Oracle page 3)