Parkland Trojan Alumni Varsity Club

Welcome to the Parkland Trojan Alumni Varsity Club Website
TROJAN ALUMNI VARSITY CLUB
1606 Hickory Lane
Allentown, PA. 18106
FOUNDED 1951
OFFICERS AND BOARD MEMBERS FOR 2024
OFFICERS
PRESIDENT -------- HANK KUNKEL
VICE PRESIDENT - RICK TRUMBAUER
SECRETARY ------- CHARLENE MILLER
TREASURER------ JEFF GRIM
BOARD MEMBERS
ROBERT BANZHOFF SCOTT TROXELL AL MARSTELLER
SAM RAUB DENNIS REISS
The last meeting for 2023 was held Nov 7.
The club will not meet in the winter.
The next meeting will be Tuesday, April 2, 2024
HOPS Fogelsville Hotel
6 - 8:30PM
The Officers and Board wish everyone a safe, healthy and happy holiday season and hope to see everyone in 2024.
CLUB MEETINGS
All general membership meetings will be held the first Tuesday of the month unless otherwise specified.
Membership fee schedule:
First 5 years after graduation...................FREE
Regular Member Annual Dues................$12
Lifetime member Age 65-69.....................$75
Lifetime member Age 70-74.....................$60
Lifetime member Age 75 or older.............$50
2023 Scholarship recipients
Art Haldeman Scholarship: Marcus Moreef - He will be attending Widener University to pursue an engineering major
He was the captain of the swim and dive team
Marlyn Burkhardt Scholarship :Ashley Settle - She will be attending Stevens Institute of Technology
majoring in electrical engineering with a minor in quantatative finance
She was a member of the swim and dive team
Richard and Dalton Schaadt Scholarship: Ava Smith
She wil attend Messiah University to major in early childhood education
She was also a member of the swim and dive team.
We wish them the best of luck in their future endeavors!
---
JOIN THE CLUB!​
The club is always looking for new members! Any Parkland graduate who played a sport in high school is welcomed and encouraged to join. Associate members are also welcomed. The club's goal is to support Parkland Athletics, provide scholarships for athletes, and to create a group for alumni to reconnect.

Our meetings are very relaxed and social and include food and drinks.
Check out our mission statement, tell a few old friends, look at the membership application (link located on bottom of page) and join today!
Interested members are always welcomed to attend a meeting to learn more!
---
---
SEE NEWSLETTER FOR ALL OTHER UPDATES & EVENTS
Meeting minutes can be found on the "Newsletter" page on the website...... Click link on the left.
---
MISSION STATEMENT:
The Parkland Trojan Alumni Varsity Club is an organization formed for the purpose of promoting and encouraging participation in and support of extracurricular athletic activities for boys and girls in the Parkland School District. The Parkland Trojan Alumni Varsity Club establishes and provides educational scholarships for student athletes, advances the social and physical improvements of all students, provides support for various school-related activities and promotes camaraderie for all Parkland School District athletes and friends.

CLUB'S MEMORIAL AT PARKLAND HIGH SCHOOL: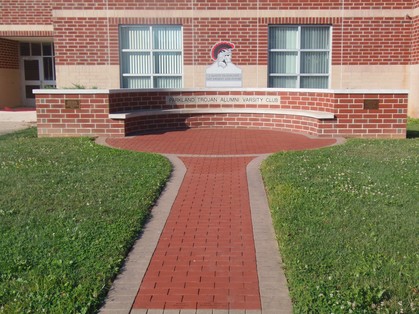 Personalized Memorial Bricks are available for purchase and installation at this memorial and may be ordered through the club. See order form below. New bricks are installed once a year during a none school month. The club will automatically install a brick for any team who wins a state championship.
FORMS AND DOWNLOADS:
Club Membership Application Form
---
Links for Members:
Club Facebook Page:
https://www.facebook.com/pages/Trojan-Alumni-Varsity-Club/695867550491920?ref=hl
Parkland's Teams' Schedules:
http://schedules.schedulestar.com/Parkland-High-School-Allentown-PA/day/10-01-2014/
Parkland School District's Alumni Page:
http://www.parklandsd.org/community/alumni/
Parkland Sport History and Records:
http://www.parklandsportshistory.com/
---
Thank You:
Thanks to Lucy Ritter For Handling Hard Copy Newsletter Mailings
Thanks to Carl Gillikin & Others For Pictures
For The Officers, Board & Club Members,
President Hank Kunkel