St Louis Country Day School
KEEPING UP A MULTI-YEAR TRADITION - Annual Holtman Cup Codasco golf tournament foursome from left in case we do not look familiar; Bob Karn, Harry Weber, Sandy Galt and Dixie Deibel. We were by far the oldest group in the field as next closest foursome was class of 1967. The day was almost a washout and carts were not permitted., so we had to hoof it. Thanks to Sandy we had two robot type hand carts (see pickture below) to help us make it through the 95 degree day. The tournament committee was not kind to us as for a shotgun start at the Bogey Club we were sent out in an unorganized effort to reach the 13 tee box. We have won this event in the past but the rules and secretness of the results did not lead to a victory. We had a great time in catching up on our lives.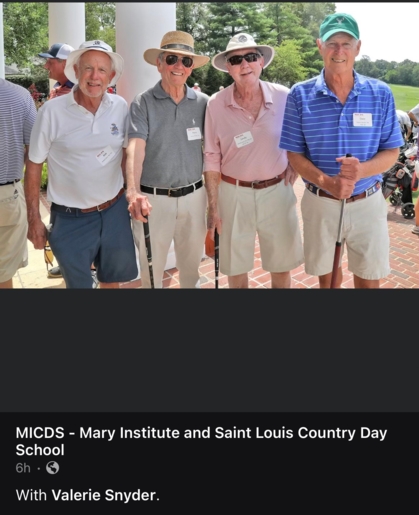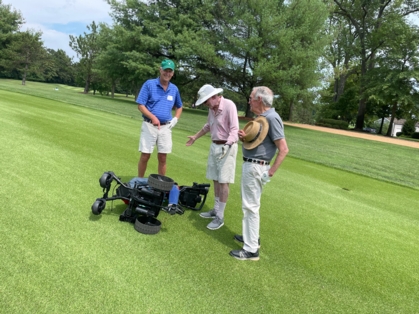 Battery operated walking cart turned over by operator, Sandy.;Dixie and Harry pay respect.
For more pictures of the 50th reunion visit the Picture Gallery.
Here we were at our 25th Reunion.
The picture below is the graduating Class of 1960.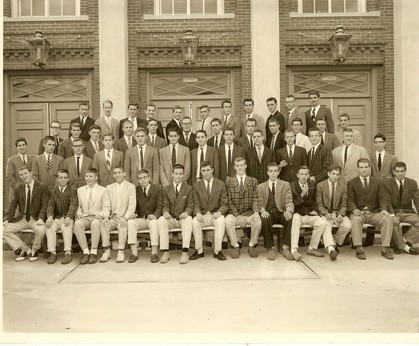 The picture below is the Class 8 picture of the Class of 1960.