North Vancouver & Delbrook High School
Classes Of 1958
What's New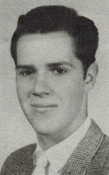 HiTed I forgot to mention in my last post that after lunch we switch from Cerveza to Margaritas it's mandatory here in Mexico ! Feliz Navidad to everyone. Lyall
Hi Phillip Betty & l hope to see you at the 60 th reunion in may. We haven't seen you since the 1996 Lynn Valley reunion. I hope we are still above ground when the day comes ?
Keep in good health until then. And happy birthday. Adios for now Lyall


L
DON ELLIOTT
added a photo to profile gallery. New comment added.
Posted on: Dec 24, 2016 at 11:31 PM
All the best. still remember RCAF plad @ 103 RCAC.
George many yrs have passed since 103 sqrd.. Mom passed in 2010 ar 97.
we took over with music for seniors. Good to see u r still kickin. 208 East st. [still standing] we drop by once in a while. we hang out hat in lyn Valley.

So just a hello. Don E
Hola David. I see you are wanting to sell your place in Mexicp. So I thought l better come down and help you empty out your beer fridge , I know it's well stocked so it will take awhile which is OK as l have all winter !! Just don't start without me ? Lyall Happy Birthday Jo Ann:
Best wishes for a best day ever. And thanks for all that you and Bill do for the NVHS and Delbrook grads.
Hi John you are looking good for an old Geezer , did Dave show you those pictures of us up on Dog Mt. Taken back in 1952 or3 ? I see your Great Grandson is named Lucas ( great choice ) We live here in.Salmon Arm after many years in the Mini Storage business. We also have a few acres in Armstrong where I go most days and work !! Gardening these days ! It has great soil not like Lynn Valley ! Betty says it's time for supper ! Adios for now. Lyall
Posted on: Dec 23, 2014 at 12:22 PM
Hello 103 RCAC few years ago George lots of good mems.
Posted on: Mar 15, 2015 at 6:09 PM
chalk up another one bob
many happy returns
did you ever get the photos of you and ian i gave dianne davidson? Happy Birthday Jay. Best wishes for another year of good health and happiness.