Nordhoff High School

Class Of 1964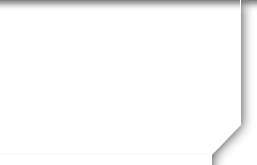 Not a member?
JOIN HERE
Find and click on your name.

UPCOMING BIRTHDAYS
WHO'S ONLINE NOW
No registered users are online right now.
ANNOUNCEMENTS: scroll down to view recent announcements.
Chris and Fred Dance 1959
Several years ago Chris Glazer sent me her high school scrap book. Here is a photo that I found in it. If anyone else has interesting old photos like this they'd like to see published on our site. Please send them to me. Blair
Beverly Jo Tayler (Arnold) Passed Away
Jan 23, 1946 - Oct 12, 2020
Click here to see her obituary on our website.
There is a link to a nice 12 minute video memorial to Beverly's life on the obituary.
NO MATTER HOW YOU GET THERE, MAKE IT TO THE POLLS & VOTE
Carol Bintz Stone wants to share the poster that she, Leah, Jill, Cheryl and Stephanie used to get out the vote for them as JV Cheerleaders in 1962. It worked! This same message is an appriopriate one for our upcoming National Elections on November 3, 2020.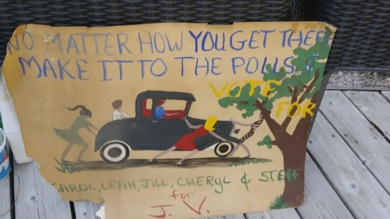 ---
Carol Bintz Stone just sent me these photos of some of our classmates. She asked if we are still posting photos to what was called the "Way Back Machine". We haven't done that for a while. But now that now we are all sheltering in place, with plenty of time on our hands, it seems like a great time for each and every one of you to pull those old boxes of photos and find some choice ones to share with the rest of the class. Thanks Carol. I'm now waiting to get great photos from each of you. Blair
Here's what Carol said and here are the photos she wanted to share:
Hi, Blair! Hope you and your family are safe and well! Didn't know if you were still doing "The Way Back Machine" but thought you might like these! Two of them are of Brenda Marshall, Carol Bintz (me), Nary Nelson, Jill Houston, Pat Ladd, and Stephanie Brown in my backyard on Easter Sunday. My parents served us an Easter morning breakfast after we all attended Sunrise Service at Thacher School! The other pic is of Gale Busby, Carol Bintz (me), Brenda Marshall, Mary Nelson, Pat Ladd, and Leah Edde in the Matilija cafeteria following a fashion show we had participated in, wearing something that we had made in Mrs. Roller's home ec class. I thought everyone would enjoy something, at this time, that isn't so emotionally heavy.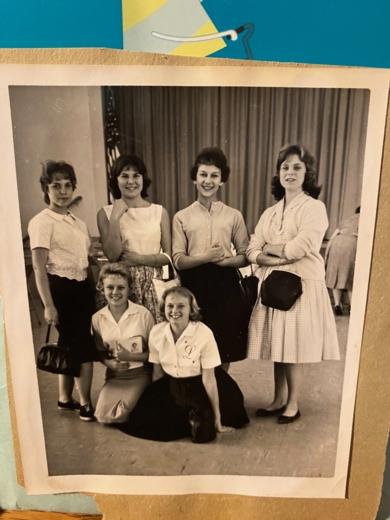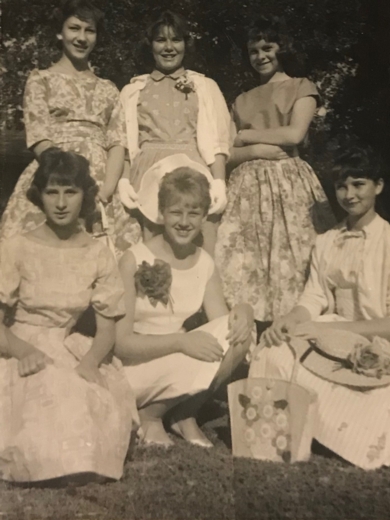 Good News Eminating from Bad Times
Today, in the process of extending the subscription for our Nordhoff Class of 64 website for 3 more years, I communicated with 4 of our classmates by phone and by email. While doing so the discussion naturally turned to COVID-19 and the horrific and historic times in which we find ourselves. I complained to Glenda McConnell that lately all I found to publish on our website was the depressing news of classmates deaths. But when I asked her what was going on in Ojai, she gave me some amazing news that results from the present bad times. Thanks to Glenda I am passing on to you the good news out of Ojai. And I'd like to imagine that it is happening not only in Ojai but across our country and the world:
"It's amazing what a community can do together......There is a fabulous group of folks that are making "masks" for the Hospital employees as well as other Health groups. The group delivered 300 masks today!!!! They had been giving 30-50 a day so this is quite the record. It's like an assembly line operation. Fabric is picked up from various locations and delivered to the folks doing the sewing and they again pick up to be distributed to the location of need. There's a free food pantry at a parking lot in Ojai and arrangements can be made for food delivery. It really does the heart good to see what a wonderful area we live in.
Take care, Glenda"
When I asked if I had her permission to publish this on our website and if she could provide more details, this is what she sent:
"Of course, you have my permission.....I'm very proud of our Valley. The mask operation is called Team Corona Busters...Sheri Cecil is admin......Trevor Quirk is the head guy getting the food organized. He was very instrumental during the Thomas Fire and has continued to be a leader at this time. I didn't think about sharing this info with our classmates that live in other areas. I'm sure they would be pleased with the contribution that our small valley makes at this crucial time. Thanks for thinking of it Blair. Good job! glm"
If any of you out there have more good news stories to tell, I'd love to hear from you so we can pass them along on our site. Good news is hard to come by these days.
Stay safe, practice social distancing and remain healthy,
Blair
OK, OK...I know you can't read the fine print. So, click here to view the document and download the full size PDF if you like.
Paula (Farrar) Voit RIP
We just learned that Paula passed away in her sleep at her home in Hamilton, Montana on December 12, 2018, She was 73 years old. Click here to read her obituary and the short note from her sister Carol.
Great thanks to Kathy (Jansen) Martin for passing along this information.
Charwyn Todd Byrd RIP
We just learned that Charwyn Todd Byrd passed away on April 21, 2018. Please check out her obituary which I found online in the local Long Beach newspaper where she lived and taught school for so many years.
And please leave your thoughts and memories of Charwyn by clicking on the comment button at the bottom of her In Memory page.
Thanks to Sandy Asp Marble for letting us know about this sad event.
Fred Core Loses House in Camp Fire
Fred had only moved to Paradise a few months ago.
He lost his wife a few years back and now this! He must be feeling a great sense of loss. Fortunately, Fred has insurance so it seems as though there is no urgent need for monetary support. What he needs now is some compassion.
Larry Kennedy called him as soon as he heard the news and Fred confirmed he had lost his house. He said he only had time to grab some pictures and a handful of clothes. He lost everything else. He plans on moving to Chicago where he has a daughter.
It would be great if some of our classmates would reach out to him and let him know he is in their thoughts. You can call him at 559-380-6871 (cell) or email him at fcore@aol.com.
Thanks to Scott Pedicord for the initial heads up and to Larry Kennedy for making contact with Fred for the details. Blair 16 Nov 18
Bobby Parker Passed Away
Bobby Parker, Jeanannette Poulis Parker's husband of 52 years, passed away on July 11, 2018. Here is what Jeanannette had to say about their life together:
"Bobby and I just celebrated our 52nd wedding anniversary. We raised 5 children and 1 grandson. We have 12 grandchildren, 13 great grandchildren with another on the way. Bobby worked as a lineman and line crew foreman for Southern California Edison. He loved rebuilding Chevy pick-ups, riding his Harley and doing anything with his family. He was a devoted family man and he coached our children in all of the sports they played as children, especially girls basketball. He was raised on Rancho Matilija and attended Ventura High School, graduating in 1958. He loved attending my class reunions as he knew many of my classmates and people from Ojai. Several years ago he was diagnosed with Parkinsonism and he suffered from Congestive Heart Failure. He fought a hard battle, but passed away on 7/11/18 with one of our daughters and I at his side."
Planning is underway for our
55 Year Reunion
Click here for details
Dennis James - May He Rest In Peace
This Announcement comes under the category of better late than never. In early 2016 I was informed by a classmate that Dennis had passed away in December 2015. At that time I, however, did not post the information due to an overabundance of caution. I always take precautions not to spread information on our website that I cannot corraborate. When one of our classmates passes away I usually use a published obituary as confirmation. In this case, I searched the Ojai, Ventura and Santa Barbara newspapers but found none. I also tried contacting Dennis' wife Kathryn who I had never met but here too I failed. As I result I did not publish the little information I had on Dennis's death. Finally today, I can now share this information with you confidently. Dennis' wife Kathryn read the email sent to the entire class asking for input on our upcoming 55 year reunion and was moved to communicate with me saying she meant to write sooner but didn't. I told her that if she provided an obituary or some kind of a written statement I would be happy to post it on our website now. Here is her response:
Thanks for getting back to me Blair!
Dennis didn't want a newspaper obit, that was one of his wishes. He was a very private person as you know. We had a small group take him out to sea. Here is what I had written on the cards and yes, It would be fine to publish it.
Dennis Lloyd James, 69, of Santa Barbara, passed away peacefully on December 5, 2015 following a courageous eighteen month battle with cancer. He fought with the utmost hope and was out and about until his last days.
Born in Los Angeles on September 2, 1946, his parents, Harold and Alice, moved the family to Ojai during Dennis' childhood. He returned to the Ojai Valley often to hike and enjoy the "pink moment."
Dennis was passionate about living life to the fullest and helping others. Upon graduating from Nordhoff High School in 1964, he joined the army during the Vietnam War. After being stationed in Germany for several years, Dennis returned home to Ojai. His next feat was Alaska. He and a couple of buddies took a road trip to the 49th state, and Dennis spent years in the town of Seldovia, where he fished commercially, tended bar, and enjoyed the natural beauty of the area. He started a career as a mortgage broker upon coming home to California. He worked for McAdams Financial in Santa Barbara for more than a decade. Dennis also worked aboard the Condor Express for several years and loved being back on the water. He managed a vintage apartment building in Santa Barbara for 28 years, a job he loved.
A man of adventure, he ran the Dipsea race in Marin County several times and finished among the top 100 runners. He loved vacationing in Hawaii and swimming in the warm island seas. Hiking was a regular activity for Dennis in the back country of Santa Barbara. He hiked the Grand Canyon and Mt. Shasta several times. He also loved sailing with friends in Santa Barbara.
Dennis will be greatly missed. His warm smile and kindness towards others was a way of life for him. He loved detailing cars, and also took great pride in fixing anything.
He is survived by his wife, life partner and hiking pal of almost two decades, Kathryn. He is also survived by his brother Dana and sister in law Susan, his brother Damon and sister in law Mary, his nephew Lincoln and wife Teresa, his great niece Joie, and his Aunt Dorothy.
Blair, yes, you can keep me on the email. Dennis loved his high school and told me about a lot of the people.
My best always, Kathryn
29 March 2018
Forrest Richard VanArsdall RIP
1944 - 2018 Obituary
​​​​
Forrest Richard VanArsdall, called Richard by his family, died peacefully in his home on January 13 of this year. He was born to Forrest J. and Aline VanArsdall on August 31, 1944 in Terre Haute, Indiana. In 1953, the family relocated to California and lived most of the next 25 years in Ojai. Forrest graduated from Nordhoff High School in 1963 and attended Ventura College.
In 1978, Forrest, along with much of the family, relocated to Cottonwood in Northern California. Forrest led a quiet, mostly solitary life. Among his pleasures in life were reading great literature, listening to classical music and studying chess strategies. He had no children but he loved being "Uncle Richard" to his niece and two nephews.
Forrest is survived by his sister Janet Fuls (husband David), their children Brian Fuls and Jennifer Wohletz (husband Tony); his brother Jim VanArsdall (wife Caryl), their son Greg VanArsdall (wife Amberly) and their two sons Remy and Finn.
*Webmaster's note: Not only did our classmate Jim VanArsdall's brother Forest die recently but 3 weeks prior his mother Aline died. Our sincere condolences.
Published in Ventura County Star from Mar. 3 to Mar. 4, 2018
Mini Reunions
Your reunion committee has set up a new way of connecting. When out of town classmates are planning to visit Ojai, we request that classmate to notify us so that we can set up an evening or day gathering. Simply send a notice to Mark Hall,Blair Cooper or Larry Kennedy. We will send out an "announcement" to come and meet our classmate. Once we get responses we will set up a party at a restaurant or residence. It is very informal. Our first opportunity is coming soon when Blair Cooper visits. I will send it on a separate email.
Salute Jeananette and Bobby Parker...
...for their donation to the 50 Year Reunion. Now it is your turn to donate to the "Nordhoff Class of 64" (Mark Hall, 2212 River Drive, Stockton, CA 95204). We have committed to a Photo booth! We also expect more surprises.