NOSTALGIA
John Cotter sent a great movie, San Francisco in 1955
Renee Vecellios Campanella sent this in about Boogie, check it out! Click on Laurel and Hardy to hear it! (If the sound doesn't work, just watch Laurel and Hardy, they are pretty funny just watching them!)
Dan Enos and Cathy Onstad Enos sent this great George Carlin slide show. Click on George, sit back, have a cup of coffee and a cookie and enjoy! Thanks Cathy and Dan!
Tom Esposito found this GREAT TV site where you can watch classic episodes of TV shows, like the one when Little Ricky was born on The I Love Lucy Show, or when The Beatles were on Ed Sullivan. Click on the OLDIES TELEVISION Banner above and it will take you this wonderful site. Don't spend too long there though... it will make you long for the days gone by......
Click on the Above Jeopardy Panelists to play a fun Game Show theme Song Quiz sent in by Renee Vecellio Campanella
Here's a clip you likely have never seen.
The recording of 'Get Back' for the 'Let It Be' album.
In their early days, The Beatles played in clubs for
hours most nights, but by 1967, they stopped touring.
This single was advertised as "The Beatles as nature
McCartney: "We were sitting in the studio and we made
it up out of thin air... we started to write words there
and then... when we finished it, we recorded it at Apple
Studios and made it into a song to roller coast by."
The character "JoJo" was based on Joseph Melville See
Jr., Linda McCartney's first husband.. He was from
Tucson, Arizona, and killed himself there in 2000.
The missing verse from Get Back: "Meanwhile back at
home there's nineteen Pakistanis, Living in a council
flat/Candidate for Labour tells them what the plan
is/Then he tells them where its at". ("Council flat" is
the British equivalent for "housing project"). Early
versions include the line "I dig no Pakistanis." The
song began as a commentary about immigration, telling
people to "Get Back" to their own countries. It was
meant to mock Britain's anti-immigrant proponents.
Paul McCartney thought better of it and made the lyrics
Paul looked at Yoko in the studio when he sang the line
"get back to where you once belong." John thought he
was disrespecting her. There was a rare quote by Paul
that said "I don't take any notice of her. She's John's
wife so I have to respect her for that, but I don't think
she's the brightest of buttons. She's said some
particularly daft things in her time. Her life is dedicated
to putting me down but I attempt very strongly not to
put her down.." They eventually became friends even if
it did have to be after John was murdered. Ringo was
the only one who would accept Yoko in the beginning
when she first came in picture, during and after The
Billy Preston played piano and became the only guest
artist to get a credit on a Beatles single - "The Beatles
with Billy Preston." George Harrison had left the
recording session one day and saw Preston in concert
with Ray Charles. The Beatles had met Preston back in
1962 when they were both playing in Germany, but they
hadn't seen each other since. Harrison asked Preston to
come by the studio the next day. Having him in the
studio eased the tension and made it easier for The
Beatles to put personal conflicts aside and record the
On the clip you can briefly see a young Mick Jagger &
Charlie Watts from the Rolling Stones in the booth.
Phil Spector was the guy with the glasses.
Ever wonder what the lyrics were to Billy Joel's WE DIDN'T START THE FIRE and what the heck he was singing about? CLICK on Billy to get the scoop!
That was then....... This is NOW!
My personal favorite...........
Remember that cute little Coppertone girl with her dog pulling
on her blue bathing suit bottoms during the
late 50's and throughout the 60's?
Well she's all grown up now,
and lives near
Lake Mead
,
Arizona
thanks to Renee Vecellio Campanella for the coppertone girl!
This comes from Renee Vecellio Campanella

This is the one of the best presentations of the sixties that I have ever seen online.


It is very well done.


Just click on the link and sit back and enjoy the memories.


Great photos and facts.
I REMEMBER EATING AT THE WOOLWORTH'S COUNTER AT BAYFAIR! FRENCH FRIES AND A COKE.
Very different than it was back then.
Bal Theatre. I remember seeing Frankenstein with Lon Chaney
here and I couldn't sleep for years. Saw Bonnie and Clyde here too.
St. Leanders
San Leandro City Hall
There were 2 drive-ins, can you name them?
I remember when 5 of us snuck in the trunk of Marlene's dad's 68 Oldsmobile to get in free....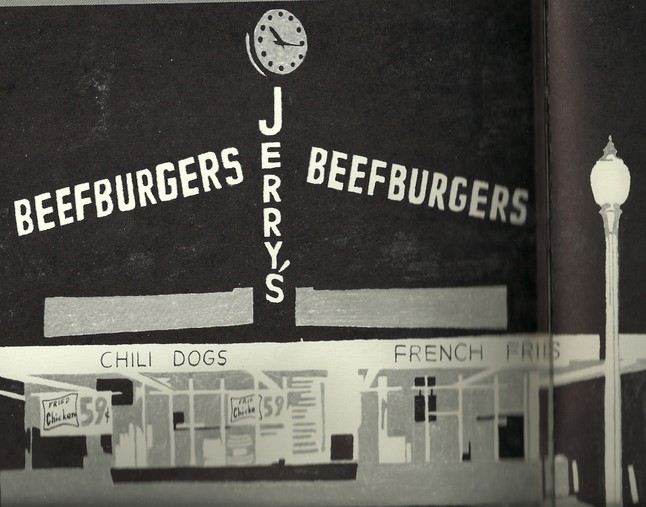 Good food, is the Fifth Wheel still there?
Jerry Mincey would know, his body shop was right down the street from this place!
Great Hang out NOW! French fries better than anywhere,
also available at Dublin Sports pub, sister pub of The Englander.
Do you remember this corner?
JC Penney's was here in the 60's as was Carl's shoes.
Do you remember when the Boy's club was on
San Leandro Boulevard where the BART station is now?
It was moved to Marina Blvd and is now the Boys' and Girls'

This Lucky's was just torn down recently.
It was at the corner of W. Juana and E. 14th,
across from Pelton Center and the Bottle Shop.
Music Unlimited. I bought my first Martin guitar here in 1969. Wish I still had it!
Does anyone remember that there was a Nike Missile Site on the ridge above Lake Chabot? If you visit the Golden Gate National Seashore Nike Missile Site you will realize what was lurking above us in San Leandro: Live Nuclear Weapons, ready to be deployed within 15 minutes!! Who knew? Check out this website to learn about this incredible history! ttp://www.nps.gov/goga/nike-missile-site.htm
The video below was posted on You Tube and submitted by.................... not sure~