Mead Senior High School
In Memory
Dave Soukup
November 29, 1961 - April 12, 2015 David Michael Soukup died serenely at home after battling cancer for thirty months. He was 53 years old. David was born in Ohio to Fred and Nancy Soukup. He spent his formative years in Spokane, Wa., before launching an adventure in 2002. He was a 13 year resident of San Pedro Town, Ambergris Caye in the Caribbean country of Belize, the earthly paradise nicknamed La Isla Bonita. David graduated from Mead High School in 1981. After graduation David served his country in the Military branch of the Navy, stationed in Okinawa, Japan, where he and his wife Denise welcomed their daughter Tressa. David is survived by his wife Denise, his wife of 33 years, of Belize; daughter Tressa, son in law Brian, grandchildren Julian, Hawken and Violet, in Washington State; his parents; his siblings Karen, Mark, Jeff and Chris. Numerous nieces and nephews, as well as aunts and uncles; also lifelong school friend and honorary brother Mark Porter. David's strength of character shone while staring down cancer. With a lust for life and all things living, and knowing he had no possibility of holding off death, he exhibited an intense brand of willpower; using the strength of his own decisions to sculpt the landscape of his last days. He fought the battle without a shred of self-pity or remorse. His will to live was strong in spite of the cancer overtaking his body. He died in his "castle" smiling as he reached out to hold the hands of his wife and child; his last act on earth David has not left the world, it left him. He will be remembered as a loving husband and father; a generous spirit, a friend to many. His immediate and extended family will miss him dearly. He will never be forgotten. David's ashes will be spread in the Caribbean Sea, per his wishes, on his Birthday. A memorial service is planned for June 6th, in Spokane, from 2:00pm-5:00pm at 5225 N. Freya Road, Spokane, Wa., 99217, for those unable to make the trip to Belize.
- See more at: http://www.legacy.com/obituaries/spokesman/obituary.aspx?n=david-m-soukup&pid=174774734#sthash.cSDsFFYs.dpuf
Dave's Spokane memorial service will be June 6th, Saturday from 2-5 at 5225 N. Freya St in Spokane, WA. This is "Carr's one of a kind in the world museum".
Denise is planning a memorial service and scattering of his ashes in Belize on Dave's birthday , November 29th. You can email Liz Hall if you are interested in attending and she can forward your information to Denise.
Dave & Denise in Belize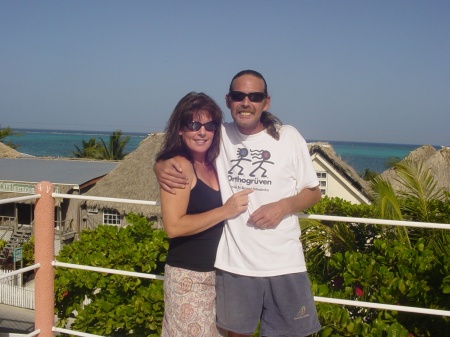 Pictures shared from Denise

The one of Dave as a senior, for the second time, when I actually met him, that picture always made me think that he looked a little like a young Jim Morrison from the Doors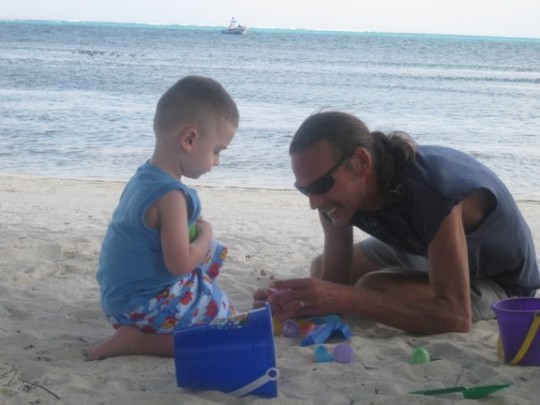 David playing on the beach with his first grandson, Julian.

David on a Catamaran.  We blew off work that day, and jumped on a Catamaran heading to Caye Caulker for Lobster Fest, great time! 

Me, David and Tressa at Christmas time on the island.

The two of us on Thanksgiving 2013, one of his last holidays where he was feeling somewhat good.
This one was from Junior High...I scanned it a long time ago from pictures from Debbie Wicklund. I'm not sure what grade.