Classes of 1968 to present
Westchester

High School

& Westchester Academy
ANNOUNCEMENTS
Class of 1970
Please sign up to come join the Class of 1970 for a second night reunion event. (Friday night is at Cadillac Bar. See previous announcement posted.)

You can sign up to come to Joe Swinbank's house for a catered barbecue dinner either by emailing or texting Nancy White Eppes at nancyeppes@gmail.com or 832.515.5749. Cash will be collected at the door.
There will also be a sign-up sheet for Sat. night at the Cadillac Bar on Friday, with maps to Joe's house.
---
CLASS OF '81 ~ WE NEED YOU ~ REGISTER TODAY!!
40th Class Reunion ~ October 16th!!!
7:00PM at TopGolf on I-10
Food and non alcoholic beverages included. Cash bar.
This is not a golfing event. We have a Wildcat Den (private room) reserved for our party. We will have golf bays for anyone that would like to swing a club.

RSVP with your payment today! Since offered by most banks/credit unions, ZELLE is an easy, safe way to send money between banks within minutes and is available in your mobile banking app or online banking or you can download the Zelle app for Andriod and iOS.
The Zelle details should have the last name Silverman to easily route the zelle payments.

ZELLE details:
recipients name - Westchester81
email - westchesterwildcats81@gmail.com
phone # - 713-485-9148
$50 per person by 9/30/21
$60 per person on 10/1/21
At the door: $60.00 CASH or Zelle (not set to accept credit cards)

Still having trouble registering, contact Traci Deborah Silverman at number above.
---
Reunions - Latest Updates:
Classes 1970, 1971, 1975, 1976, 1980, 1981
Class of 1970:
Friday, Oct. 22, 8:oo pm to midnight at the Cadillac Bar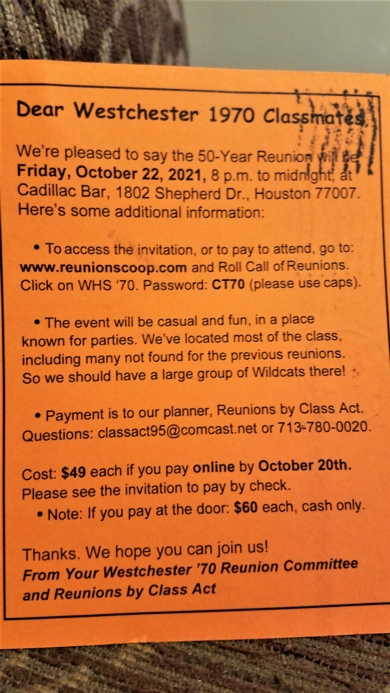 Class of 1971:
Hilton Garden Inn
12245 Katy Freeway (at Dairy Ashford)
Houston TX 77079
For more information and / or to sign up please contact:
Greg McLain -
gsmclain@gmail.com
Brenda Spurlock (Edmonds) -
aggiemom.2013@yahoo.com
Class of 1975:
Under Discussion
Information on Class of 1975 Facebook group page
Class of 1976:
To be announced
Class of 1980:
Under Discussion, stay tuned.
Class of 1981:
Saturday,October 16, 2021 from 7:00-10:00 PM at TopGolf on I-10.
TopGolf 1030 Memorial Brook Blvd. Houston, TX 77084
Facebook group: WHS '81~~40 YEARS LATER!
The Class of '81 40 year reunion will be held on Saturday,October 16, 2021
from 7:00-10:00 PM at TopGolf on I-10.

TopGolf
1030 Memorial Brook Blvd.
Houston, TX 77084

Email us to update all of your contact information, and receive future details.
westchesterwildcats81@gmail.com

Check out the Facebook group: WHS '81~~40 YEARS LATER!
Congratulations to the
Westchester Class of 2021
Scholarship recipients!
The Westchester Alumni Association awarded six Westchester Class of 2021 seniors with scholarships. Thank you to our amazing Westchester alumni for their generous donations!
Madeleine Gabriela Carey
Madison Do
Yuta Haratsu
Stephanie Martinez
Katy Jane Murphy
Cynthia Sanchez Hidalgo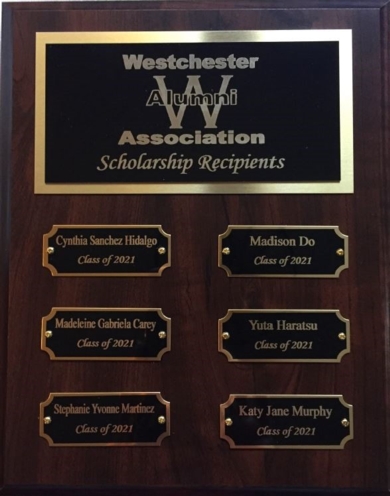 Congratulations to these exceptional Westchester seniors!
Since 2007, the Westchester Alumni Association Student Scholarship Fund* has awarded $90,500 to 89 deserving, college bound Westchester Academy for International Studies graduating seniors.
Thank you to all alumni, friends, parents and students who have donated generously over the years!
*Donations to the scholarship fund are accepted all year via our website. Click on Scholarship Donation.
The Westchester Alumni Association was established in 2005 to unite all Westchester Senior High School and Westchester Academy for International Studies alumni. Members have the opportunities to connect with former classmates, to support our scholarship programs and continue their Wildcat Pride!

If you wish to make a donation to the Westchester Alumni Association's Student Scholarship Fund please follow the instructions below.
Electronic Donations
Electronic tax deductible scholarship donations may be made online using a credit card by clicking the orange button below.

After clicking on the button you will be transferred to a webpage hosted by the Spring Branch Independent School District.

A list of donation choices will appear on the webpage. The

Westchester Alumni Association Scholarship Fund (WAA)

is near end of the list.

Click the donate button beside the WAA name and follow the further instructions on the site. You do not need a PayPal Account to donate you can use your personal credit card.
Mail Donations by Check to:
Westchester Alumni Association, Inc.
2208 Post Office St Suite 101
Galveston, TX 77550-1989
~~~~~~~~~~~~~~~~~~~~~~~~~~~~~~~~~~~
Westchester now authorized to offer International Baccalaureate (IB) Programme for Grades SIX through Twelve!!
Only 13 schools in the state of Texas offer both middle school and high school programs.
Many consider the IB curriculum the best curriculum in the world.
Shaun Wegscheid (a Westchester grad and now faculty member at Westchester) worked alongside many other Westchester staff members to bring this excellent opportunity to Westchester students.
http://www.yourhoustonnews.com/memorial/living/westchester-academy-for-international-studies-authorized-to-offer-international-baccalaureate/article_1409e3b7-d357-51e0-8952-f9d4c709f2cf.html
---