Welcome to the
Crestwood High School Alumni Association Website
Dearborn Heights, Michigan
Class Of 1966 thru 2021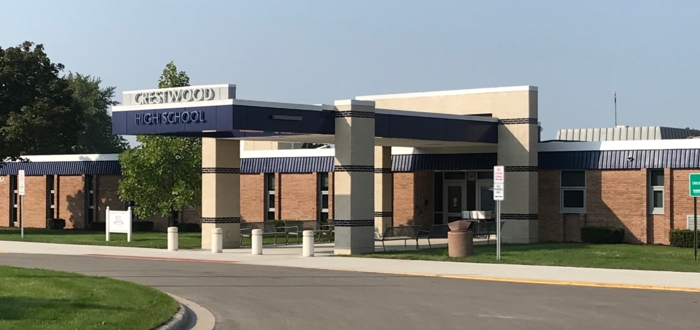 New to Our Website? Click on Classmate Profiles, find your Class Year, and then find your name. Follow the on-screen directions to create your profile. It's quick, secure, easy, and free to do. Click on the Contact Us button with any questions. Enjoy the website!
---
We will continue to do our very best to provide a pleasant and functional website for all alumni. Thanks so much for your participation and please share the site with all of your CHS alumni friends.
OUR CRESTWOOD HIGH SCHOOL ALUMNI ASSOCIATION WEBSITE ADDRESS IS...
www.crestwoodalumni.org OR www.crestwoodstock.com
ANNOUNCEMENTS
Class of 1973 - 50th Reunion
2023 - Date to Follow

Class of 1983 - 40th Reunion
September 29, 2023

See Upcoming Events/Reunions on the Menu Bar

Please visit the "In Memory" page. Add any personal stories about our classmates and teachers who have passed away. Listed on the right menu bar on the Home Page (In Memory Updates) are classmates recently added to the "In Memory" page of the website.
| | | |
| --- | --- | --- |
| Class of 1972 | Marianne Gervais | Deceased 2022 |
| Class of 1975 | Richard Walega | Deceased 2023 |
| Class of 1984 | James Lucente | Deceased 2023 |
| Class of 1997 | Brianne Spencer | Deceased 2023 |
| Class of 1967 | Ronald Gimik | Deceased 2021 |
| Class of 1979 | Steven Suarez | Deceased 2023 |
| Class of 1964 | Hubert Neal Jr. | Deceased 2018 |
| Class of 1987 | Bryan Nuebauer | Deceased 2022 |
| Class of 1973 | Helen Stell | Deceased 2022 |
| Class of 1974 | Kathy Pensyl | Deceased 2022 |
| Teacher | Tom Klinefelter | Deceased 2022 |
| Class of 1980 | Robert Kelbassa | Deceased 1994 |

Crestwood - Haston - Riverside Military Alumni
Please check out the Military Alumni page on the CHS Website (on the menu bar under Alumni). If you were in the Military and have not included this information on your profile, please do so. If you know of any other Crestwood Military Alumni, please send an email with their name, branch of service, and year of high school graduation. Included is a pdf file with all the names currently on the wall.

There's an amazingly easy new way to support your CHS Alumni Association --- and it won't cost you a penny.
Purchase any eligible goods at smile.amazon.com, AmazonSmile will donate 0.5% of the price of your eligible AmazonSmile purchases to the charitable organization of your choice. It's the same Amazon you know. Same products, same prices, same service. Regular or Prime purchases.

Simply log in to your account at smile.amazon.com. Once logged in, you will be prompted as to what your charity selection will be. Type in Crestwood High School Alumni Association. The rest of the instruction is instinctive and easy.
So it costs you nothing to join, and Amazon donates a percentage of your purchase. Added up, it can do a great turn for your association! smile.amazon.com. So easy. Check it out today!

This Crestwood High School Alumni Association Website is intended for reconnecting with old friends and making new ones as well. We welcome and encourage the sharing of memories and stories from all Crestwood Alumni, as well as the latest updates in your lives. Please use discretion when creating your profile and posting messages. Personal attacks, political and religious messages, as well as abusive profiles and posts will be edited and/or removed.


New Website Feature
A very important new feature has been added to our class website called "Notify Me". It replaces the former "Profile Subscriptions" function. All Classmates you were previously following are still present on the new Notify Me page. In addition, you will find a variety of new options to allow you to interact with our site exactly the way you wish to. For instance, you can now receive notifications by email when events like this happen on our site:
I receive a new personal message

Someone leaves a comment on my profile

Pictures have been added to a photo gallery

A Classmate has been added to In Memory

A Classmate posts an In Memory comment

A new reunion or event is being planned

A new announcement has been posted

A new Classmate joins the site

Two or more people are in Live Chat

Pages on the site have been added or updated

A Missing Classmate has been found
​I encourage you to log into our website, click on the new Notify Me feature (it's the first link under Member Functions), and set your new Notification Options now. It's a great way of keeping up with our class! You can opt to receive notification messages immediately, or opt to have them grouped into one daily convenient email. The choice is yours! I hope you enjoy this new and exciting method of keeping up with our classmates and website. Log in today and set your new Notify Me options now!