Choristers
Table of Contents
Frank E. Owen
---
1949/50 Choristers
The 1949/50 BHS Choristers
This group recorded the "Songs of Christmas", a 9-song 3-record 78 rpm set, in this album:
Click on the album image to go to the ReverbNation TunePak with the songs from this album. Album courtesy of Jim Owen.
Per this November 2, 1950, Daily News article (also supplied by Jim Owen), the recording was done in July (!) of 1950 in the Mancusco Theater. It went on sale in November and could be purchased at Sleight's Book Store and other local merchants for $3.85.
Thanks to a loan from
Kathy Owen
, we have this picture from the July-August, 1955 (Vol. 41, No. 6) issue of
MOOSE
magazine:
1956/57 Choristers
The 1956/57 BHS Choristers
This group produced a red vinyl LP. Click here to go to a ReverbNation TunePak with these songs on it.
Transcription courtesy of
Jim Owen
and
Paul Huff
(BHS '59).
1958
Choristers-In-The-Making
Thanks to Tom Babcock we have this Junior High vocal concert program from 1958 when we were in 9th grade.
1958/59 Choristers
The 1958/59 BHS Choristers
Kathy Owen (BHS '63) has provided us with this group's 1959 Spring Vocal Concert Program.
1959/60 Choristers
The 1959/60 BHS Choristers
Kathy Owen (BHS '63) has provided us with this copy of the 1960 Spring Vocal Concert Program:
Daily News Review of the BHS 1960 Spring Vocal Concert
by Joanne Lenz (BHS '60)
(Click on image to go to PhotoBucket to read full review. In PhotoBucket, click on again to magnify and/or use your computer's right/left arrow keys to go to 1st/2nd part of the review).
The following audio was obtained from the Long Playing record (remember those) referred to above, "The Batavia High School Choristers directed by Frank E. Owen" owned by Jim Owen. Click here to open a new tab with the ReverbNation TunePak playing this 1960 ("Black") LP. Use the standard player buttons to select song, control volume, etc. Return to this tab to continue browsing. Close out the TunePak tab when done.
Per Joanne Lenz' review, Samuel Corcimiglia (BHS '60) is the soloist in "When Will I See My Home."
Click here to learn more about purchasing a CD of this album.
The 1962-63 BHS Choristers
Thanks to a loan from Jim Owen we now have a digital version of this album (click on cover to play)...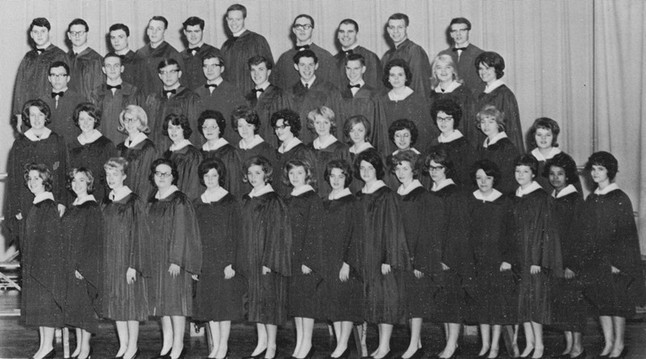 In December of 1963 this group performed the 17th annual national radio broadcast over
with Chuck Platt hosting.
Click
here
to listen to a ReverbNation TunePak of this broadcast.
Track 3, "Prelude Thought to Christmas", is especially noteworthy as Chuck explains it...
...the composer has produced a work that is ethereal in its minor qualities, yet resplendant in its contrapunctual noels, all concluding in chordal resolutions that are almost mystical in their effect.
Jim Owen tell us that his dad wrote all the scripts. Wonder what he had against Chuck.
Here's Chuck helping celebrate WGCC (Genesee Community College) FM's 25th anniversary, Friday, November 12, 2010 -
The Choristers Wish You a Merry Christmas CD
(The Combined 1949/50 Chorister '78 RPM Album
& The 1963/64 Chorister WBTA Broadcast)
See ordering details below.
The 1956/57 Chorister's "Red LP" CD
See ordering details below.
The 1959/60 Chorister's CD
A CD of the 1959/60 "Black" LP has been made (it sounds much better on non-computer speakers) for release to interested classmates.
I got my CD of the choristers in the mail yesterday and have been playing it in the car non stop. I thought I would always remember all the words but, was wrong. I suspect after repeated listening I will get back to singing most of the songs again. I can still remember us leaving the music room and going into the halls signing "I am going to ride the chariot in the morning Lord , my Lord, my Lord." That was my favorite time of day at school. Thanks so VERY VERY much for making this happen.

- Marilyn Ware Galloway, BHS '60

See ordering details

below

.
CD Ordering details
The price is $12.05 ($10 + $2.05 for shipping in the U.S.) for one, $22.05 ($20 + $2.05) for two and $32.05 ($30 +$2.05) for three. Checks should be made out to "Batavia High Class of 1961" and mailed to Gene Northrop, 3 Capri Drive, Rochester, NY 14624. Any profit from these sales (we sure hope so) will be placed in your Reunion Planning Committee's treasury to help underwrite reunion preparation expenses. When ordering please specify which CD's you want and allow sufficient time for us to get our act together enough to get these out to you.
---
Choristers Sheet Music
For former Choristers and Chorister groupies, here's some of the sheet music provided by a source that wishes to remain anonymous.
The first set is music that is found on two of the above LPs: Shepherd's Rejoice and All in the April Evening from the 1957 ("Red") LP and Ride the Chariot and Men of Harlech from the 1960 ("Black") LP. Now you can recreate your former role with a sing-a-long to the above.
The second set is not on the LPs but was used by the Choristers for other performances and includes: Italian Salad, Sing Alleluia, Sophomoric Philosophy, Two Kings, and Who'll Be A Witness For My Lord.
Frank E. Owen
Tributes to Frank E. Owen
---
Ruth M. McEvoy, Richmond Memorial Librarian and Batavia historian, in her 1993 book, History of the City of Batavia, singled out a handful of Batavians to write about. One of them was Frank E. Owen. Here's what she had to say about him, 15 years after his passing:
... Frank E. Owen, brought an enthusiasm for music to Batavia that can still be felt in the schools. He was born in St. George, Shropshire, England, on February 19, 1899, and he came to Batavia in 1923 as a music instructor. He became head of the music department for the Batavia City School District in 1927. When he retired in 1964 he was praised as "an outstanding teacher with the unique ability to inspire youngsters." He succeeded in making music one of the more apealing subjects in the school curriculum and there have been students who found it difficult to choose between music and sports as a major subject. He organized a chorus in 1927 made up of 100 girls. The Choristers, a chorus of mixed voices, organized the next year, became the outstanding musical group in the high school, and it gave concerts at Christmas time and in the spring to sell-out audiences. The Choristers occassioinally sang out of town or for radio programs. Instrumental teachers who taught under Mr. Owen's supervision organized orchestral groups and marching bands that won in competition rgularly. Mr. Owen made music important in Batavia and sent students after graduation to state colleges and to the Eastman School of Music to further their musical skills.
Frank Owen retired from the Batavia School District in the spring of 1964 to garden his small house lot at 2 Redfield Parkway. A year or so later he joined Genesee Community College where he organized a chorus of mixed voices. He died in July 1978. There is still a strong appreciation for music here that attests to the vitality brought to Batavia in 1923 by Frank Owen.
The Frank E. Owen Music Scholarship Award
Each year since ca. 1980 the BHS music department faculty select one graduating senior who has been accepted into a music program at a 2- or 4- year institute to receive the Frank E. Owen Music Scholarship Award to be applied towards their tuition.
Classmates or friends who wish to help endow this award can do so by making out a tax deductible check to Batavia City School District with a memo of In Honor of: Mr. Frank E. Owen Music Scholarship and mail to
Batavia City School District
---
---