BUDGET STATUS REPORT
THANK YOU FLOGA! WE ACHIEVED 102% REALIZATION OF OUR BUDGET. YOU GAVE TO OVERFLOWING, AND BECAUSE YOU GAVE, PROJECT 40 WAS A MASSIVE SUCCESS!!!
BELOW IS OUR DONOR MAP AND EVERY CLASS WAS REPRESENTED.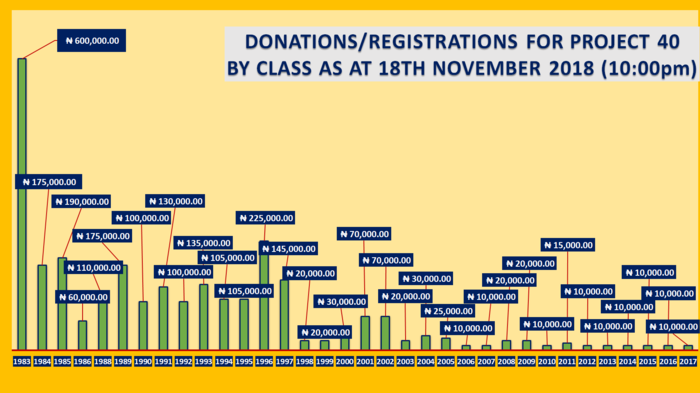 Can I let you in on a secret as to how our map came to be this beautiful? An Angel Senior (Class of 1983) made an anonymous donation of #85,000.00 to make sure every class was at a nice rounded figure and all classes who had zero donations, rose up to at lease #10,000.
This senior did not want to be named, but our prayers for her will be heard. Amen.
BELOW IS A SUMMARY OF DONATIONS BY CLASS

---
PUT YOUR CLASS ON THE PROJECT 40 MAP BY REGISTERING OR MAKING A DONATION TOWARDS THE 40TH ANNIVERSARY OF OUR ALMA MATER.
So far, 26 (Twenty Six) out of 33 sets have stepped up to the plate and stamped their class on the Project 40 Map. Is your class on the map?
Thanks for your support. Let's do more!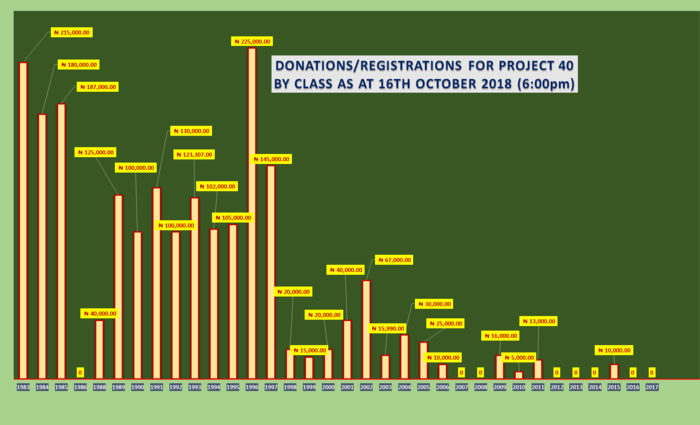 ---
For the Project 40 Event, we have an Estimated Budget of #3,000,000 (Three Million Naira Only). Please see the breakdown below:
---
Here's how the budget is distributed:
---
---
To make a donation:
Please pay to DIAMOND BANK, FLOGA NIGERIA, 0075326479
and do text your details to 08034865490.
We are looking forward to hearing from you!