Federal Government Girls' College, Langtang , Plateau State was established on the 15th October, 1978 by the Federal Military Government of Nigeria under the regime of General Olusegun Obasanjo, the then Head of state and commander-in-chief of the Nigeria Armed Forces.
The aim of establishing the college like other Unity schools was for national unity and academic excellence.
The pioneer principal was Miss Feroze Din, a Pakistani national from 1978 – 1985.
Mr. Oguntoye acted as Principal of the college from 1985 – 1986. After him Miss Rhoda Akpa became principal from 1986 – 1992. She was replaced by Mrs. F.N Long from 1992 – 2002. Mr. P.I, Kenine, was acting principal for seven months, before Mrs. M.A. Rotshak took over from 2001 to 2009. Mrs. Oyatogun Gloria Adetoun acted as principal from October, 2009 to February, 2010, before the the immediate past principal Mrs. Mary Sale Ali took over the mantle of leadership of the college.
In September 2012, again, the mantle of leadership exchanged hands as Mrs E.A Kasua took over from Mrs M.S Ali who retired.
Below is a letter the Alumni received from her recently.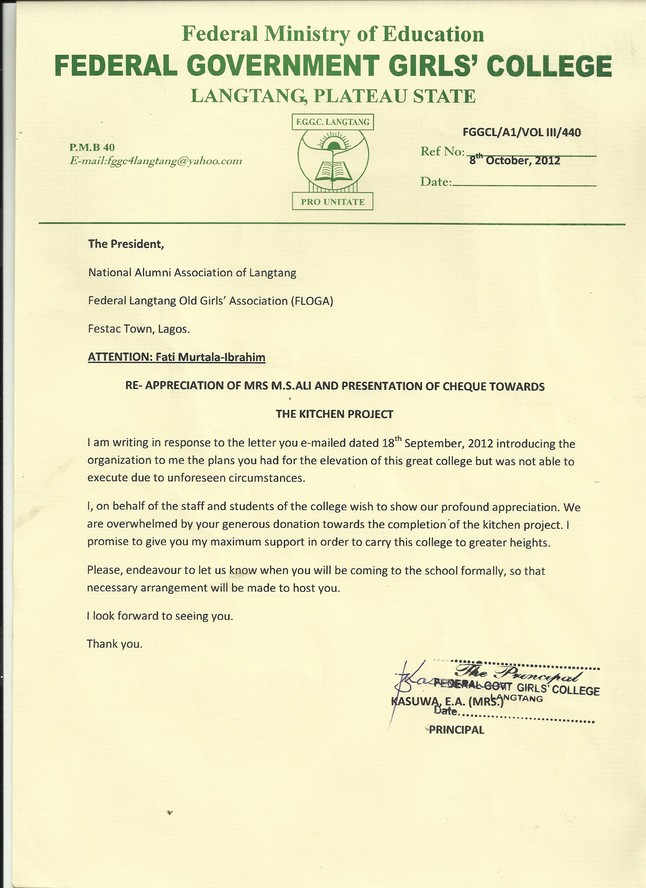 VISION AND MISSION
VISION
A College which is a citadel of knowledge and an ideal environment for the all round education of the GIRL-CHILD to become disciplined, honest, scholarly and patriotic individual towards a peaceful, and developed society.
MISSION
To partner with relevant development agencies, to harness available local and national resources to create a conducive environment for the GIRL-CHILD in order to exploit her full potentials and produce positive thinking for a purposeful, peaceful and globally competitive society.