INTER-HOUSE SPORTS
OUR INTER-HOUSE SPORTS EVENT IS NOW FULLY SPONSORED!
Thank you so much to all our sponsors for stepping up to the plate and helping us achieve this feat.
F.G.G.C Langtang thanks you.
FLOGA celebrates you!
Let's go there!
---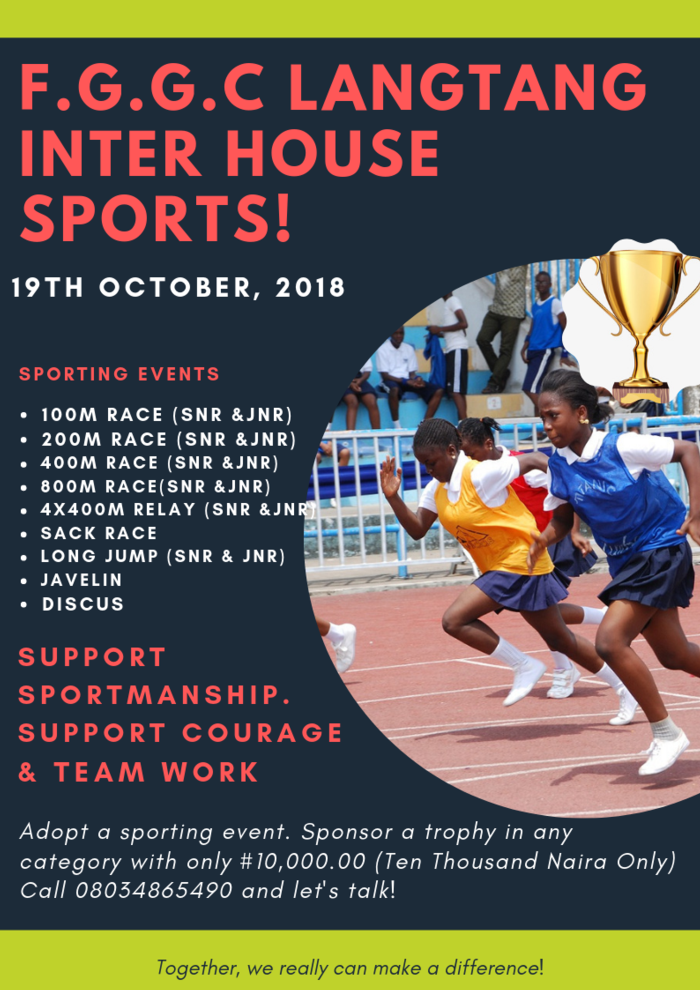 As part of events marking the 40th Anniversary of F.G.G.C Langtang, FLOGA is proud to announce the 2018 edition of the school's Inter-House Sports Competition holding on Friday, 19th October, 2018 at the school field.
The sporting event, which is in keeping with the theme of our Anniversary Celebration - "HARNESSING THE POTENTIALS OF THE GIRL CHILD FOR TRANSFORMATIVE LEADERSHIP" - will help our girls develop grit, perseverance, values, good sense of judgment, hard work, integrity, confidence and inter-personal skills, not leaving out the fundamental benefits of Team Spirit.
There will be various categories of sporting events in Track and Field. If you are interested in supporting this initiative, there is ample opportunity to adopt whole events or sponsor the trophies for any category of sporting event of your choice.
Let us support Sportmanship, Courage and Team Work.
To adopt a sporting event or sponsor a trophy for any category, please call 08034865490 and let's talk!
Each category has a sponsorship opportunity of #10,000.000 only. (Ten Thousand Naira Only).
All donations will be received into the FLOGA NATIONAL, DIAMOND BANK ACCOUNT, 0075326479.
Show our girls you care!