NAT. REUNION / AGM 2017
NATIONAL REUNION / AGM PLANNING COMMITTEE
On Wednesday, 22nd March, 2017, the National Reunion / AGM Planning Committee was inaugurated.
The National EXCO is proud to present a team that is diverse and with excellent qualities capable of delivering and executing a landmark event.
Please find below, details of the committee members: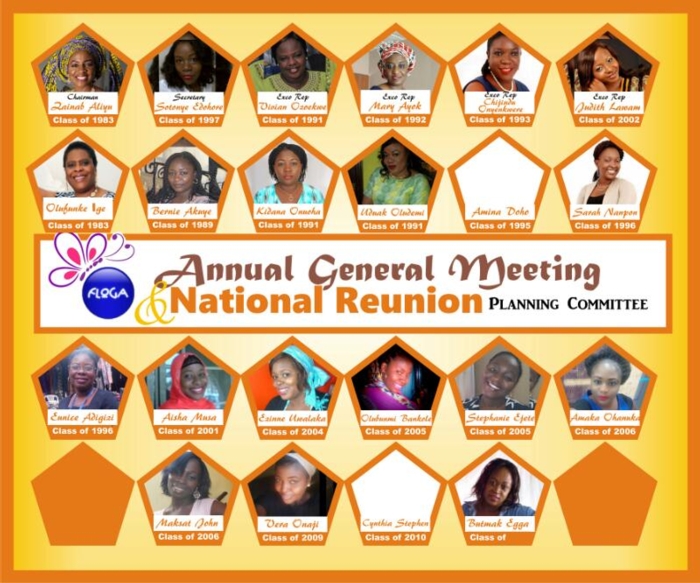 Zainab Aliyu (Mama Zee, 1983set) has graciously accepted to serve as the Committee Chairperson. Sotonye Apiafi Edohore (1997) will serve as the Secretary. Judith Lawam (2002), Chijindu Onyenkwere (19993), Mary Ayok (1992) and Vivian Ozoekwe (1991) are joining the Committee as the National EXCO Representatives. They will be supervising and providing two-way feedback between the national EXCO and members of the committee.
Below is a summary of the committees' responsibilities:
1. Identify and select a National Reunion/AGM theme;
2. Develop a program of events and activities (please keep in mind that there will be National EXCO and Board of Trustees Inauguration during the program)
3. Source and solicit keynote speakers from among the FLOGA Community and beyond;
4. Co-ordinate logistics of planning and executing the National Reunion / AGM and, if applicable, recruit and organize volunteers to assist with the implementation of such activities;
A few aspects to consider:
-
Participating in locating and contacting Alumni of different graduating sets
-Encourage attendance and build enthusiasm
-Developing a budget and plans for fundraising
-Venue
-Catering
-Activities
-Accommodations
5. Identify possible gifts/donations to be made to the school with plans of achieving them.
The proposed location and month for the National Reunion/AGM is Abuja in October, 2017. The Committee's proposed date in the month will be confirmed by the National EXCO.
Please Note:
The chairperson and secretary are responsible for:
-Scheduling committee meetings and notifying members of the meetings
-Presiding over meetings and keeping everyone on track
-Taking minutes that reflect all significant decisions made
Committee members are typically expected to attend weekly virtual meetings (via WhatsApp) or as may be required per time.
The National EXCO is confident in this diverse team of volunteers to deliver a successful National Reunion / Annual General Meeting.
We wish you fruitful deliberations!
Thank you again.