50's Toys
Thanks to LeAnn Kugath and Waseca Minnesota class of '63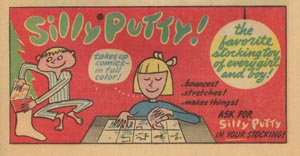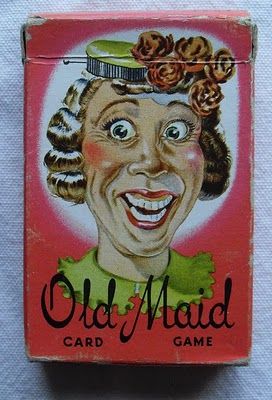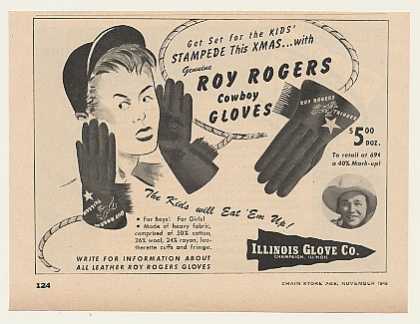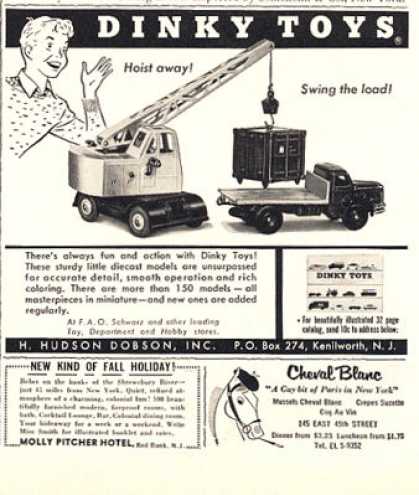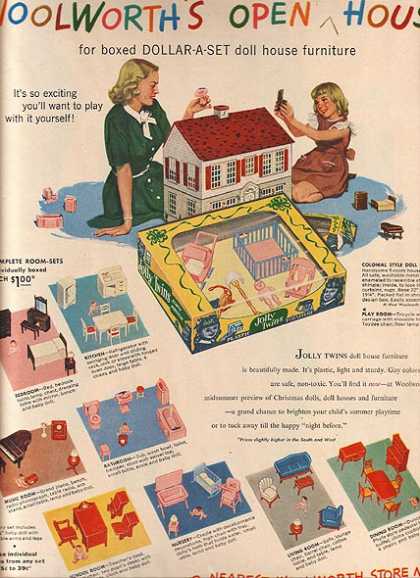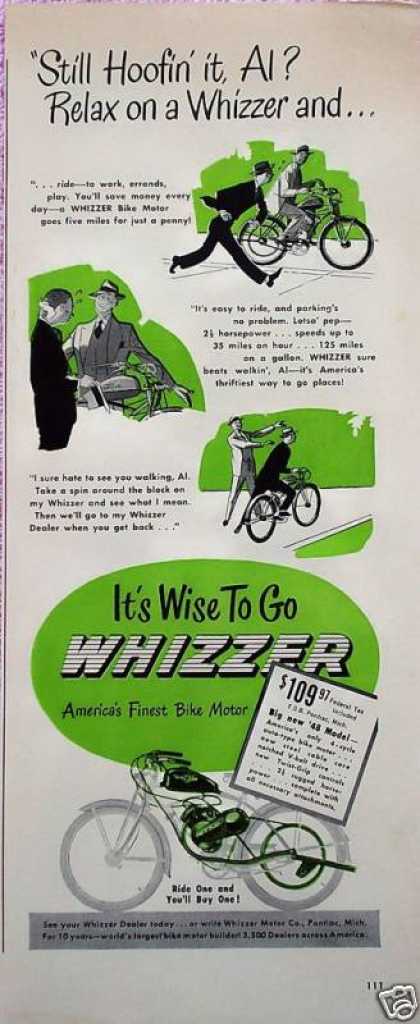 Deluxe Junior Steering Wheel Toy
Description: Every youngster wants to help "drive" daddy's car. This 10-inch molded plastic wheel with rubber shaft lets a child do just that. Has three-position gearshift lever and horn that "beeps." Suction cup holds it firmly to any smooth surface.
Click on the year for More Toys From the Year 1950
Vintage Deluxe Velocipede
Price: $14.95
Description: This sleekly styled velocipede has chrome-plated truss rods and adjustable handlebars. All three wheels have ball bearings, multiple spokes, and semi-pneumatic tires. It also has an adjustable spring saddle with molded rubber top, rubber grips, pedals, front mudguard, rear step plate, and it is enameled in maroon and white.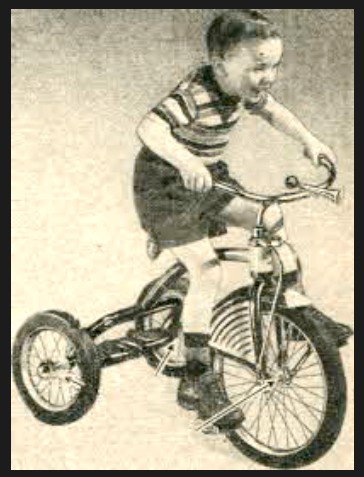 1950s Happi-Time Camera
Manufacturer: Happi-Time
Price: $1.59
Description: Just center the subject in the viewfinder and snap the shutter to take a picture. Takes 12 pictures on standard 127 film.
Alice in Wonderland Watch
Manufacturer: U.S. Time
Price: $7.65
Description: It's Alice just as she appears in Walt Disney's latest Technicolor movie... on the dial of an extra small watch! Gleaming, polished case is chrome plated with a stainless metal back. Dainty pink fabric strap contrasts with soft dial colors. Packed in a teacup of translucent plastic. Colorful Walt Disney gift box shows scenes of the March Hare's tea party.
Click on the year for More Toys From the Year 1951
Vintage 1950s Pepsi Cola Truck Toy
Price: $1.59
Description: Plastic replica of the latest model of Pepsi Cola delivery truck. Body has two shelves, holding six miniature dummy plastic cases of Pepsi Cola with molded-in bottles. Pepsi Cola markings on top of truck, also the familiar Pepsi Cola bottle cap at rear and sides.
Tweedie Singing Bird in Cage
Price: $2.67
Description: Pretty bird trills a merry tune as he swings to and fro on perch. The cage has two feeding cups and a ring at the top for hanging.
Caterpillar Earthmoving Equipment
Manufacturer: Caterpillar
Price: $2.98
Description: Caterpillar earthmoving equipment has real working action. Three big pieces in yellow and black: caterpillar scraper, motor grader, and wagon with tractor.
Click on the year for More Toys From the Year 1952
Howdy Doody's TV Game
Price: $1.98
Description: Howdy Doody's TV Game--a trip around his television studio. A fun-filled game for 2 to 4 players, 3 to 10 years old. Large 18x18" playing board, miniature of the TV studio.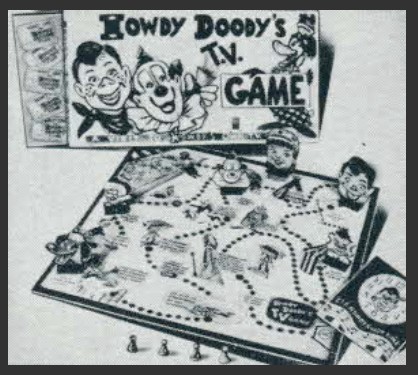 Mr. Potato Head
Price: $1.00
Description: Mr. Potato Head, an unusual education toy, wonderful for young children. Use and fruit or vegetable to create amusing characters by merely changing the plastic features.
Toni Doll
Manufacturer: Ideal
Price: $11.95, $13.95, $19.95
Description: Toni doll made of all plastic with magic nylon wig that can be shampooed and play waved. Beautifully dressed. Comes with complete play wave kit. Choose from 14-inch, 16-inch, or 21-inch dolls.
Car of the Future
Price: $1.73
Description: A real streamlined beauty with sleek, low lines... a true car of the future! Powerful friction motor drives car forward or backward. Harmless sparks shoot from the big exhaust... car motor roars with power noise. Driver sits beneath plastic bubble canopy designed for perfect vision.
Click on the year for More Toys From the Year 1953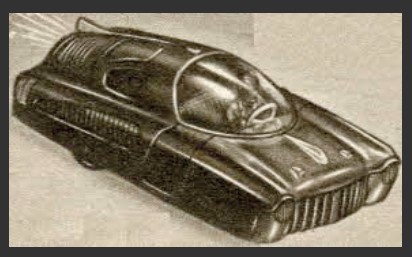 Doctor and Nurse Kits
Price: $1.69 each
Description: Each kit comes with all the accessories that a little doctor or nurse might need including Kleenex, bandages, tongue depressors, and much more.
Giant Pan American Clipper
Price: $3.19
Description: Authentic replica of the famous Clipper Planes. Heavy silver-color steel. Four dummy motors with free-spinning propellers; dual wheels with tricycle landing gear. Loading ramp for passengers rolls up to door of the plane. Has detailed markings on the body and wings.
Smokey Bear
Price: $4.89
Description: Smokey.. authentic fire prevention bear! Made of rayon plush and cotton stuffed. Wears blue twill pants, felt hat, metal Ranger Badge, belt, and carries a plastic shovel. Comes with two Smokey window stickers and an application for membership in Junior Forest Rangers.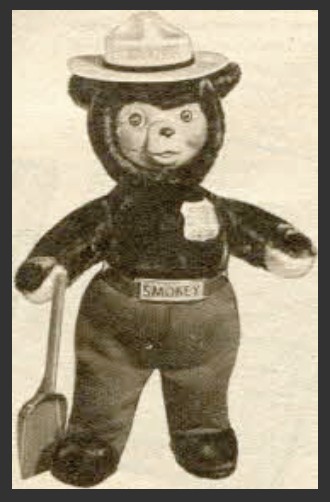 Betsy McCall Doll
Manufacturer: Ideal
Price: $7.59
Description: A true replica of the popular Betsy McCall doll to sew for. Her head is soft vinyl plastic; almost life-like. Delicate plastic body; fully jointed arms and legs, movable head. Sparkling glassene eyes close; edged with thick lashes. Saran hair to set, comb, and brush. Wears a perky cotton dress, panties, and shoes. Easy-to-sew apron pattern included.
Click on the year for More Toys From the Year 1954
Dick Tracy Siren Squad Car
Manufacturer: Marx
Price: $1.89
Description: Siren wails, red light flashes as Dick Tracy speeds to the scene of the crime. Lithographed steel depicts Dick, Pat and Sam Catchem at windows. Front wheels adjust for circles or straightaway. Clockspring motor activates siren. Uses standard flashlight battery.
Farm Stake Tonka Truck
Manufacturer: Tonka
Price: $3.98
Description: Realistic in every detail... right down to its rear wheels with mud flaps! Small-fry farmers find it ideal to haul any load. The stake panels come out for the big jobs. Made of tough, heavy gauge metal.
Click on the year for More Toys From the Year 1955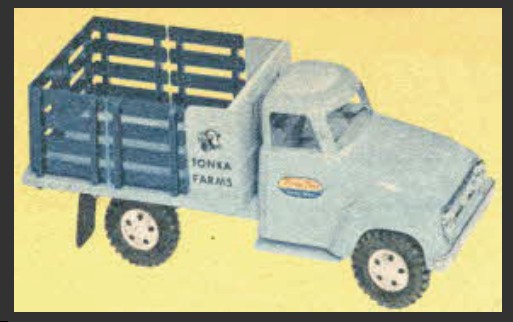 Life-Size Baby Doll
Price: $4.85
Description: An ideal doll to dress as you like. Soft-as-life latex body you can sponge clean. Pert face, molded hair of soft vinyl. Cotton stuffed and 26 inches tall. Wears rayon chemise and has go-to-sleep eyes.
Rocket Bicycle Headlight
Manufacturer: J.C. Higgins
Price: $1.89
Description: Flashy streamlined J.C. Higgins rocket jet headlight is completely new! It is ten inches long and has bright red translucent plastic jet. Headlight casts bright pinpoint beam. A great bicycle accessory.
Electric Pin-Ball Game
Manufacturer: T. Cohn
Price: $24.95
Description: When ball strikes a bumper, lights flash, bells ring, score registers automatically on backboard. Hand kickers keep ball in play, score up to 100,000 points. Automatic loading with five steel balls.
Click on the year for More Toys From the Year 1956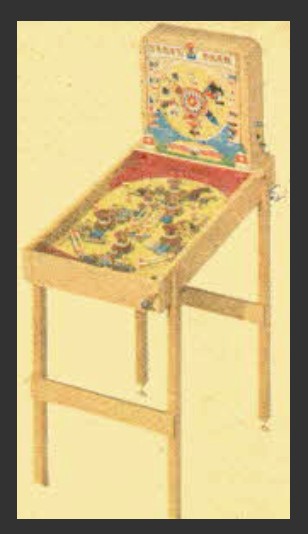 Lone Ranger Guitar
Manufacturer: Jefferson
Price: $3.98
Description: It's a large size, 6-string Guitar, decorated just like a cowboy's. Has a rich professional tone. With shoulder cord and instructions for playing, tuning.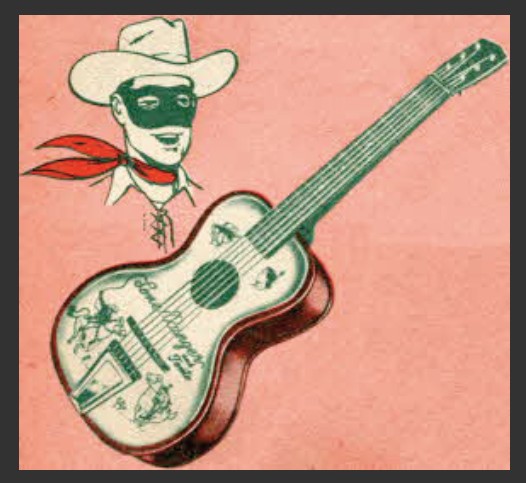 Mickey Mouse Phonograph
Manufacturer: Vanity Fair
Price: $9.95
Description: Portable and battery operated. Safe for children. No wires, no plugs. Automatically starts and stops. Has Vani-tone Volume Control. Comes in official Mickey Mouse Club carrying case including batteries.
Captain Kangaroo Tasket Basket
Manufacturer: Holgate
Price: $2.67
Description: A treasure box of different shaped blocks that fit in shaped holes... helps to develop hand-eye coordination.
Click on the year for More Toys From the Year 1957
Mighty Mouse
Price: $3.67
Description: This cheerful "defender of mistreated mice" is costumed in rayon satin and has a vinyl face. 15 inches high.
Dennis the Menace
Price: $4.39
Description: This 14-inch tall cartoon character is all vinyl. He has a turning freckle-faced head and is dress in a cotton shirt, overalls, and molded vinyl shoes. His features are painted on.
Click on the year for More Toys From the Year 1958
Disney Space Ship Set
Manufacturer: Walt Disney
Price: $2.79
Description: Three imaginative plastic models: 11-inch high "Rocket to the Moon"; 12-inch long RM-1 Rocket Ship with display stand; 8-inch high Space Station with stand. Cement and assembly instructions included.
Revlon Fashion Dolls
Manufacturer: Ideal
Price: $6.97 - $17.79
Description: Choose from a variety of sizes of these lovely grown-up dolls in their different fashions. The "Queen of Diamonds" is luxuriously dressed for the evening in a dress with a lamé bodice, lined velvet coat and lamé scarf, lace-trimmed sewn-in slip, panties, long nylon hose, high-heel shoes, and simulated rhinestone earrings, necklace and ring. The "Kissing Pink" fashion doll wears a print dress with net and ruffled crinoline, bodice with imitation rhinestones, lace-trimmed panties, nylon hose, high-heel shoes, and simulated pearl necklace and earrings. The "5th Avenue" doll wears a casual lounging ensemble of cotton blouse, slacks, high-heeled shoes, earrings, flower-spray, and a jacket of soft cotton fleece. Dolls range in size and price from 15-inch tall to 20-inch tall.
Zorro Official Guitar
Price: $8.98
Description: Beautifully decorated with your youngsters' favorite Television hero, Zorro, pictured in silhouette on his horse. His famous "Z" mark appears in two other positions on the face of the guitar, too. This is almost as large as a regular professional guitar, and includes a push-button attachment that simplifies playing; snaps over neck of guitar. Instruction song booklet. Constructed of sturdy plastic with nylon and wire strings. Has metal gear action tuning pegs.
Dick Clark Autograph Doll
Price: $7.49
Description: Teen-age idol... as a most alive-looking autograph doll. From vinyl head to stylish shoes he's an exciting autograph item for memorable occasions. Dick wears cotton poplin jacket, pants, vest, sewed-on shirt with cuffs and cuff links.
Click on the year for More Toys From the Year 1959
Barbie Dolls
Manufacturer: Mattel
Price: $1.29
Description: These Images are from 1960.
Plastic Molding Machine with Play-Doh
Manufacturer: Play-Doh
Price: $2.97
Description: A fascinating new device that turns out houses, trees, dogs, and more in non-toxic, colorful Play-Doh. Youngsters will love building their own villages and scenes. The Play-Doh can be used over and over if you keep it in the can. Make permanent objects too, by baking or allowing Play-Doh to dry at room temperature.