Todd's Drive In
Owner of Todd's Drive-in restaurant helped a generation of Omahans come of age in the '50s and '60s
By Michael Kelly / Omaha World-Herald columnist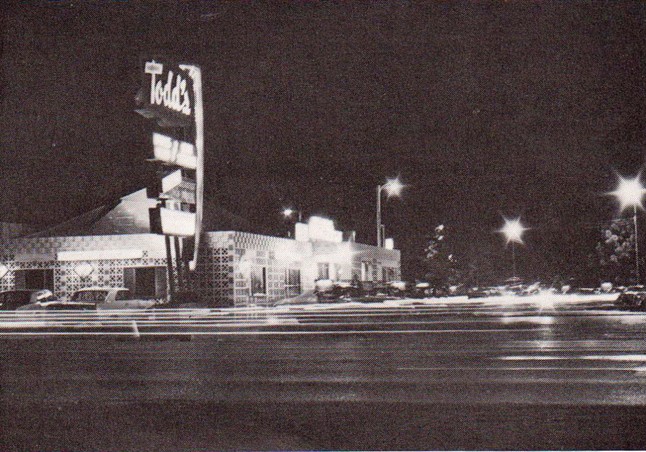 A photo of Todd's Drive-in taken from a Westside High School yearbook.

Steve Urosevich

Todd's Drive-in is shown in this 1968 photo. The cars had changed since the 50's, but Todd's hadn't. Esquire magazine once called Todd's the city's most popular spot for teenagers.
Omaha teenagers flocked to Todd's Drive-in restaurant in the late 1950s and through the '60s, and owner Steve Urosevich was the man in charge.
"It was the place to be seen," said son Todd Urosevich, "especially if you had a hot car."
In recent decades, his dad heard from countless people who said they had met their spouses at Todd's or had taken their first dates there.
"All those stories, he would just light up," Todd said. "It was like a teacher hearing from former students."
Steve, a son of Serbian-immigrant packinghouse workers, and a longtime supporter of youth sports, died of kidney failure July 23, 2014 at 93.
Steve and his wife, Helen, who died three years ago after 69 years of marriage, raised sons Steve, Bob and Todd and daughter Sueann, and enjoyed 12 grandchildren and 23 great-grandchildren.
Todd's Drive-in was emblematic of the culture captured in the classic 1973 film "American Graffiti," which was set from 1964 to 1967. Instead of the movie's Mel's Diner, Omaha had Todd's, which Esquire magazine once called the city's most popular spot for teenagers.
In that era, teens would "cruise the strip" or "drive the loop" between Todd's at 77th and Dodge and Tiner's restaurant at 44th and Dodge. On weekend nights, cars sometimes would be backed up for a half-hour waiting to get into Todd's.
Some of those teens became Omaha leaders in business, education, politics and other fields.
Mike Devereaux, a retired vice president of sales for the Omaha-based national election firm ES&S (Election Systems and Software), recalls driving his two-tone, blue and white '55 Chevy.
"If you weren't lucky enough to get space at Todd's or Tiner's," Mike said, "you kept making loops. We put a lot of miles on our cars."
Steve Urosevich graduated from Omaha South High School, got married and earned his wings stateside in the Army Air Force. He later worked as a district service manager for the Ford Motor Co.
In 1957, he acquired the Wishbone Steakhouse and converted it to Todd's Drive-in, with more than 60 stalls equipped with speakerphones for ordering.
"He wanted to put the family stamp on the name," said son Todd, the restaurant's namesake. "My older brothers are Steve and Bob, and their names were more common back then, so Dad chose Todd. I've always thought it wasn't exactly named after me."
Friends, though, knew he was the Todd whose name was up in lights. It caused as much razzing as it did a modicum of teen celebrity.
"I worked there as a car hop, taking food trays out to put them on car windows," said Todd, New England regional sales manager for ES&S. "Inside, sometimes I would hear on the intercom, 'I want five tacos, and I want Todd to bring them out.' "
He is often asked if car hops at Todd's wore roller skates. "No, we did not."
During the 1960s heyday of Todd's, the three Urosevich brothers played multiple sports at Westside High. After football or basketball games, students from various high schools would converge on Todd's.
Steve Urosevich said in a 1968 World-Herald interview that as many as 1,500 cars arrived on peak evenings, mostly teens or young adults, and that he spent thousands annually on security officers. For the most part, problems were few.
In 1960, in the early years of the Todd's-Tiner's loop, a tragedy occurred.
Kids at Todd's knew something terrible had happened when they saw many emergency vehicles, with sirens wailing and lights flashing, driving east on Dodge.
After football games on that October night, a group of teens cruising the loop were riding in a car that turned into Elmwood Park at 11:30 p.m. The car struck a tree at high speed and six teenagers were killed — still believed to be the deadliest auto accident in the city's history.
Investigators suspected drag racing, but witnesses never came forward to identify another vehicle.
Dodge Street itself was busy and closely watched, and nothing remotely similar ever happened on the actual Dodge loop.
Todd's created a mostly fun atmosphere and fond memories for thousands of baby boomers who could see friends, show off their cars and order a Todd Burger for 65 cents.
Owner Steve appreciated his young clientele, who were coming of age during the civil-rights movement and the Vietnam War.
"I don't even like to hear them called teenagers," he said in the 1968 interview. "They're young adults."
A year later, in the fall of 1969, Urosevich closed Todd's and said without elaboration that he had decided to reorganize. He sold the building, which was razed.
For many years, a Burger King was located just east of the old Todd's site. (Tiner's, too, closed and became the site of a King Kong's restaurant.)
Steve Urosevich remained active in other pursuits and watched his extended family grow. Son Bob Urosevich founded ES&S in the 1980s, and the siblings joined him.
"Steve was absolutely the most devoted husband and father you would ever find," said Mike Devereaux, who married Sueann Urosevich. "He and Helen danced together and attended sporting events and dance recitals their whole lives."
They were also very active at St. Nicholas Serbian Orthodox Church.
Steve lived a very long life that included much more than running an iconic 1957-69 restaurant. But Todd's left an indelible mark on a generation.
"I will guarantee you," Devereaux said, "that among people in their 50's, 60's, and 70's today, there was hardly a boy or girl back then who didn't go through Todd's Drive-In."