World's 12 Rarest Cars
Rare cars can be invaluable to collectors around the world. Whether they are rare because only a few models were built, their age, or because they have a unique design, cars that are hard to come by can fetch a pretty penny when sold at auction or through private channels. And there seems to be no lengths that serious collectors will not go to in order to get their hands on an extremely rare car. For collectors of these sought after cars, money really is no object. Here then are 12 of the world's rarest cars and the prices people have paid to obtain them.
12. Dodge Coronet Convertible – $250,000
The convertible Dodge Coronet was manufactured in 1967 and again in 1970. And it makes it onto this list for being extremely rare as only two cars were built in each model year. That means that there are only two 1967 and two 1970 Dodge Coronet convertibles. While the Dodge Coronet is not the prettiest convertible ever built, and there is nothing particularly innovative about the car, the fact that it is so rare has boosted its price the few times one of the four models in existence has made it to auction. For collectors, the fact that this car is so rare is enough to make them shell out big bucks for it.
11. Packard Panther – $360,000
The Packard Panther was a show car built in 1954 and featured a number of radical designs for the era. Known as a two-seat luxury car that came in a convertible model, the Packard Panther had Clipper taillights, a one-piece fiberglass body, and a removable hard top roof (on one model). Only four Panthers were built, of which two still survive. One of the surviving cars sold at auction in 2006 to an unknown buyer for $360,000. Also named "Daytona," the Packard Panther was meant to show the automotive world where cars were headed and what the Packard company planned to feature in their upcoming 1955 models. Never put into full production, the Panther remains a very rare automobile to this day.
10. 1969 ZL1 Camaro – $1 million
Considered the finest model of the iconic Camaro, the 1969 ZL1 is a stylish muscle car that has been popular with collectors, and drag racers, since it rolled off the assembly line. Camaro is a classic car brand that can fetch up to $1 million at any auction, but this particular model is widely sought after by collectors because it is the last model year of the first generation of Camaro, which were produced between 1967 and 1969. It also features rear-wheel drive and was designed to fit a variety of different engines in its engine bay. A classic muscle car, the first generation 1969 ZL1 Camaro has sold for $1 million at auctions around the United States.
9. Tucker '48 – $1.2 million
The Tucker '48 automobile has the distinction of being both a rare car and an infamous one with a notorious backstory. Known as the "Tucker Torpedo," The Tucker '48 is named for both its maker (automobile manufacturer Preston Tucker) and its model year (1948). Preston Tucker only managed to produce 51 of these cars in Chicago in 1948 before his company folded on March 3, 1949, amidst a stock fraud scandal that attracted a Securities and Exchange Commission investigation and negative media coverage. Although Preston Tucker was acquitted in court, his company never recovered—making the 51 Tucker '48 cars he produced extremely rare. There is a conspiracy theory that the Big Three automakers tried to put Preston Tucker out of business as they saw his fledgling car company as a threat. The 1988 movie Tucker: The Man and His Dream is based on the saga surrounding the car's production, and that movie's director, Francis Ford Coppola, is a Tucker owner who proudly displays his vehicle on the grounds of his California winery. And while the Tucker '48 originally sold for $1,000, the car's value today is estimated at $1.2 million.
8. Aston Martin Bulldog – $1.3 million
The Aston Martin Bulldog is an unusual looking car. It looks a lot like the DeLorean featured in the Back to the Future films, and even has the same gullwing doors as that iconic vehicle. In reality, this odd-looking car was a one-off testbed vehicle produced by British car manufacturer Aston Martin back in 1979. The car maker had initially planned for a limited run of about 25 of the cars to test the market for them and see how they sold. However, only one Bulldog was actually ever built. And it was given the code name DP K9 01 after a character in the science fiction TV show Doctor Who—adding to the strangeness of the project. The Bulldog is a left-hand drive car even though it was made in England, and it is quite long at 15 feet, and quite low at just 43 inches high. The car's interior uses digital instrumentation and the rear view consists of a television monitor mounted on the center console. Under the hood, the Bulldog has a 5.3-liter twin turbo V8 engine that provides 600 horsepower and enables a top speed of 190 miles per hour. Aston Martin auctioned off the only Bulldog in 1980 for $130,000 to an American collector. It resurfaced for sale in 2011 and was purchased for $1.3 million by a buyer in England. It is now painted British green and is no longer in its original metallic silver color.
7. Mercedes 300SL Gullwing – $1.5 million
A truly unusual looking car, the 300SL Gullwing is unique among the Mercedes brand. Introduced in 1954 as a two-seat coupé with distinctive gullwing doors, the 300 SL was also the first car to feature fuel injection and boasted the world's fastest top speed back in the day—accelerating to a then-unheard of 160 miles per hour. The original coupé was available from March 1955 to 1957. A modified roadster version was produced until 1963 when the car then went out of production. Popular with post-war Americans in the 1950s, the 300 SL is named after its 3.0-liter engine, with the "SL" standing for "Sport Light" vehicle. Unveiled at the 1954 New York Auto Show, the Mercedes 300SL was an immediate hit. And it has only grown in esteem among collectors over the years, many of whom covet the car for its unique gullwing doors. This car has sold for as much as $1.5 million at auction.
6. Talbot Lago Grand Sport – $2.5 million
Talbot is a car manufacturer with an infamous history. It began as a standalone company in 1903 and existed in various forms and under different ownership right up until 1994. The company didn't produce any cars from 1960 to 1978 and was owned at various times by auto makers ranging from Chrysler to Peugeot. Over the years, Talbot filed for bankruptcy protection multiple times and, in addition to producing cars for everyday use, Talbot also manufactured a number of race cars that competed in Formula One competitions. Talbot won the 1981 World Rally Championship. And during the company's tumultuous history it produced the notorious and rare Lago Grand Sport, a streamlined car introduced in 1948 that came in both a racing and luxury version. Not only is the Lago Grand Sport part of Talbot's legendary history, but only 12 of the luxury models were ever produced—making it extremely rare and highly sought after by collectors who have paid as much as $2.5 million for this infamous car.
5. Porsche 916 – $3 million
We are all familiar with the Porsche 911. The Porsche 916, not so much. In the cult of Porsche, the 916 is the rarest of models and one of the rarest cars in the world today. Only 11 of the 916 models were built in 1972, all of them prototypes. And among the 11 cars made, only one was shipped to the United States. It is now housed at the Automobile Atlanta Museum in Marietta, Georgia. What doomed the Porsche 916 was its price. With a retail tag of $14,000 (a lot of money in the early 1970s), it was eventually decided that the 916 model would be too expensive to attract buyers and the project was scraped after the prototypes were made. The head honchos at Porsche decided to focus instead on the 911 model, which sold for $10,000 at the time, and the rest, as they say, is history. Still, it is a shame that the 916 never got off the ground. The car had a top speed of 145 miles per hour, which made it the fastest Porsche ever at the time. It was also the lightest Porsche and featured stiffer springs than the 914 and 911 models, as well as pressurized shocks, four-wheel vented disc brakes and sway bars at the front and rear. It has sold for $3 million to private buyers in recent years.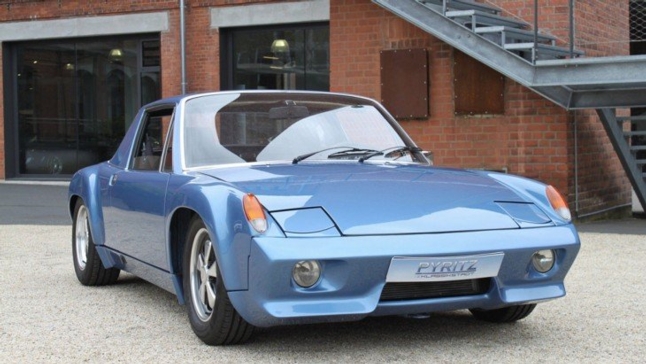 4. 1954 Oldsmobile F-88 – $3.5 million
Even if the Oldsmobile F-88 were not rare, it would be a car that is coveted by collectors all over the globe. First made in 1954, the F-88's gorgeous body and design which was a precursor to the soon to be announced Corvette, make it a classic car in its own right. The fact that only four of these stunning cars ever rolled off the assembly line makes it an extremely hot commodity in the rarified world of car collecting. Other features that make the General Motors-produced Oldsmobile F-88 impressive include a 250 horsepower V8 Oldmobile Rocket engine and a fiberglass body. Many historians cite the Oldsmobile F-88 as a car that changed the style of all cars that came after it. One Oldsmobile F-88 is on display at the Gateway Colorado Automobile Museum. Another recently sold at the Barrett-Jackson Collector Car Auction for $3.5 million, which was a record for a vehicle sold by Barrett-Jackson.
3. Ferrari 250 GT Spyder Convertible – $10 million
Only one convertible model of the Ferrari 250 GT Spyder was ever manufactured, making it the rarest of all Ferraris. Every other version of the 250 GT Spyder, manufactured between 1953 and 1956, were coupés, meaning they had roofs. The lone convertible was sold to New York car collector Bob Lee off the stand at the 1956 New York Auto Show for $9,500. Bob Lee negotiated the price personally with company founder and namesake Enzo Ferrari. Bob Lee still owns the convertible Ferrari 250 GT Spyder today, making it one of the oldest Ferraris still in the hands of the original purchaser. The estimated value of the car today is $10 million, although many car enthusiasts speculate that it could sell for much more at auction.
2. 1921 Helica de Leyat – $20 million
The 1921 Helica, made by French automobile manufacturer Marcel Leyat, has it all. It is an extremely old car, rare in that only 30 of the vehicles were ever manufactured, and is completely original and unique in its design and appearance. Built in France, the Helica was called "The plane without wings" by the newspapers of the day. The car's passenger sat behind the driver as in an aircraft, and the car was steered using the rear wheels. And, this automobile was not powered by a conventional engine turning the wheels, but rather by a giant propeller similar to those found on an airplane. The body of the vehicle was made of plywood, and weighed a light 550 pounds. The lightweight configuration made the Helica dangerously fast, as it could reach a top speed of 106 miles per hour—mind-boggling at the time—although rear wheel steering made guiding the car unstable at high speeds. A true experimentalist, Marcel Leyat continued experimenting with the Helica throughout the 1920s, testing propellers with two and four blades and adjusting the engine several times. However, owing to its unconventional style and breakneck speed, only 30 of these vehicles were sold between 1919 and 1925. Today, the remaining ones are in the hands of private collectors and rarely come up for sale. But it is estimated that an original model in decent shape would sell for more than $20 million.
1. Rolls-Royce 15 hp – $35 million
The Rolls-Royce 15 hp was the first model of car produced by Charles Rolls and Henry Royce in Manchester, England, in 1904. A total of six Rolls-Royce 15 hp were made and only one is known to still exist—making it one of the oldest and rarest cars on the planet. The name of the car simply refers to the engine's horsepower (15), which was a lot for the period but rather weak by later standards. Boasting a three cylinder engine and a top speed of 39 miles per hour, the first Rolls-Royce debuted at the Paris Salon in December 1904 and gave birth to a legendary car company that is today synonymous with luxury vehicles. The lone remaining Rolls-Royce 15 hp can be seen touring the world in car museums and at automotive shows. It is hard to estimate its worth at auction, but insurance companies have appraised its replacement value at $35 million. Rare indeed!